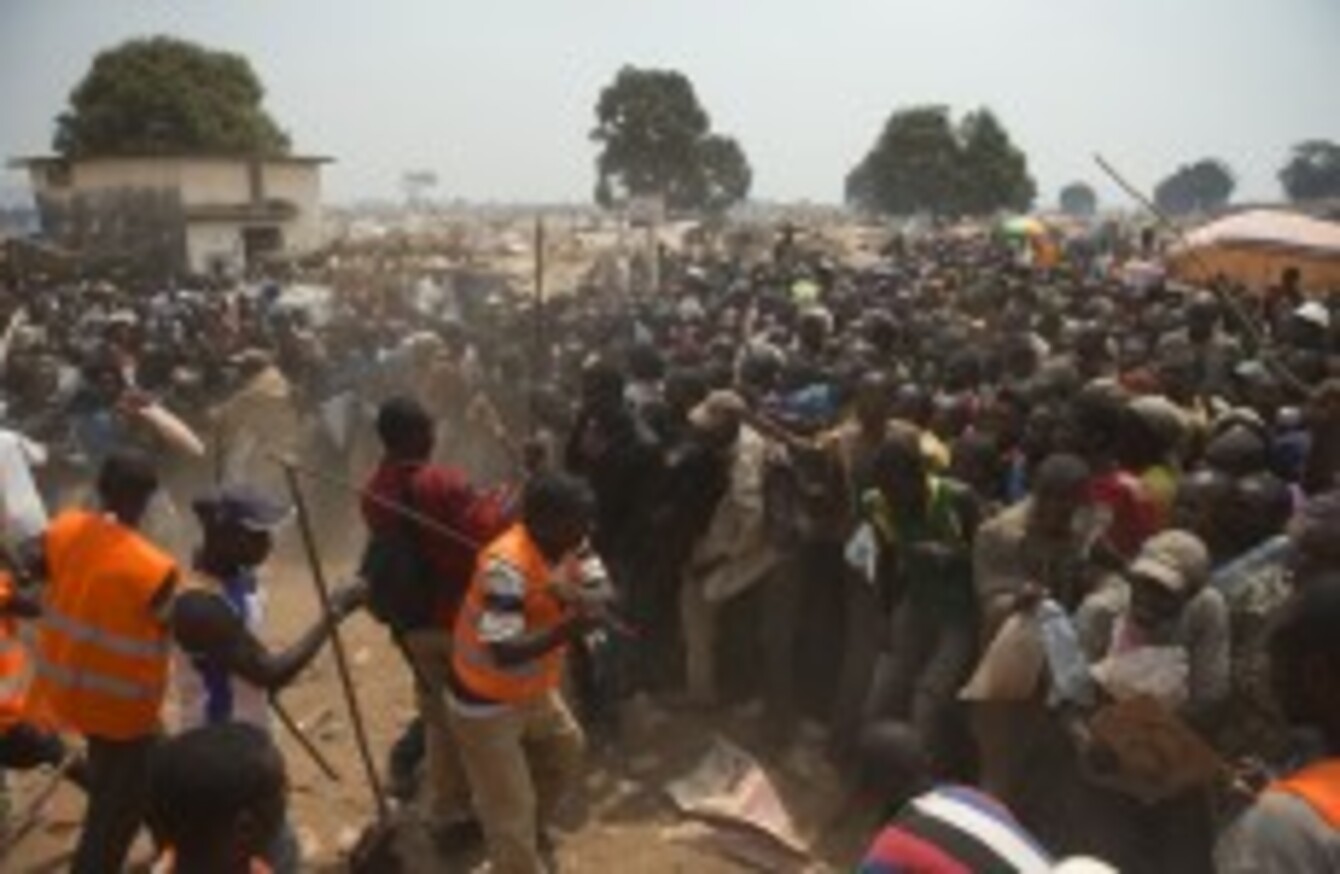 Security volunteers use sticks to fend off the crowd trying to enter a food and supplies distribution point during the week.
Image: Rebecca Blackwell/AP
Security volunteers use sticks to fend off the crowd trying to enter a food and supplies distribution point during the week.
Image: Rebecca Blackwell/AP
DEADLY VIOLENCE BROKE out overnight in Bangui following the resignation of the Central African Republic's rebel leader-turned-president — a move aimed at easing tension — and ahead of the evacuation of stranded foreigners set to begin Saturday.
Sporadic gunfire erupted in the capital killing at least three people — a Christian vigilante, an ex-Seleka rebel and a civilian, the head of the Central African Red Cross, pastor Antoine Mbaobogo, told AFP.
There has also been widespread looting in the city with crowds breaking down the doors of shops, many of them belonging to Muslims, reflecting the sectarian strife that has wracked the country, AFP correspondents reported.
"Those who were looted when the (mainly Muslim) Seleka arrived (in March last year) are now looting in turn," Mbaobogo said.
Meanwhile, the International Organisation for Migration said it will start Saturday airlifting thousands of people out of the strife-torn country following appeals from neighbouring countries.
More than 60,000 people from other African nations have asked for help at their embassies in the Central African Republic (CAR), an IOM statement said, adding that requests had come from Chad, Niger, Mali, Sudan and the Democratic Republic of Congo to aid their stranded nationals.
On Saturday morning in Bangui one resident, a student who gave his name as Berson, told AFP that looting had been going on since Friday, when Michel Djotodia stepped down as president under intense diplomatic pressure.
"It's the shops of Muslims that have been looted in this neighbourhood," said Berson. "There are a lot of Seleka (ex-rebels) in this area. They have to disarm them quickly. If not it's carnage," he added.
Djotodia, the first Muslim leader in the majority Christian nation, had come under fire for failing to rein in the rebels who brought him to power in March 2013 and whose abuses triggered retaliatory violence by Christian militias.
A special regional summit in Chad called to try to restore peace in the CAR raised hopes that the resignation of Djotodia along with Prime Minister Nicolas Tiangaye would ease the tensions in the country.
But signs of sectarian conflict remained in Bangui where a mosque was the target of a group of young men who looted and dismantled the building taking away bricks and roofing.
"It's impossible to live with the Muslims. We don't want Arabs in Central Africa," one of the looters told AFP.
Ten months of violence have displaced a fifth of the CAR's population and the sectarian flare-up has killed more than 1,000 people in the past month alone, despite former colonial power France's military intervention and the presence of an African peacekeeping force.
Candidates to replace Djotodia have yet to emerge, but the interim parliament is due to hold a special session on Monday.
French Defence Minister Jean-Yves Le Drian urged lawmakers to decide "as soon as possible".
With much of the landlocked country's population in need of food aid, a major humanitarian crisis is unfolding in Bangui's overcrowded camps and in the vast hinterland.