AUTHORITIES HAVE RAISED alert levels for a volcano on the Indonesian resort island of Bali after hundreds of small tremors stoked fears it could erupt for the first time in more than 50 years.
Sky News reports that officials have said 6,000 people have been moved for safety reasons so far, and more would follow.
Mount Agung, about 75 kilometres from the tourist hub of Kuta, has been rumbling since August and officials have banned people from venturing within 7.5 kilometres of its summit.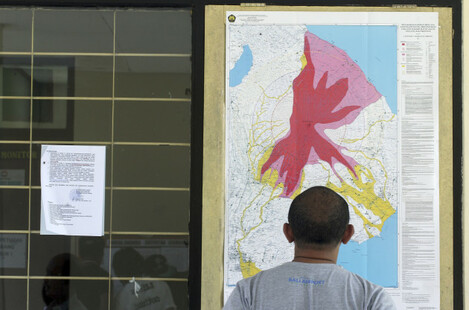 A man observes a map of the Mount Agung at the Mount Agung monitoring station in Bali, Indonesia. Source: Firdia Lisnawati via PA Images
No volcanic ash has been seen spewing from the crater. But hundreds of small tremors have rattled the mountain this week, causing about 350 people to evacuate their homes on Monday (although they returned the next day).
"Even though seismicity is not as sharp as two days ago, as much as 480 seconds of tremors have occurred. The community must remain vigilant," Willem Rampangilei, the head of Indonesia's National Disaster Mitigation Agency, said in a statement.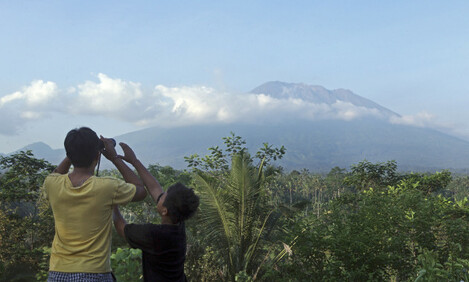 A man observes the Mount Agung with binoculars. Source: Firdia Lisnawati via PA Images
The airport on the resort island, a top holiday destination that attracts millions of foreign tourists every year, has not been affected but airport management are watching the situation closely.
"All flight activities are still normal, there is no cancellation or volcanic ash," Yanus Suprayogi, a spokesman for Bali's Ngurah Rai airport, told AFP.
The last time Mount Agung erupted was in 1963; more than 1,000 people were killed.