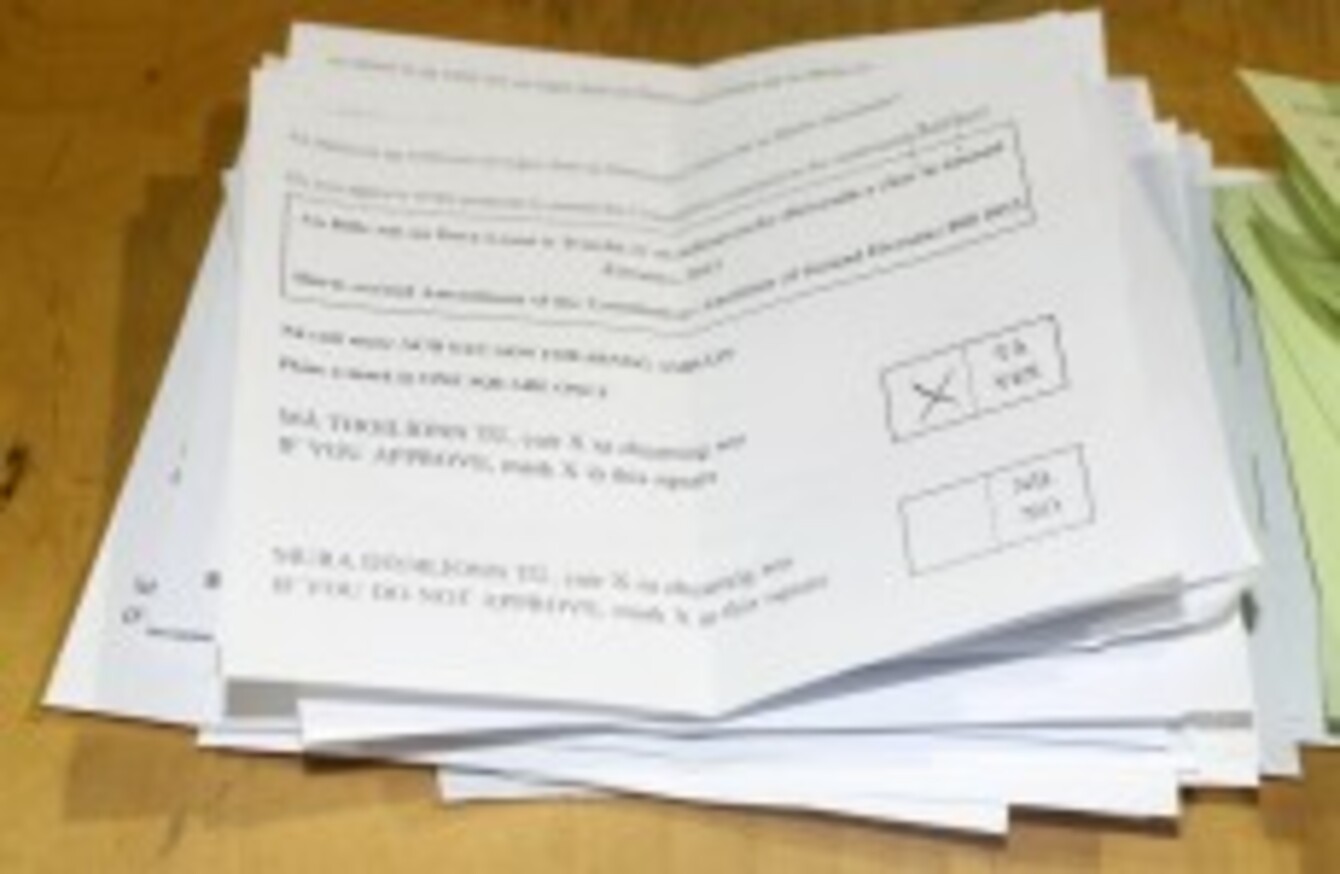 Image: Photocall Ireland
Image: Photocall Ireland
IT WAS CLOSER than expected and it went against what all the earlier opinion polls had indicated so the Seanad Referendum count created quite a bubble of political excitement today.
The government were slow to concede defeat until the last count was in due to how narrow the margin was.
However, a 12/12 loss in Dublin's constituencies signaled that those who wanted to retain the second house would be celebrating tonight.
Eventually, the declaration was made that the amendment was defeated on a margin of 51.7 per cent to 48.3 per cent.
Of the total 1,240,729 votes, there were 14,355 invalid ballot papers. Of the remainder, the amendment proposal was greeted with a Yes vote 591,937 times but a No 634,437 times.
That left a winning margin of 42,500 for the No side.
The biggest Yes vote came from the Taoiseach's home of Mayo with 57.46 per cent of voters in favour or scrapping the Seanad.
The largest No vote was a significant 61.33 per cent in Dublin South-East.
In Wexford, where the winning margin for the No side was just 69 votes, there was 579 spoiled votes.
Turnout, at 39.2 per cent nationally, was higher than expected. Dublin North-Central had the highest turnout rate of 48.23 per cent.
Here's how each constituency voted:
Carlow-Kilkenny: NO 50.53 per cent
Cavan-Monaghan: YES 54.87 per cent
Clare: YES 51.33 per cent
Cork East: NO 51.4 per cent
Cork North-Central: YES 51.8 4 per cent
Cork North-West: NO 50.05 per cent
Cork South-Central: NO 51.27 per cent
Cork South-West: YES 50.94 per cent
Donegal North-East: NO 51.69 per cent
Donegal South-West: NO 50.42 per cent
Dublin Central: No 57.88 per cent
Dublin Mid-West: NO 54.7 per cent
Dublin North: NO 54.67 per cent
Dublin North-Central: NO 54.77 per cent
Dublin North-East: NO 54.57 per cent
Dublin North-West: NO 54.69 per cent
Dublin South: NO 53.21 per cent
Dublin South-Central: NO 56.56 per cent
Dublin South-East: NO 61.33 per cent
Dublin South-West: NO 52.32 per cent
Dublin West: NO 57.58 per cent
Dun Laoghaire: NO 57.1 per cent
Galway East: YES 51.37 per cent
Galway West: NO 50.66 per cent
Kerry North-West Limerick: YES 53.84 per cent
Kerry South: YES 54.48 per cent
Kildare North: NO 54.61 per cent
Kildare South: NO 55.51 per cent
Laois-Offaly: NO 53.89 per cent
Limerick: YES 50.45 per cent
Limerick City: YES 52.72 per cent
Longford-Westmeath: YES 51.02 per cent
Louth: NO 52.33 per cent
Mayo: YES: 57.46 per cent
Meath East: NO 52.58 per cent
Meath West: NO 53.61 per cent
Roscommon-South Leitrim: YES 51.67 per cent
Sligo-North Leitrim: YES 50.76 per cent
Tipperary North: YES 50.38 per cent
Tipperary South: YES 50.41 per cent
Waterford: NO 53.46 per cent
Wexford: NO 50.09 per cent
Wicklow: NO 57.82 per cent