THIS WEEKEND'S WARM weather looks set to get even better as the week goes on with temperatures predicted to increase, peaking on Thursday.
Met Éireann says that today will see sunny spells in most parts with highest temperatures of between 17 to 20 degrees.
As the week goes on, forecasters say the outlook is for "relatively warm conditions" with a lot of dry weather. Temperatures will remain similar to these weekend's highs with rainfall most likely in some areas tomorrow.
Tuesday is predicted to be particularly dry in the midlands and in the west with temperatures peaking at around the 20 degree mark.
There may be some cloud and rain in the east of the country with freshening winds also cooling those areas.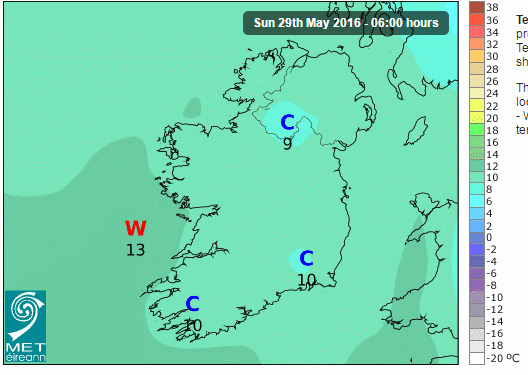 Source: Met.ie
The warmest weather will be seen towards the latter end of the week with temperatures reaching 22 degrees on Thursday afternoon.
Met Éireann says it expects this to continue into Friday and the Bank Holiday weekend with the south at greater risk of showers.