THE FIRST MEETING of the water committee got off to a timid start this afternoon.
The committee, which has been tasked with coming up with a solution on how to pay for water charges, has three months before it must present its suggestions to the Dáil.
Today it held its first meeting – but was in private session for over an hour and a half, in public session for 30 minutes, which is unusual.
Members of the water committee include Paul Murphy, Willie O'Dea and Kate O'Connell. Committee chairperson Pádraig Ó Céidigh attempted to set a calm and cordial tone to the meeting and generously thanked members for their cooperation this afternoon.
It then had a 20-minute long statement from Kevin Duffy, chair of the water report commission of their findings, and then ended abruptly – meaning no questions from the members of the committee were asked, which is also very unusual.
In his address, Kevin Duffy set the context for the committee.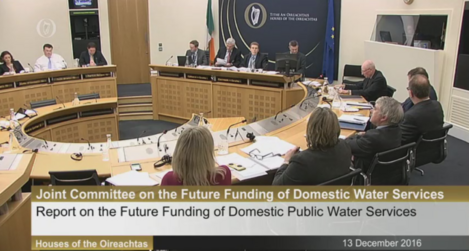 Source: Oireachtas TV
He said that domestic water pricing is typically marked against the following issues:
A one-time connection fee to avail of the service
Recurrent fix charge (or standing charge flat fee) which would be uniform across all customers and decided based on property values, and the number of water services.
If a metering system is in place, it's decided on a volume metric rate, which gives rise to the charge.
He also reiterated a number of points made in the report that addressed some of the more contentious issues around Irish Water:
Irish Water being privatised. He said that this was the most commonly expressed concern by members – and "was not confined only to those who oppose water charges".
Paying people back. Duffy said that citizens needed to be treated equally and that the inequality over who has paid needs to be addressed
Water infrastructure. The current water pipes represent an "unacceptable level of risk to the population", and back-up systems are needed
Lack of trust. Little consistency on water charges means citizens don't trust government decisions towards new policies, and this should be considered.
The meeting was adjourned and they will meet again in early January 2017.
Background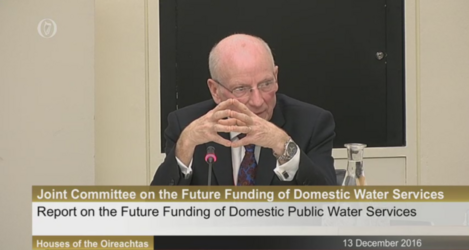 Kevin Duffy. Source: Oireachtas TV
Kevin Duffy was made the chair of the Expert Commission on Water Charges in July of this year after the previous chair, Joe O'Toole, said that he paid water charges and in that way supported them.
The commission were to look into the water charges debate and to make recommendations. In a report published by the commission last month, it was recommended that the State should pay the bill for the normal usage of water by households and that anything in excess of that should be paid for by the consumer.
The report states that a distinction must be made between "a right to water for normal domestic and personal purposes and wasteful usage."