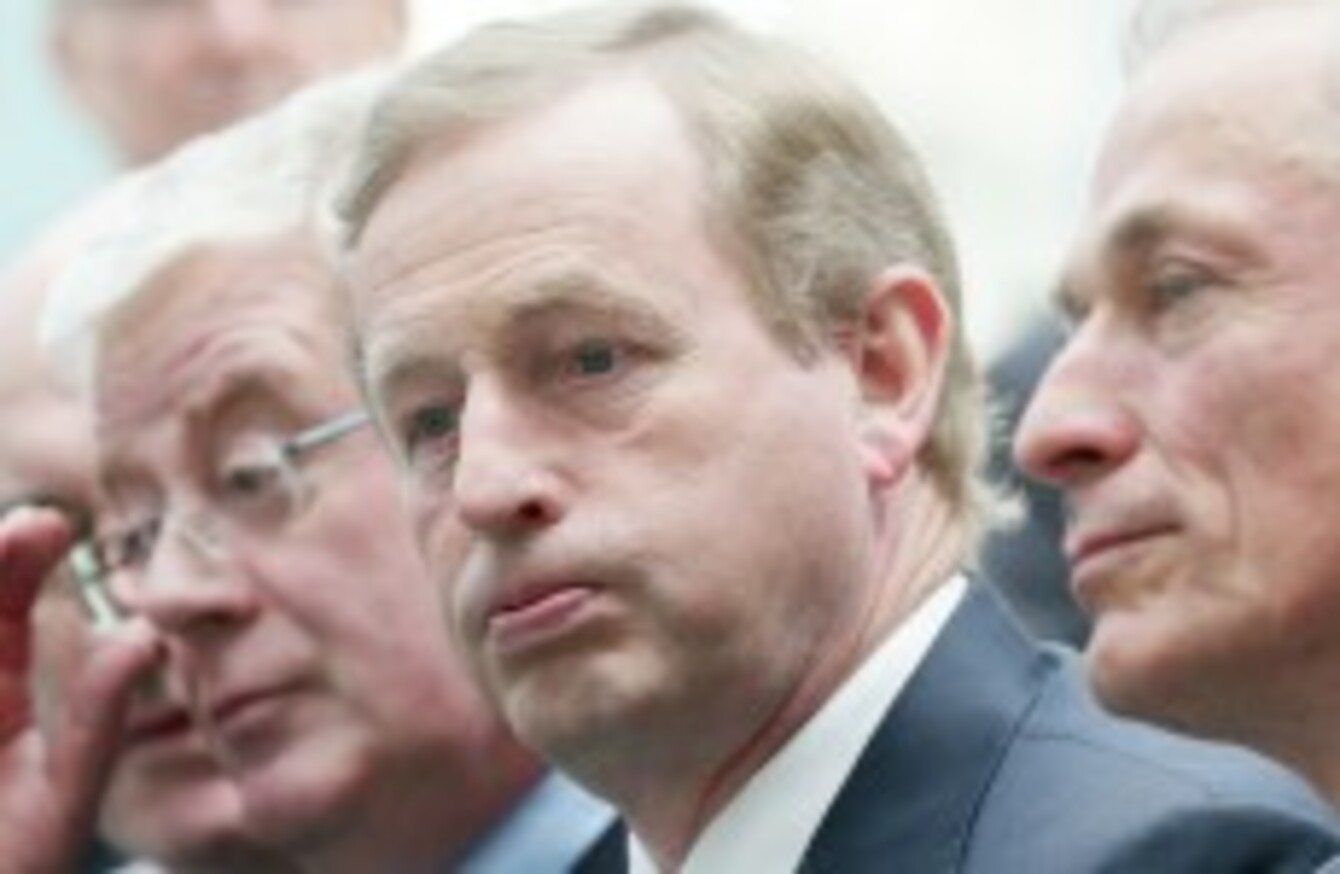 Enda Kenny (File photo)
Image: Laura Hutton/Photocall Ireland
Enda Kenny (File photo)
Image: Laura Hutton/Photocall Ireland
TAOISEACH ENDA KENNY has told the Dáil that water charges will encourage conservation.
During Leaders' Questions this afternoon, Sinn Féin leader Gerry Adams said the government's plan for water charges included "nothing about conservation".
Kenny denied this, advising: "You can turn off the tap."
He described water as "the most abused natural resource in the country", with €1.2 billion being spent on leaks each year.
Details on water charges were released earlier today, after months of speculation.
The average domestic water charge will not exceed €240 per year and each household will get an annual free allowance of 30,000 litres.
Adams said that water charges were "the latest in a series of taxes which will impact more on middle and low income families".
He added that the issue shows how "far removed" the government is from the general public.
Does Fine Gael think the people are stupid? … This fig leaf will not cover Labour's blushes … You may as well be sitting there naked as the day is born, like the Emperor – hoping no one notices.
Kenny said that the government has provided extra assistance for vulnerable groups such as the elderly and sick.
"Clearly there are sectors out there were there is a need for assistance and that assistance is being given."
Carers and recipients of the state pension and disability pension will receive an annual allowance of €100.
Pensioners
The Taoiseach noted that a pensioner will pay about €138 for water a year, "less that 50 cent a day".
Eamon Timmins of Age Action gave a "guarded welcome" to the news.
"As with any national scheme, the devil will be in the detail and we need to see how these charges will pan out, but we note that the plan announced today includes a number of key principles which, if properly implemented, should provide greater protection against poverty for older people," Timmins said.
Kenny noted that for people who do not pay the charge, "the penalty is reduced pressure", adding that any review of the average metering charged would be deferred until 2016.
He said previous governments had "shirked" from their responsibility in terms of water provision, adding that the new system would provide "high volume pristine water for generations to come."
It was Adams's first appearance in the Dáil since his release from an Antrim police station on Sunday, where he was detained for four days and questioned over the abduction and murder of Jean McConville in 1972.
Discretionary medical cards
Also during Leaders' Questions, Fianna Fáil leader Micheál Martin raised the issue of Alex Coyle losing his discretionary medical card. The ten-year-old was the first person in Ireland to be diagnosed with Mowat Wilson Syndrome.
The syndrome means he has a profound intellectual and physical disability, which brings life-threatening problems and seizures.
"The youngest, the sickest … people with chronic, terminal conditions have been targeted," Martin stated.
Kenny said he did not want to speak about individual cases, particularly those that were "exceptionally sensitive" such as this one.
However, he noted that he understood the Coyle family was "in discussion" with the HSE about their son's medical card.
Kenny admitted that "cases are missed" when put on a centralised system, but said he was looking into the issue.
In response to a question from Independent TD Catherine Murphy, Kenny said that the government remained committed to ending homelessness by 2016.
Murphy said that long-term homelessness was not the only issue and called on the government to act immediately to help those on the cusp of homelessness by providing more emergency accommodation and replacing rent caps withe a 2more flexible and nuanced approach".