Updated at 5.30pm
A LARGE CROWD gathered in Dublin city today for the 9th annual Right2Water demonstration in protest against water charges.
Crowds assembled at Heuston and Connolly Stations this afternoon at about 2am before marching towards Dame Street, where a stage was set up and speeches were given.
Trade union official Brendan Ogle – one of the principal organisers of the event – told the gathered crowd that the demonstration was part celebration and part to keep pressure on Government.
The demonstration comes as the committee on water charges prepares to vote on a final report on Tuesday.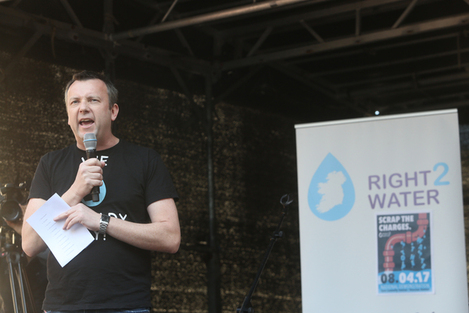 Brendan Ogle speaking at today's demonstration. Source: Sam Boal/RollingNews.ie
The report recommends the scrapping of water charges, the end of the metering programme and refunds for all who have paid.
However, Fine Gael TDs on the committee this week said they would not sign off on the report, stating that it violated EU conservation laws.
The report has led to s political row between Fine Gael and Fianna Fáil, with TDs from both parties having  a number of public disputes this week.
'With the protests since day one'
The Right2Water movement is credited by many groups and politicians with forcing the Government to row back on the controversial charges through pure people power.
The movement kicked off in earnest in 2014 as ever-simmering public anger boiled over into significant numbers taking to the streets.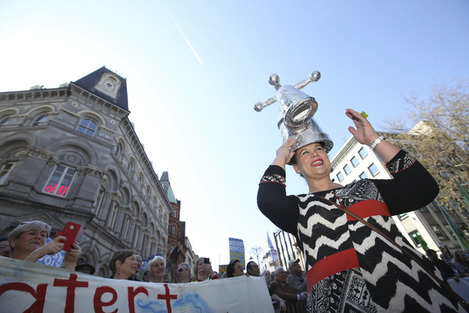 Sinn Féin TD Mary Lou McDonald at today's event. Source: Sam Boal/RollingNews.ie
A national protest in October of that year confounded the estimates of media observers, drawing tens of thousands to the streets of Dublin.
Speaking to TheJournal.ie at today's march, Mick Fitzpatrick from the Wicklow Says No group said he had been attending the protests from the beginning.
"We've been at the protests since day one and as it got bigger and bigger it got better for everybody," he said.
I sincerely hope that the people have discovered what their voices can really do.
Fitzpatrick – who was at today's protest with his wife Marian – said the movement had empowered people who felt they had no voice in the country.
Marian and Mick Fitzpatrick at today's march. Source: Cormac Fitzgerald/TheJournal.ie
"It was never really about water it was about everything that's gone wrong with this country," he said.
We will beat this and there's a lot more protests in the pipeline and hopefully people will get their courage and hopefully the'll get their pride back.
Speakers at today's march included left-wing TDs Paul Murphy and Joan Collins, as well other figures and representatives from the National bus and Rail Union (NBRU), currently involved in strike action with Bus Éireann.
There was also musical and spoken word performances.
Solidarity TD Ruth Coppinger said that the point of the demonstration was to get the message to Fine Gael and Fianna Fáil that people did not want water charges.
"It seems we're on the verge of a really important victory for ordinary people in this country," she said
It's the first victory of a mass movement in Ireland for a generation.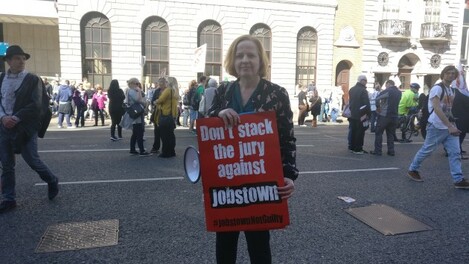 Solidarity TD Ruth Coppinger Source: Cormac Fitzgerald/TheJournal.ie
Coppinger said the mood in the demonstration was "a mixture of celebration but also distrust".
She said if there was "any messing around" by Government or other parties in relation to the implementation of the committee's recommendations, people would take to the streets again en masse.