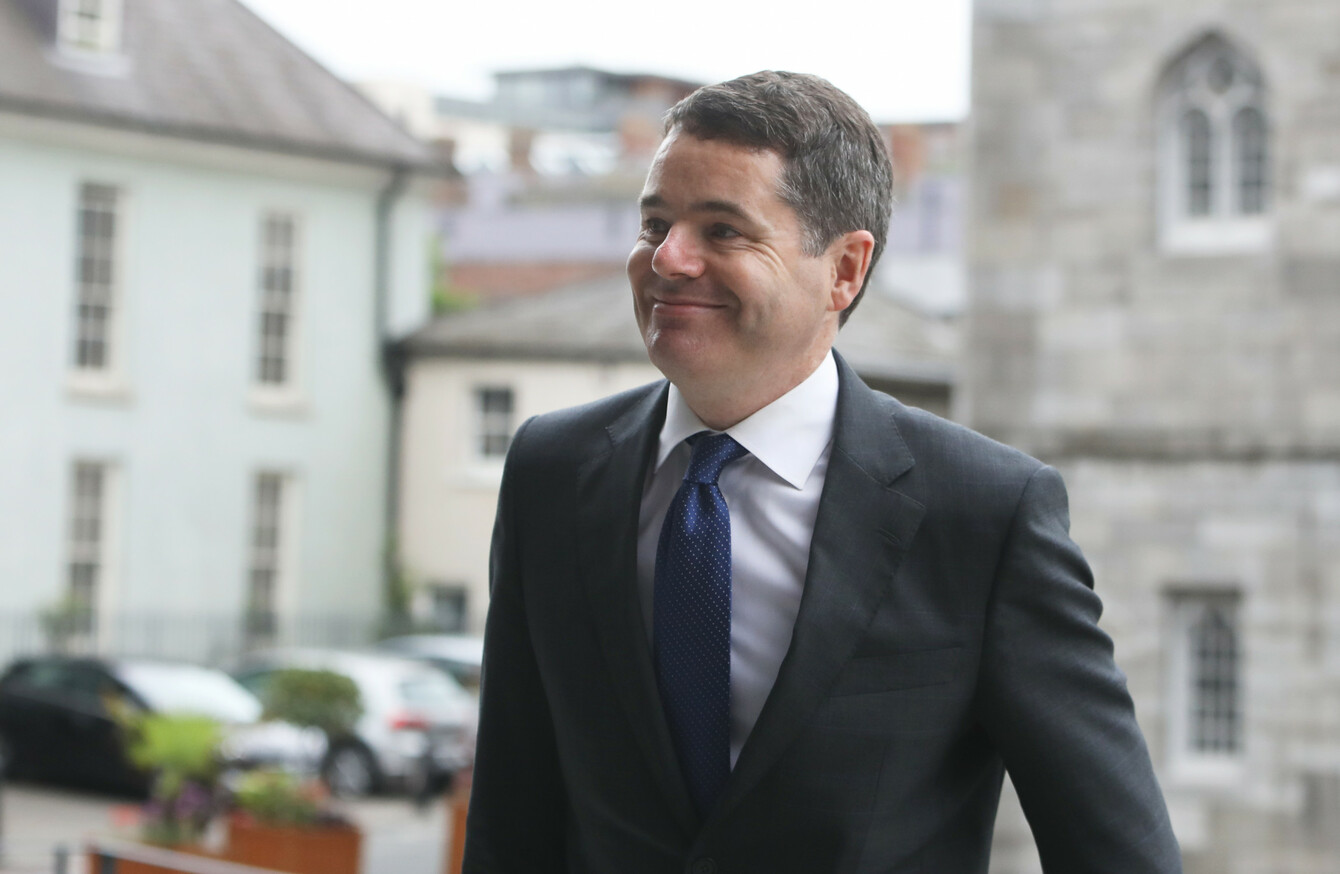 Finance and Public Expenditure Minister Paschal Donohoe
Image: Leah Farrell
Finance and Public Expenditure Minister Paschal Donohoe
Image: Leah Farrell
FINANCE AND PUBLIC Expenditure Minister Paschal Donohoe says he has identified a under-spend of €300 million, which ensures there is enough money to refund all water charges.
Over the weekend, Taoiseach Leo Varadkar said the government would begin refunding water charges by the autumn, with the majority to be repaid by the end of the year.
Since then there have been a lot of questions about where the money is coming from, with a number of ministers giving conflicting answers.
It's estimated it will cost some €170 million to refund water charges to everyone who paid.
Today, Taoiseach Leo Varadkar said water charges refunds will not be paid by a "whip around" of government departments.
This comes after Transport Minister Shane Ross said yesterday that every department will pay their fair share if they have to, sparking fear that some departmental budgets would be cut.
"We won't be asking departments to make savings. That's not the case at all," said Varadkar.
Speaking to the media ahead of his speech at the MacGill Summer School in Glenties, Donegal, Donohoe said all of the plans committed to in Budget 2017 for this year in terms of public services are going to happen.
Under-spend of €300 million
The minister said that, by the end of June, he had identified a under-spend across all government departments put together of approximately €300 million.
"As is the case in any year, potential develops for under-spends against plans that ministerial colleagues were able to deliver within their own departments and this is the case for this year as it has been the case in other years.
"My objective in the second half of the year would be to use those under-spends, to use any gains that we may have in revenue later on in the year to deliver what the Taoiseach outlined over the weekend, which is to make sure that all who have paid their bills received a full refund," said Donohoe.
However, he pointed out that under-spend figure will change as we move through the year, but the fact that he has already identified an under-spend of €300 million out of approximately €27 billion – €28 billion worth of expenditure "gives me confidence to say that we can maintain the commitments that we have to citizens that came out of Budget 2017 and meet the new commitment that we have in relation to delivering a refund".
"The refund is different to other pressures that are on me in that it's a one-off payment and while many of the other things that I have to manage end up being recurring, in other words, if I do them in 2017 people expect them to continue into 2018, 2019 and 2020. That's not the case with this," concluded the minister.
Christina Finn reporting from the MacGill Summer School, Glenties, Donegal.