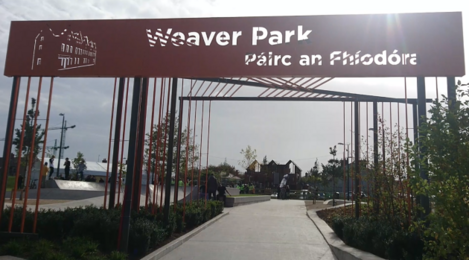 Source: Gráinne Ni Aodha via TheJournal.ie
DUBLIN HAS UNVEILED its first park in eight years.
Located on Cork Street, at the heart of Dublin's historic Liberties area, the park features a playground, skate park, and greenspace for children, adolescents and adults.
An overgrown, derelict area in October 2013, it was then designated for redevelopment and after a number of councillors backed the plans for a park. Since then it has taken submissions from locals, parents, and skate enthusiasts, who first expressed interest in the area.
Those all have gone towards creating the second public park in the Liberties area in 100 years (the other is St Patrick's Park next to the cathedral).
In his opening address to the crowd that had gathered for the park's official launch yesterday, Dublin City Mayor Micheál MacDonncha said that it was vital that locals use the new space, which has no railings or walls around it – just a knee-high wooden fence.
Source: Gráinne Ni Aodha via TheJournal.ie
He added that there would be anti-social behaviour in the park, as can happen, but that it was up to locals to claim ownership over the space designed for them.
"Enjoy it, cherish it, use it," he said.
The park is part of the Liberties Greening Strategy which aims to "improve the recreational and amenity resources for the community".
The strategy envisions a network of urban parks, making accessible heritage green spaces and refurbishment of existing green spaces and play areas.
The park has been "very busy" in the first two weeks it's been open, one woman says, while another adds that "it's been jammers" with young children at the giant playground.
One of the most interesting features of the park is the facilities made for skaters.
Source: Gráinne Ni Aodha via TheJournal.ie
Areas specially designed for skaters are scant around the city centre, with most being told to move onto other areas, and some moves being taken by authorities to prevent skaters from using the city's infrastructure to practice their skill.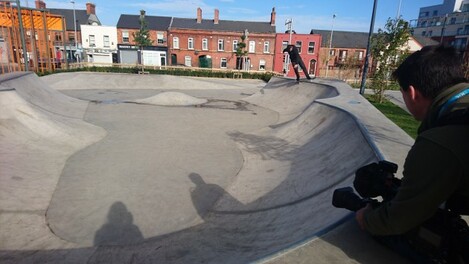 Source: Gráinne Ni Aodha via TheJournal.ie
Skater Kevin Breen told TheJournal.ie that the dedicated park got the shape of the bowl and the edges right, but said that the gravel in the park was spreading over to the bowl and like "slamming on the brakes".
A group of skaters have written to the council and asked them to fix it, "or they will sort it themselves". A councillor confirmed that this was a teething problem and would be fixed with resin, or some other solution.
But the integration between the skaters and the young children who wander over from the playground is the most interesting.
They think the bowl is a playground, but if they're going to use it we tell them 'Try out the board'.
Parent Faolán Bashford said that the skaters were important to the park because they're "here until late at night – later than any parent".
Rebecca Moynihan, who spearheaded the efforts to create the park on the derelict site, says that the park is an important gap in an area surrounded by high-rise buildings.
"It started off with Sk8 D8 looking for places to go, it was always going to be a fully integrated park with a skate element to it… But I think the skatepark really enhances it, it's something for local teenagers to do..
We provide facilities for children, but we don't provide facilities for young adults in the same way.
Initially some people were quite resistant to the idea of skaters, and actually I said skaters would be the best people you could potentially have in a park.
Zoe Obeimhen, who was involved in the Bridgefoot Street Park campaign, said that Weaver Park shows the need for green spaces in built-up areas.
"As we're living in a denser city, we really need spaces like these to create a more cohesive modern society," she says.
And it's not a case of making the place look pretty, either. She says that there will be real benefits to the local population over the next few years, including reduced suicide rates and improved mental health.
"It's been shown that there's a relationship between people living near green space and mental health of those living around it."
Obesity, and children's low exercise rates will also be improved by the park, she adds.
I have four children myself and the eldest son is nine years old and he's suddenly interested in skateboarding! You keep seeing young people carrying skateboards it's almost like local craze for skateboarding now, so it shows the type that you can only go so far at home with screens.