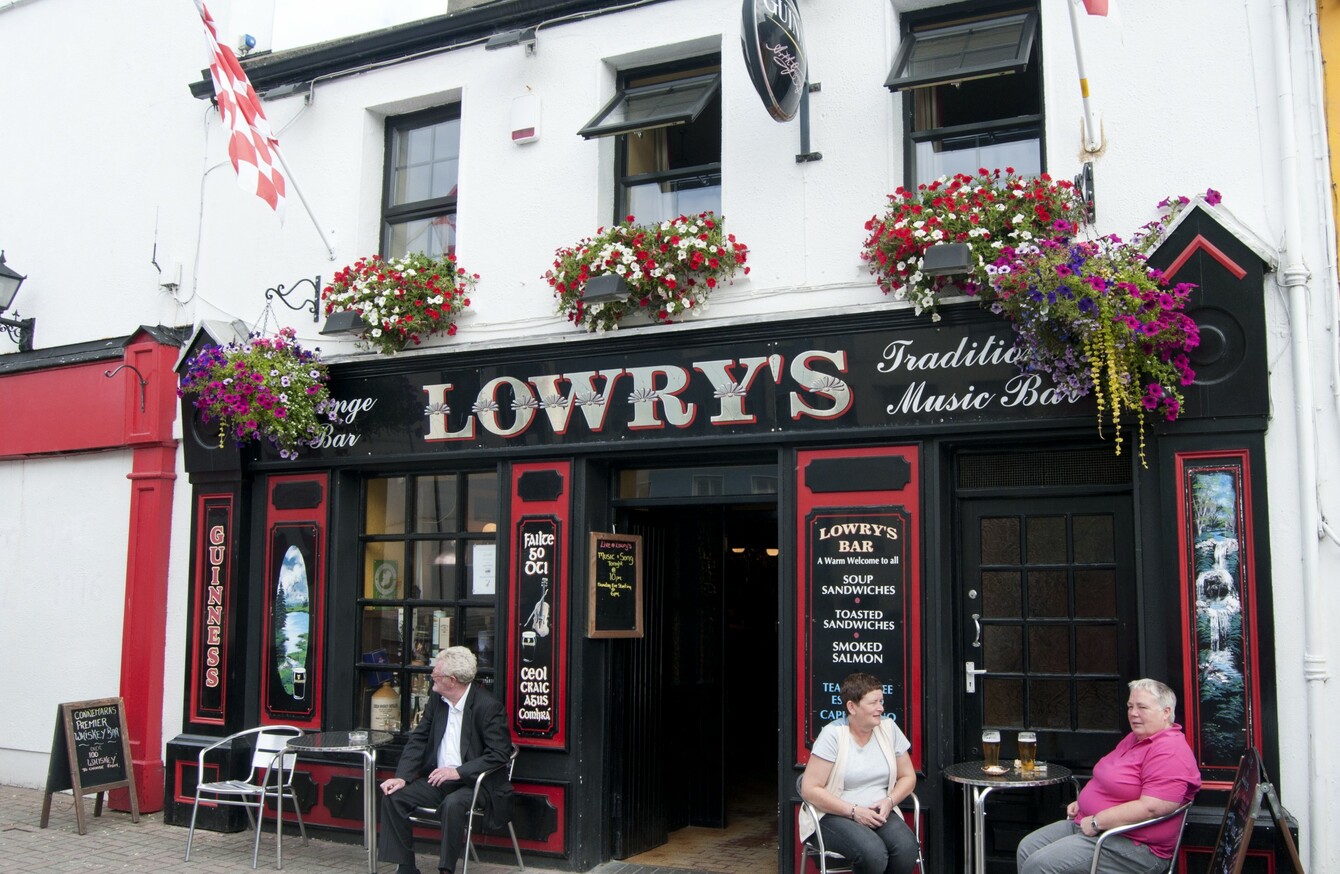 Image: Shutterstock
Image: Shutterstock
Updated Sep 21st 2020, 1:28 PM
THOUSANDS OF PUBS across the country have been reopening their doors for the first time in six months today. 
Earlier this month, the government announced that so-called 'wet pubs' would have the green light to reopen, with restrictions to ensure staff and customer safety.
The long-awaited reopening has been beset by false dawns and must go on in Dublin, but for those pouring pints once more it's an important moment. 
"Yea it's great today, it feels like a bit of a new beginning and the local community have been very supportive," John Cafferkey of Lourdie's pub in Achill told TheJournal.ie. 
We've restricted the number of people allowed in the place and we're of course no longer serving at the bar. We'll have a couple of extra staff on, we'll probably have one person at the bar and two serving. 
Under guidelines for pubs, customers will not be able to sit at or order at the bar – it will be table service only – and groups will be limited to six people from three different households, with distancing of one metre.
If a premises can implement two metre distancing, the 105 minute time limit for customers can be waived. All customers are to be off the premises by 11.30pm.
Under the guidelines, pubs will keep a record of the arrival times of their customers as well as their contact details and group numbers.
Cafferkey says the last six months has felt very long and that "the novelty wore off after about a month".
He explains that responsible publicans understand the important role they have to play to help suppress Covid-19.
"We've put up some perspex screens as well and we're looking forward to welcoming people," he adds. 
After 190 days closed we're ready to open this evening. Please abide by the public health guidelines. Thank you. #PubsReopening #COVID__19 pic.twitter.com/PibDAyxGoR

— Lourdie's | Achill (@LourdiesAchill) September 21, 2020
Cafferkey's sentiments are echoed down in Geoffs Bar in Castlemagner, Co. Cork. 
The bar describes itself as a "no nonsense old school country pub" and the manger tells TheJournal.ie that it has survived troubled times before. 
We've been going for 188 years, we were open during the famine as a soup kitchen. You know, we've been through it all. So we'll do what we're told and we'll do it with a heart and a half, we will play our part in getting this thing under control. And we'll be back again.
The manager, who says he'd rather keep his name to those who know him, says having the pub back is great for the community only if they can make sure to keep people safe. 
We're a small village and having the pub open and having a social outlet for what is a fairly agricultural area is important. It's a service we're providing rather than a business, you know. For us, it's very important that people can come and meet up. Obviously, under the precise guidelines. One thing we're really, really pushing is that we will follow the guidelines to the letter.
"We're fairly active on social media and we've got an awful lot of  people and well-wishers and who are looking forward to it being open again. And we've got people who just bump into in the local supermarket asking when are we reopening again. "
We're ready.
See you tomorrow #SafetyFirst #pubsreopening @Diageo_News @BulmersIreland @Heineken pic.twitter.com/fDoQ2nABoM

— Geoffs Bar, Castlemagner (@BarGeoffs) September 20, 2020
Geoff's Bar will be shortening its opening hours significantly, opening at 6pm this evening until the required closing time of 11.30pm. Capacity is usually about 60 people but will down at about 50% of that with the two-metre social distancing: 
The guidelines are there for the benefit of everyone. And we're going to follow them to the tee. So on the back of that that's why capacity has been restricted. And we had a big meeting with all of our staff last night to go through all the guidelines and we really want to be one of the stand out bars that is implement the guidelines. 
"We've removed all the barstools from the counter. We've taken away some of the tables that were there. So you're guaranteed more space. We used to have a pool table and that's been removed and we've put in a couple of high tables instead, again to give more space."  
#Open journalism No news is bad news Support The Journal

Your contributions will help us continue to deliver the stories that are important to you

Support us now
'Controlled environment'
Today's re-opening excludes pubs in Dublin, with local restrictions closing all bars and restaurants in the county to indoor service. In the capital, bars and restaurants can continue to serve customers in an outdoor area, but customers must order a substantial meal. Food businesses that do not have an outdoor space can offer a takeaway or delivery service for the next three weeks.
Padraig Cribben, chief executive of Vintners' Federation of Ireland (VFI) said the reopening of pubs is "a good news story, particularly for publicans, their families and staff who have been out of work for six months".
"It's hard to believe now that when pubs closed on 15 March we were worried about a two-week shutdown. It's a tribute to our members that they made it to this point.
"This is also great news for our customers, particularly in rural areas, who can now come together in a safe, socially distanced, controlled environment. The mental health benefits this opportunity will offer people are enormous."
Cribben said publicans are reopening at a time of uncertainty and it is vital that they and their staff ensure social distancing measures are enforced.
"We must all work together to beat the virus. Until a vaccine is found, the hospitality sector faces the most uncertain of futures. Our members will be trading at best 50% of capacity. Government needs to recognise this and offer meaningful supports," he said.
"As our members prepare to open their doors for the first time since March, it's with the knowledge our Dublin colleagues are denied the same opportunity. We stand in solidarity with them and their demand to be allowed open."
- With reporting by Michelle Hennessy