Sinn Féin delegates salute Nelson Mandela
HUNDREDS OF SINN Féin members gathered at the Wexford Opera House this weekend for the party's annual Ard Fheis.
With the local and European elections just months away, delegates were treated to dozens of speeches from councillors and council hopefuls as well as its European election candidates who took aim at the government's austerity polices.
There was lots to discuss and lots of talking points that emerged as the party conference season gets into full swing.
Here's what we learned from the not-so-sunny south east this weekend…
1. Sinn Féin is not averse to coalitions
One of the problems Sinn Féin faces even if it does significantly increase, probably double, its number of councillors in the local elections, is whether it will be prepared to compromise with other parties and enter local authority administrations.
Speaking to the media on Friday, Mary Lou McDonald said that the party will look at any opportunities "to act in the common interest" and will "examine all those opportunities". The Dublin Central TD pointed to having made a deal on South Dublin County Council in the past, one that was "extremely effective".
2. The two hours of live TV coverage were used wisely
The party packed literally dozens of councillors and council hopefuls into its two hours on RTÉ One between 11am and 1pm today in an attempt to get them some national exposure.
With the local and European elections just a few months away this was the battleground being opened up as speaker after speaker hit out at the government parties. We also heard from Dublin MEP hopeful Lynn Boylan who gave a strong speech on political cronyism, while Matt Carthy called on the people to "send a message" to the coalition. The delegates lapped it up.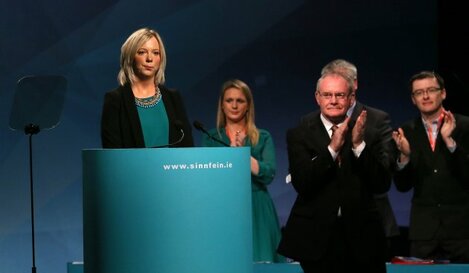 Sinn Féin Councillor and teacher, Catherine Seeley, addresses delegates. She left her teaching job after receiving abuse over her politics.
3. Matt Carthy is SF's strongest European candidate
Indeed the Monaghan councillor is favourite to take a seat in the vast Midlands North West constituency on 23 May and it's not surprising given his barnstorming speech which had some delegates on their feet towards the end of the televised session this afternoon. Carthy spoke of about "the life being drained from once thriving towns", emigration and, of course, pylons – all big issues in rural Ireland – with passion in his voice and to loud cheers from delegates.
4. But some went overboard with the rhetoric
Another impressive speech from the two hours broadcast by RTÉ was from Jonathan Graham, a 19-year-old running for South Dublin County Council. "I'm 19. It's Ireland in 2014. I'm unemployed. I don't want to join the queue for the boat," he told delegates and a live television audience.
Except, as Fine Gael blogger Paul Duggan pointed out, Graham is not unemployed, he's a student at Trinity. We spoke to Graham who told us his speech was not intended as a "personal narrative" but rather a narrative for many young people facing unemployment and possible emigration. He also said he is unemployed and receives a maintenance grant for his education. He intends to stay in Trinity even if elected in May.
5. Phil Hogan is a lightning rod for SF criticism
With property tax and water charges – both of which SF vehemently oppose – it's no surprise that there was much criticism reserved for Phil 'Hurricane' Hogan, as one delegate referred to him. On Friday, Mary Lou McDonald described him as "the Bart Simpson of Irish politics" for his 'it wasn't me' position on Irish Water while Senator David Cullinane extended the analogy, saying Hogan is "the Homer Simpson of Irish politics".
Unfortunately for Sinn Féin by the time they gather again next year it's likely Hogan will be in Brussels, as Ireland's new European Commissioner. Not that he will have cared much for what delegates had to say about him this weekend.
Martin McGuinness on a time out from the Ard Fheis to watch the rugby… and take a selifie (Pic: Twitter)
6. Sinn Féin relishes criticising government…
One of Sinn Féin's fundamental problems is it's inability to move away from the constant negativity aimed at government. The loudest cheers and the biggest rounds of applause were when criticism was aimed at the aforementioned Hogan, the Taoiseach, the Tánaiste and, of course, Joan Burton. There's no doubt the party has some substantial policy proposals, but we didn't hear much about them this weekend, particularly economics, as delegates seemed more interested in hearing about how bad the current government is.
7. … and is still dealing with the past
The Quaid family's decision to remove a plaque dedicated to IRA victim Garda Seamus Quaid from the Wexford Opera House this weekend is indicative of the problems Sinn Féin still faces. This year marks two decades since the IRA ceasefire, yet Martin McGuinness, who faced questions about the Quaid family on Friday, and Gerry Adams remain the figureheads of the party and, outside of it, hugely divisive figures.
"Obviously if the family wish to speak to us we'd be more than willing to have that conversation," McGuinness said on Friday as he apologised to victims of IRA violence, but the Quaid story highlights that words are not enough for Sinn Féin to truly deal with its past.
8. The party needs a proper discussion about abortion…
On Friday, the party had a number of speakers on an ultimately defeated motion that would have allowed a free vote on abortion – an issue of conscience. Speakers advocated for and against the motion, but at no point did we learn just exactly what is Sinn Féin's position on abortion is. We know they voted for the Protection of Life during Pregnancy Bill, but how far would they want any subsequent legislation to go?
One delegate told us on Friday night that they were appalled at the clapping that greeted speakers who spoke against the motion and slammed Mary Lou McDonald for treating delegates "like schoolchildren". The elderly woman was clearly aggravatd by the abortion issue and that's likely to continue until there's a proper debate within the party about the issue.
9. … and more problems lie ahead for Peadar Tóibín
The Meath West TD only had his jobs portfolio restored this week, but in unsuccessfully attempting to get the party to allow a free vote on abortion, he is again risking another suspension from the party if the divisive issue returns to the Dáil agenda in the coming months.
This could happen if United Left TD Clare Daly's bill to allow terminations in cases of fatal foetal abnormality comes before the house. Tóibín believes such a bill would be unconstitutional, but his party is unlikely to agree. Indeed, one party source told TheJournal.ie this weekend there would be a "serious problem" for Tóibín if he were to vote against his party again, indicating it may be more than suspension.
Pics: Laura Hutton/Photocall Ireland