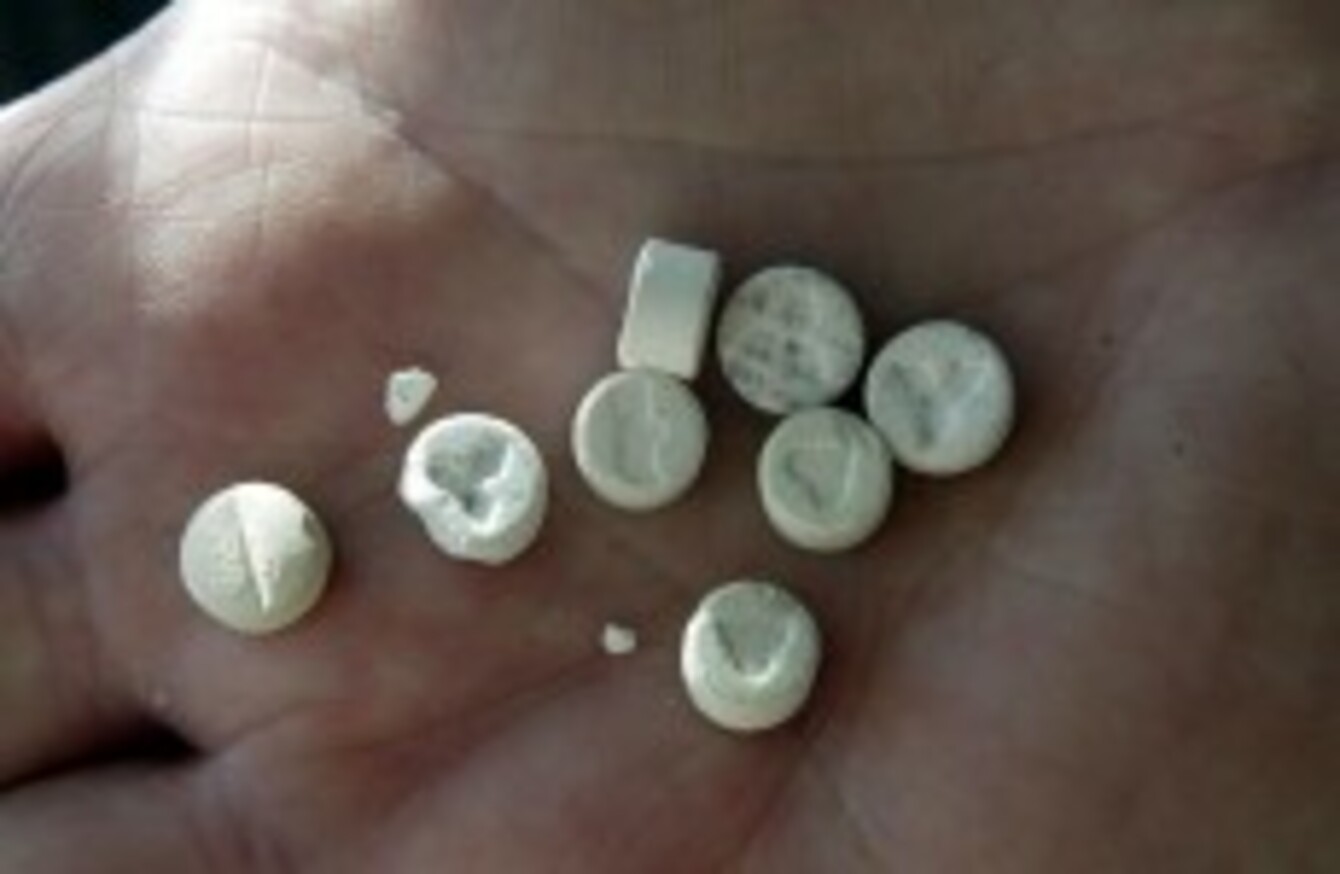 The recently published National Student Drugs Survey found that nearly half of Irish students have taken ecstasy.
Image: Paul Faith/PA Archive/PA Images
The recently published National Student Drugs Survey found that nearly half of Irish students have taken ecstasy.
Image: Paul Faith/PA Archive/PA Images
A NEW CAMPAIGN targeted at students aims to reduce the risks associated with pill-taking.
The 'What's in the Pill?' campaign, which is being launched at 2pm today in Dublin's Mansion House, warns students to think more carefully about drug use, particularly if they intend to take pills like ecstasy.
The initiative is the brainchild of Dublin's Ana Liffey Drug Project, which has worked with Trinity College Dublin, UCD and DIT to produce resources including posters and factsheets that will be distributed across all three campuses.
It is the first time a drug service has worked with Irish universities to develop and distribute drug-related resources aimed at students.
One of the major risks associated with ecstasy, according to Ana Liffey director Tony Duffin, is that it is often sold as PMMA, a cheaper and more easily available drug that can take longer to kick in.
The danger posed by PMMA, a far more lethal substance than ecstasy, came to public attention last summer following a number of deaths and hospitalisations linked to the drug.
"It's not possible to tell what's in a pill by sight, smell or taste," Duffin said.
While PMA and PMMA are widely known substances which are commonly found in what is sold as ecstasy, there are many others which are not so well known.
Advice
The campaign warns students not to assume they have dud pills if they don't "come up" as quickly as expected.
"Wait two hours. Some drugs take longer to take effect that others," a factsheet produced by Ana Liffey says.
Students are advised, if they do plan on taking pills, to never mix drugs with alcohol or "double drop" (take two tablets at the same time).
If dancing, the factsheet recommends that you rehydrate with water or isotonic drinks, and take regular breaks.
It also advises that taking a half pill is less dangerous than a full one, though smaller doses can also be risky.
Student experience
According to a nationwide survey published in September, nearly half of students had taken ecstasy, also known as MDMA, in the past 12 months.
The National Student Drugs Survey found that about 44% of 2,700 respondents had   used some form of MDMA, compared to 38% in a global drug survey released three months previously.
For most students, drug use is recreational, linked to special occasions.
One DCU student, who asked not to be named, said he had taken ecstasy "about five or six times" in the past.
"I generally buy it from a friend, who would usually have their own dealer," he said.
The dealer is usually a mate of theirs, and would have taken it themselves and passed on tips, like 'only take a half one' or 'it'll take you a while to come up'.
"It's not a flawless system," he added, "but I know never to take two [pills] at once and I've never personally had any negative side effects."
A Trinity College Dublin student, who also wanted to remain anonymous, told TheJournal.ie that she began taking pills during her first year of college
"I'd take one every few weeks, usually when I'm going out to a club," she said.
If I'm getting them from a dealer I don't know, I tend to check if there have been any warnings online [about the particular drug].
Pragmatic focus
Daniel Kirby of Students for Sensible Drug Policy Ireland, one of several student representatives to have commended the campaign, said students should be educated about the risks associated with drugs.
If someone is going to take ecstasy, it's important that they know what they're doing. It makes sense to acknowledge that people do take drugs and try to reduce the risk.
In a statement welcoming the initiative, Lord Mayor of Dublin Críona Ní Dhálaigh said it will promote "an important message, with a pragmatic focus – that it is always safest not to use drugs at all, but if you do choose to do so, that it is vital to have access to unbiased, evidence based information".
Drugs Minister Aodhán O'Ríordáin also praised the campaign, saying it was "informed by evidence".
"Drug use is a health issue, which affects all strata of society and it is important to make sure that people have the information they need to make healthy choices," he said.
Visit www.drugs.ie/whatsinthepill for further information.