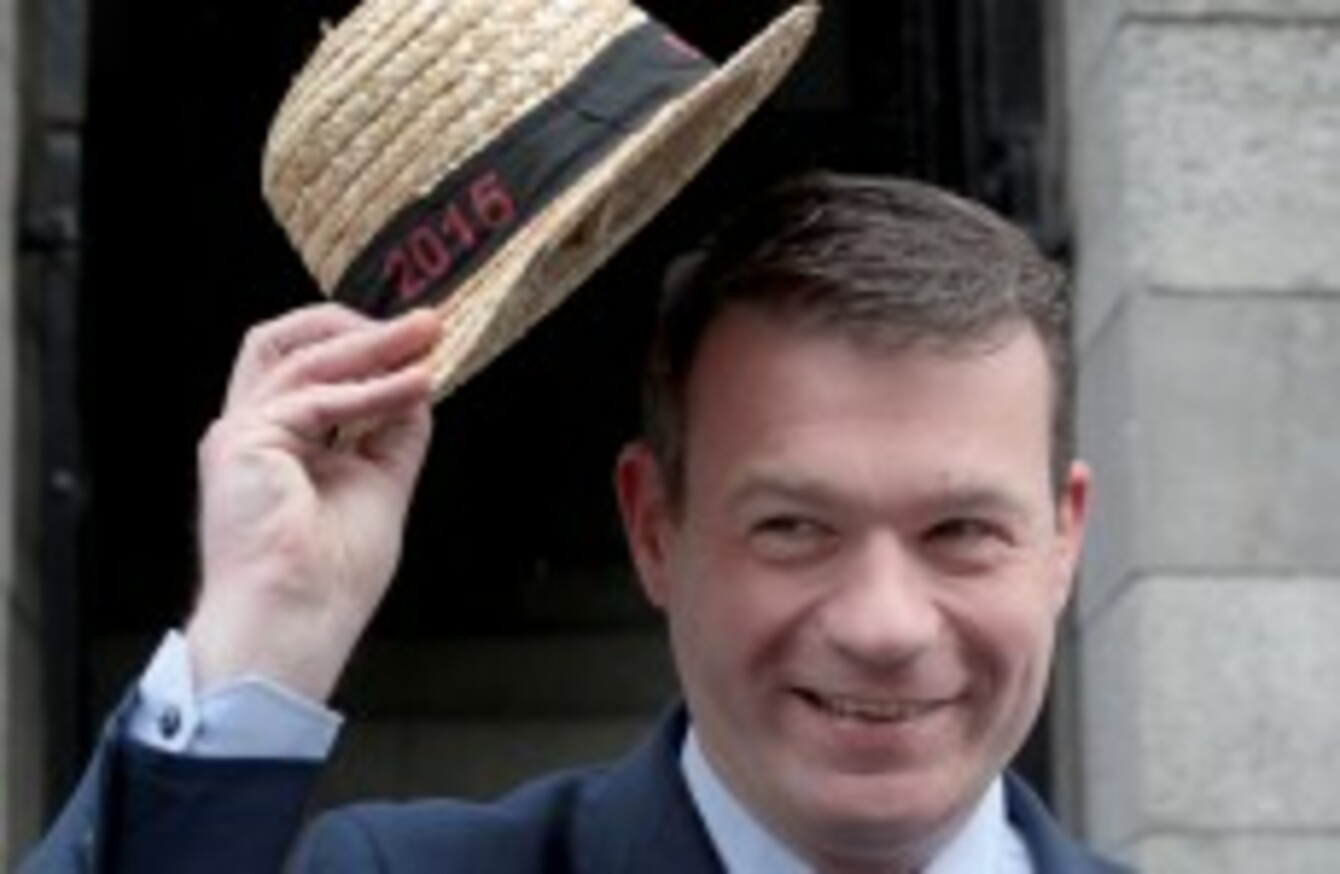 Alan Kelly at a conference on the private rental sector in June.
Image: Leah Farrell/Photocall Ireland
Alan Kelly at a conference on the private rental sector in June.
Image: Leah Farrell/Photocall Ireland
Updated 4.45pm 
ENVIRONMENT MINISTER ALAN Kelly is coming under pressure to cut short his summer break in the wake of the growing homelessness crisis in Dublin.
Figures show that the number of families living homeless in the capital has increased by 100% over the last year.
It also emerged earlier this week that a family with three young children were forced to sleep in a park in Dublin city centre after being evicted by their landlord.
On the political front, Fianna Fáil has today sharply criticised Kelly for remaining silent on the issue. Meanwhile, the Sinn Féin Lord Mayor of Dublin pleaded with Kelly to meet with her.
Fianna Fáil Senator Darragh O'Brien said the Labour deputy leader needed to come back from his summer holidays immediately.
In response to queries today, the Department of Environment confirmed that Kelly is "not around" but is in the country and would be back in the department on Monday.
"The Minister is in the country and has been in touch on a regular basis on the phone and by e-mail and continues to be contactable at all times," a spokesperson said.
Kelly's Twitter account has remained active and he was "turning the sod" at a new HSE facility in his constituency on Monday, indicating that he is not completely on holidays.
"We have a minister in Alan Kelly, who's a self professed straight talker and action man, who's actually staying silent on this, who is doing nothing about this issue," O'Brien said today.
In a lengthy critique of Kelly, he said:
He should be back behind his desk. It's all well for Alan Kelly to be on his holidays. I'd ask Alan Kelly to have a think about the family that were sleeping on this street with their three children. I'd ask Alan Kelly to think about the family that ended up in an industrial unit in this city because the council's credit card maxed out.
The minister shouldn't be on holidays, the minister should be here doing his job and he should come back here and make a statement and bring forward these proposals that we have brought forward that makes sure that no one else sleeps on the streets here. It's too urgent, it's not a crisis anymore, it's actually an emergency.
O'Brien added: "He should come back from holidays and he should address this issue. I want to really clear on this, we cannot have another weekend go or another crisis happen when this man is away on holidays. He should get back and do his job here."
The Fianna Fáil general election candidate specifically called for the Department of Environment to release €18 million in funding to Dublin City Council for emergency homeless provision.
He also called for an increase in the rent supplement payment which he said would cost between €200m and €300m in a full year.
This afternoon, Dublin's Lord Mayor Críona Ní Dhalaigh (Sinn Féin) said she has been seeking a meeting with Kelly over the €18 million shortfall in the provision of homeless services.
Shes said: "By October, government inaction is going to turn that crisis into an emergency situation when our budget runs out and we are left helpless to the need of those without a roof over their heads.
I urge, I plead with the Minister to meet with me so that the situation can be made plain and steps taken to help the most vulnerable in our society find some respite from the dangers and pains of homelessness.
The Department described the circumstances surrounding the family sleeping rough in Dublin city centre as "regrettable" and insisted it was not as a result of a shortfall in funding.
The Dublin Region Homeless Executive has no funding shortfall and has not run out of funding.
"The Dublin local authorities spent €23 million on homeless services to end-June. To date in 2015 the Department of Environment, Community and Local Government has made payments amounting to more than €18.5m to the Dublin local authorities in respect of homeless services under Section 10 funding arrangements.
"The Section 10 allocation for the Dublin region in 2015 is €37.16m. Further payments from this allocation are scheduled to issue on receipt of reports from the housing authorities."
The department also said that Kelly has tasked senior officials to prepare a plan to address the situation. This will plan will be presented to a cabinet sub-committee on social policy "as soon as possible".
A statement added:
The Government is fully committed to prioritising funding to tackle homelessness, including providing funding to the Dublin local authorities for additional measures.
These include housing acquisitions; returning vacant local authorities' properties to productive use; the roll out of the Housing Assistance Payment; and the prioritisation of homeless households in the allocation of tenancies under the control of housing authorities, the department added.