IN 1977, DAVE Linehan heard punk music – and it changed his life.
"I was probably the youngest punk at the time," recalled Linehan, who was 10 years old when he would hang out with Dublin's city punks and these days plays in the punk band Hooligan.
"I heard the Sex Pistols back in 1977 and it was just like one of those life-changing moments."
Photos of the 10-year-old are included in Garry O'Neill's book Where Were You? Dublin Youth Culture & Street Style 190 – 2000, which is now an exhibition at the Little Museum of Dublin, running until 5 January.
Back in the 1970s, Linehan would read his older brother's music magazines, and heard about the BBC's John Peel show from a cousin. Music helped connect him to a different world, one that was a brighter, freer place than the Ireland he lived in.
Ireland was very cut off at the time compared to now. Finding out that there was a guy on BBC 4 that played lots of punk for an hour once a week was like a huge revelation.
He would listen to the family radio alone, tucking it under the covers with him. He first heard the Sex Pistols on a tape his brother recorded from the radio: just half of Holidays in the Sun, on the end of the tape, was enough to make him a fan.

(SexPistolsVEVO/YouTube)
"The combination of the marching feet and the guitars just knocked me out completely. There was something in the passion and the anger as well."
By the age of 10 he was hanging around Dublin city centre, heading in on the Castleknock bus with a friend or an older sibling to go buy vinyl records at the Dandelion market.
On half-days from school he'd also be drawn to the city; any chance he could he'd buy the latest punk records as the movement soared in popularity.
"It became the kind of focus for me for a couple of years, sort of an obsession," said Linehan. Around the corner from the Dandelion market was Advance Records on South King St, which became the hangout for Dublin's punks.
The early punk aesthetic wasn't the colourful mohawks that we often think of. It was very much DIY. "You'd get the bits of your clothes that looked a little bit punk, and put them together. You might put a few safety pins and chains on it."
"I remember arranging to meet someone because they had a studded wristband and I arranged to buy it off them. It was so difficult to get things in those days – you just came up with your own version."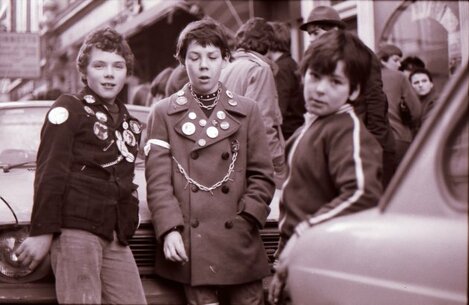 Linehan and friends. Pic: Dave Linehan
Family
Linehan's family reacted in "horror" to his punk transformation. "Ireland then, it was a very narrow-minded in some ways," he said, explaining that sensationalist tabloid headlines "saying punks were horrible people" helped to influence popular opinion and make parents worry.
His foray into punk coincided with the beginning of his pre-teen years, which is already a hard time for youths.
You felt you were being misunderstood. Your parents are just doing their job of trying to protect you from any bad influences. People like Sid Vicious weren't a great role model.
The public reaction to the punks who would hang around the top of Grafton St "went from disgust and horror", to a small bit of admiration. But overall, Linehan remembers quite a hostile reaction in an Ireland that was still incredibly conservative.
The city centre was where the like-minded souls, the outsiders, met; they came from the suburbs, where they might know no other person with the same interest, to find kinship.
At the time, there was a lot of creativity going on, with bands being formed – U2 came from the New Wave scene, which was closely aligned with the capital's punk scene.
Linehan got into the band Crass, and through them discovered anarchism, anti-racism and vegetarianism. During this "strong phase" he even visited the Crass commune in the UK.
He began taking trips to London, – it was "a whole new world" – with summers spent going to gigs before returning home to go back to school.
He moved to the UK when he was 19, and by that time he had begun to grow out of the punk scene and into different forms of music.
Rivalry
There was a bit of rivalry between the punks and the mods – Ireland was nearly a year behind London so it wasn't until the 1980s that mods arrived here – which included rumoured rival battles.
The real aggression was off fellas who weren't into any of these things, and didn't have a clue what was going on. They wanted to beat you up, half were afraid of you.
Linehan avoided all that, thanks to his age: "I used to nearly always have to be home by 6pm for my tea."
He was delighted to see O'Neill write Where Were You.
"It was incredible – I was just so happy that someone was actually documenting that time. I dunno if it was just because of my youth,  but you really felt you'd been part of something important or very unique. You hadn't, or it hadn't, had any recognition from any official sources."
"Your parents or at least my parents would look back at it as a time of, 'thank God he came out the other side'," said Linehan.
"Punk was a breath of fresh air: 'Oh my God, there's another life out there."
Where Were You, a photo exhibition, will run at the Little Museum of Dublin until 5 January 2014.
City Centre Tattoo Shop - circa 1960

1/8

Source: Nicola Lee

Se Si Clothes Shop in Temple Bar - circa 1996

2/8

Source: Peter Doland

Punk in 1991

3/8

Source: Wally Cassidy

O'Connell Street - circa 1987

4/8

Source: Tosh Stafford

O'Connell Street - circa1959

5/8

Source: John Delea

Dave Linehan (centre) and friends

6/8

Vertigo Cafe, South Richmond Street - 1993

7/8

Source: Barbara Brennan

Dave (centre) and friends

8/8

Source: Dave Linehan