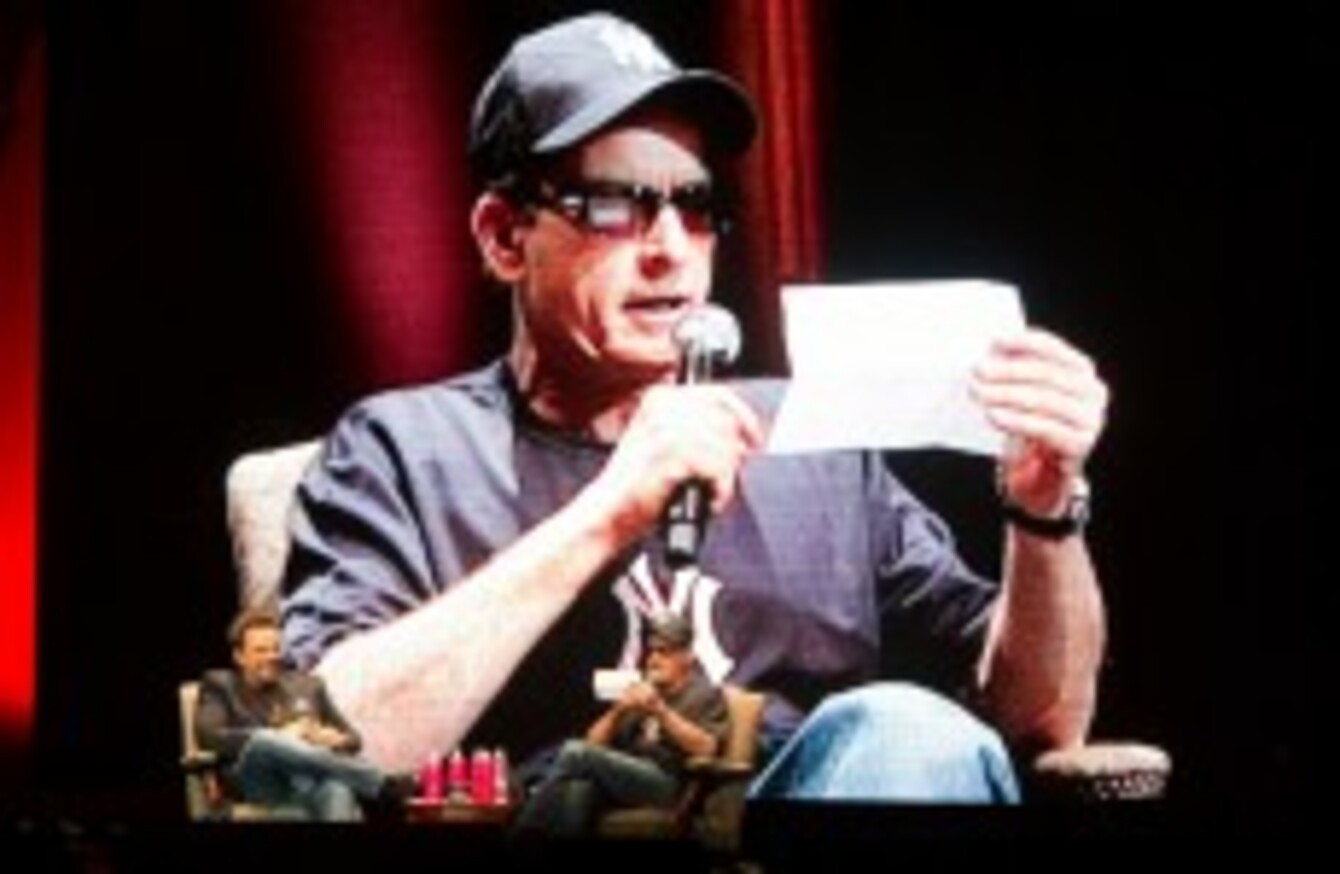 Charlie Sheen on stage in New York
Image: Charles Sykes/AP/Press Association Images
Charlie Sheen on stage in New York
Image: Charles Sykes/AP/Press Association Images
WITH TWO NATIONAL elections, two State visits and too many scandals to count, it's been a vintage year for strange quotes.
We've picked out our 12 highlights of 2011 – but which public figure uttered them? Take TheJournal.ie's 2011 Quotes Quiz and find out…
1.
The whole country is bollixed.
(a) Bertie Ahern, on Fianna Fáil's election defeat
(b) Eamon Dunphy, on Ireland's tough draw in Euro 2012
(c) David Marshall, hairdresser, on the closure of his flagship outlet
2.
When I got up – and I'm still running around in my underwear – I jotted down chapter headings that I could write my book about. My mind is just click-clicking away.
(a) Amanda Brunker, on the creative process behind her latest novel
(b) Former Fianna Fáil TD Mary O'Rourke, immediately after her defeat at the general election
(c) David McWilliams, interviewed about his next bestseller
3.

This is the most humble day of my life.
(a) Brendan Howlin, after delivering €2.2billion of public spending cuts in the Budget
(b) Gerard Depardieu, after allegedly urinating in the cabin of an Air France flight to Dublin
(c) Rupert Murdoch, after the phone hacking scandal saw him brought before a House of Commons committee
4.

There are only a few emotions that can effect change at a large organization. One is greed and another powerful one is fear.
(a) An unnamed Fianna Fáil TD on why the party began to implement reforms in panic after its electoral meltdown
(b) An unnamed Google engineer on why the firm was motivated to compete against Facebook with Google+
(c) An unnamed Goldman Sachs employee on how the company conformed to the US bank bailout programme
5.

It wasn't cool in the 80s, it's not cool now.
(a) Jedward, on the return of the 'snood'
(b) A Sinn Féin flyer referring to emigration during the general election campaign
(c) Gay Byrne on Ryan Tubridy's choice of jumper for the Late Late Toy Show
6.

Everyone in Ireland had the idea that somewhere in Ireland there was a little wise old man who was in charge of the money, and this was the first time they'd ever seen this little man. And then they saw him and said, Who the fuck was that? Is that the fucking guy who is in charge of the money? That's when everyone panicked.
(a) Colm McCarthy, UCD economist
(b) Patrick Honohan, governor of the Central Bank
(c) Michael Noonan, Minister for Finance
7.

We're not Sherlock Holmes.
(a) The Director of Corporate Enforcement explains why nobody has been prosecuted over the banking scandal
(b) An unnamed member of the Garda Special Investigative Unit, on being asked why a murder inquiry was taking so long
(c) John Gormley, then leader of the Green Party, explains that his party has found no evidence of wrongdoing in meetings between Taoiseach Brian Cowen and former Anglo chief Seán FitzPatrick
8.

The most lengthy and expensive comic ever produced.
(a) Enda Kenny on 2012′s bumper Christmas Beano annual
(b) Sinn Féin finance spokesperson Pearse Doherty on the Fine Gael/Labour Budget
(c) Businessman Dermot Desmond on the Moriarty tribunal report
#Open journalism No news is bad news Support The Journal

Your contributions will help us continue to deliver the stories that are important to you

Support us now
9.
Difficult choices are never easy.
(a) Angela Merkel describes the challenges facing the EU
(b) Celebrity solicitor Gerald Kean mulls over the menu at Town Bar & Grill
(c) Enda Kenny reassures the country in his 'state of the nation' address
10.

I would have won the presidency that time but it is just a job that didn't appeal to me.
(a) Charlie Sheen on the 2012 Republican nomination
(b) Bertie Ahern on the leadership of the EU commission
(c) Gay Byrne, on October's presidential election
11.
Everyone needs to put fake snow in the sea and create a huge snow globe of fish and sea creatures.
(a) Jedward put a call out to their fans
(b) Rapper Nicki Minaj on her plans for world domination
(c) Martin McGuinness outlines policy proposals on the presidential election trail
12.

There's a new sheriff in town. And he has an army of assassins.
(a) Finance minister Michael Noonan on his plans to clean up Ireland's banking system
(b) Independent TD Noel Grealish on attaining the captaincy of the Oireachtas Golf Club
(c) Charlie Sheen on why he should be taken seriously
Answers: 1 (c), 2 (b), 3 (c), 4 (b), 5 (b), 6 (a), 7 (c), 8 (c), 9 (c), 10 (b), 11 (a), 12 (c).