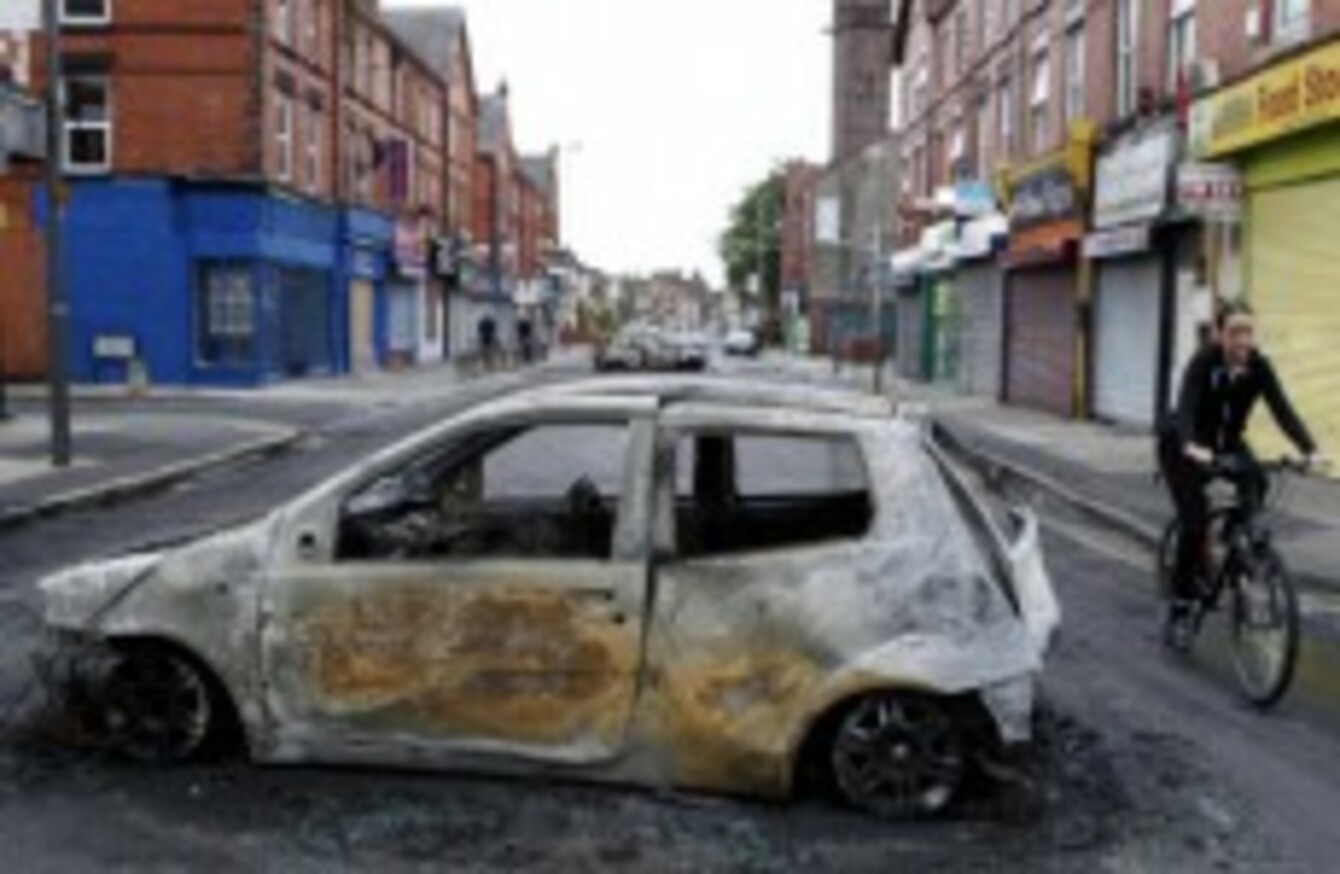 A woman cycles past a burnt out car on Lawrence road in Wavertree, Liverpool, after a second night of rioting.
Image: Peter Byrne/PA Wire/Press Association Images
A woman cycles past a burnt out car on Lawrence road in Wavertree, Liverpool, after a second night of rioting.
Image: Peter Byrne/PA Wire/Press Association Images
WHY IS THIS rioting and disorder taking place in the UK?
And why are people as young as 11 taking part?
That's the question being asked this week – and many voices are coming up with a variety of answers.
In The Guardian, Zoe Williams says that "just because there is no political agenda on the part of the rioters doesn't mean the answer isn't rooted in politics".
She continues:
There seems to be another aspect to the impunity – that the people rioting aren't taking seriously the idea it could rebound on them. All the most dramatic shots are of young men in balaclavas or with scarves tied round their faces, because it is such a striking, threatening image. But actually, watching snatches of phone footage and even professional news footage, it was much more alarming how many people made no attempt at all to cover their faces.
One woman who knows the extent of the discontent felt by young people is charity founder and community worker Camila Batmanghelidjh, who said in an article in the Independent that riots occur when youths don't feel part of the community.
If this is a war, the enemy, on the face of it, are the "lawless", the defenders are the law-abiding. An absence of morality can easily be found in the rioters and looters. How, we ask, could they attack their own community with such disregard? But the young people would reply "easily", because they feel they don't actually belong to the community.
Community, they would say, has nothing to offer them. Instead, for years they have experienced themselves cut adrift from civil society's legitimate structures. Society relies on collaborative behaviour; individuals are held accountable because belonging brings personal benefit. Fear or shame of being alienated keeps most of us pro-social.
Peter Apps, writing for Reuters, says that London's rioters show "some of the characteristics as the pro-democracy demonstrators of the 'Arab Spring'" but that the British violence has been almost nihilistic in nature.
"What you have underlying all of (these events) is the same feeling of malcontent particularly among the young, who are the ones with the energy to get out and riot — it's not just Britain," said Louise Taggart, Europe analyst for London-based consultancy AKE. "If the authorities do not address the issues behind this, there's a very real risk will see more."
Also in Reuters, it is pointed out that there is a widening gap between the rich and poor in the UK:
Britain, one of the world's major economies, has a bigger gap between rich and poor than more than three-quarters of other Organisation for Economic Cooperation and Development (OECD) countries, according to a 2008 report. Charities in Britain say that inequality is most keenly felt in London.
"It's us versus them, the police, the system," said an unemployed man of Kurdish origin in his early 20s, sitting at the entrance to a Hackney housing estate with four Afro-Caribbean friends who nodded in agreement.
Christina Patterson, writing in the Independent, looks at the race element to the riots, and concludes:
It wasn't these children who created the culture that told them that what mattered was the brand of their trainers, or the glitter of their bling. It wasn't these children who created the culture that told them that their one hope of escape was hip hop, or fame. It wasn't these children who created the institutions of a country where all the black workers were in the canteens. We have, as a society, created this monster and, as a society, and like those people heading into the trouble spots with dustpans and brushes, we must pick up the pieces.
A failure of policing is partly to blame for the riots, says Mary Riddell in The Telegraph, among other reasons:
The real causes are more insidious. It is no coincidence that the worst violence London has seen in many decades takes place against the backdrop of a global economy poised for freefall. The causes of recession set out by J K Galbraith in his book, The Great Crash 1929, were as follows: bad income distribution, a business sector engaged in "corporate larceny", a weak banking structure and an import/export imbalance. All those factors are again in play.
Meanwhile, a vicar, writing on The Anchor and Chaplain Media blog, described how her dog collar led to her being protected by rioters:
As some men picked up half bricks and got in line to lob them at police vans, the action shifted from one place to another so no matter where you stood you ended up in the thick of it at some point.  Bizarrely, whenever it came near me, one or other of them (yes, the brick throwers) would basically halt fire and ensure I was somewhere safe (even to escorting and physically shielding me from rocks) before giving the OKay for more missile throwing.
I was being protected by the people instigating the violence!
More bizarrely still, during the lulls many men came and spoke with me.  Young, old, missile throwers, spectators, residents, the employed and the unemployed.
The means through which many rioters have been communicating is said to be BlackBerry Messenger, or BBM.
The Daily Mail says that today there have been calls for BBM to be shut down amid such allegations.
BlackBerry is hugely popular among young people in the UK, being used by 37 per cent of British teens.
The Guardian says that BBM messages cannot be traced by the authorities, unlike social network sites online.
BBM messages seen by the Guardian called for people to vandalise shops on Oxford St and also to meet in Enfield town station.
The Telegraph says that hackers have threatened that BlackBerry employees will "regret it" if the company assists the police investigating the riots in London.