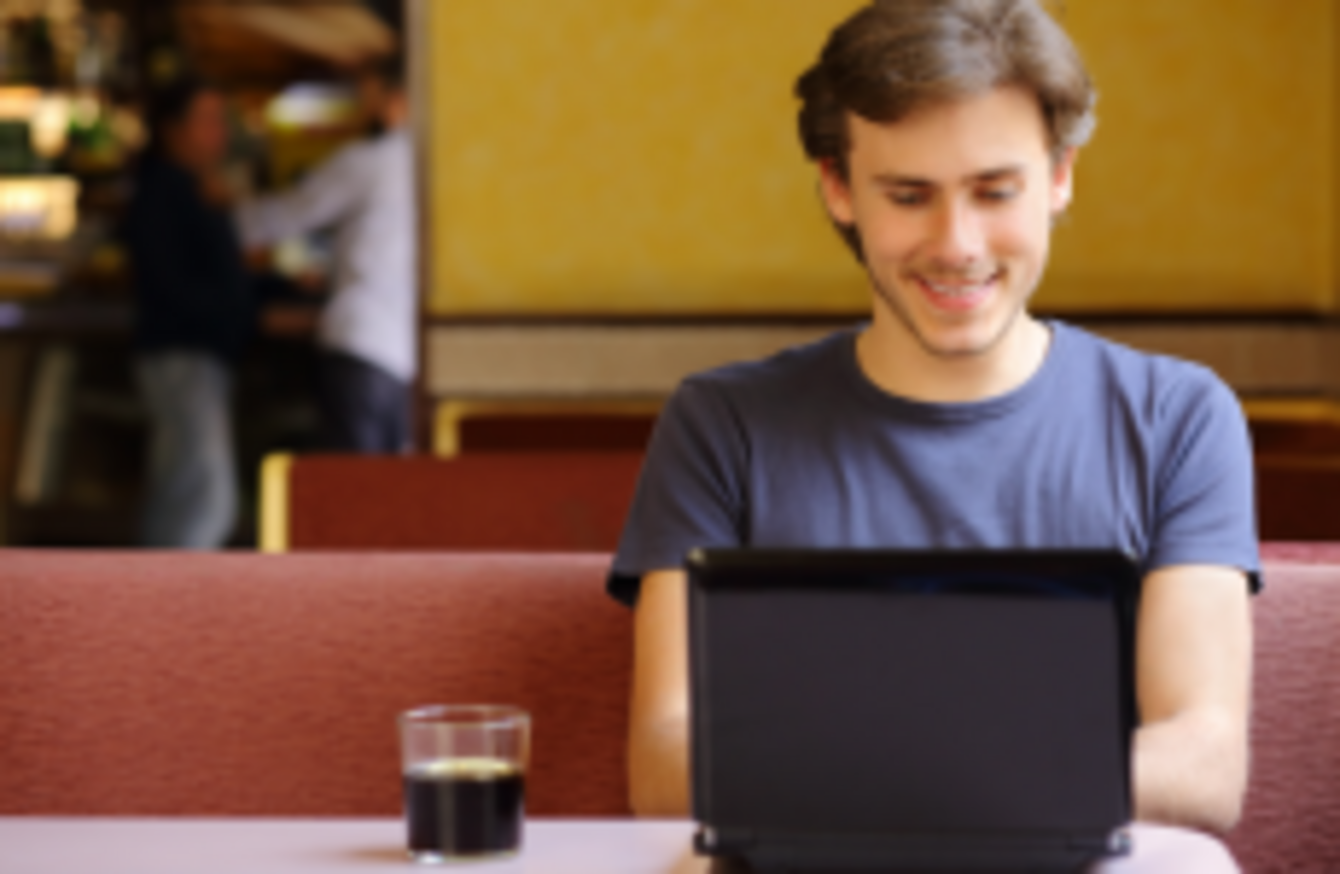 Image: WiFi coffee shop via Shutterstock
Image: WiFi coffee shop via Shutterstock
FREE WIFI HAS come to be something we almost expect from the coffee shops, pubs and hotels we use.
Statistics from the telecoms regulator, ComReg, show the number of public WiFi hotspots in Ireland are on the increase.
In its latest quarterly figures, it recorded 2,860 hotspots and 4,899 access points
That's a jump of 18% when compared to the first quarter of 2013.
ComReg says that the use of WiFi minutes also rose by 68.4% in the first three months of the year.
Plenty of big coffee chains such as Starbucks have led the way in the world of free WiFi. But does it attract spending or will it lead to customers saying and using WiFi for hours on end over one cup of coffee?
Some cafés in America have started to deliberately turn off the WiFi, believing it to be improving business and adding a 'community aspect' to their businesses.
Stateside 
August First Bakery is a café in Burlington, Vermont.
The coffee shop initially offered free WiFi when it opened four year ago – however, it has now banned laptops with a sign saying 'Screen Free'. It states:
No laptops, iPods or similar devices. Reading, daydreaming, and chit chat encouraged.
The owner, Jodi Whalen, described how some people were coming in for their coffee in the morning and sitting in the café using the WiFi all day.
"We saw a lot of customers come in and look for a table, not be able to find one and leave so it was a lot of money flowing out the door for us."
She told the blog, all tech considered, that sales have increased since the ban.
To walk into a place and see people looking at their screens with a blank stare…it takes away the community aspect of it – of you being in a place with other people.
Bryant Simon is a Temple University history professor and author of Everything but the Coffee: Learning About America From Starbucks.
He says, "There is now a market niche for not having Wi-Fi."
So how does Ireland fare out in comparison to the US on WiFi or lack thereof? With our WiFi figures on the increase, do we really have a niche for switching it off?
Ireland's Internet 
The owner of Clement & Pekoe coffee shop in Dublin, Simon Cummings, told TheJournal.ie that they do offer WiFi but don't have many customers who take advantage.
"We sometimes get American college students asking for WiFi straight away and they may be on it for a long time but generally it's not a problem.
Our customers use the WiFi but they don't take advantage. For us it works to give that service – it helps business.
Shane Deasy is the Managing Director of Bitbuzz, Ireland's largest WiFi network operator.
He said that a fear of customers taking advantage of a free service has always been there.
"Coffee shop owners have always been worried that chairs could be taken for hours on end.
WiFi usage has increased three fold in coffee shops over the last 12 months but log-on time is now much shorter.
"So more people are logging on – but for a shorter time. Generally people just want to check their e-mails compared to taking out a laptop for a few hours."
Deasy said that Costa Coffee in Ireland has its WiFi linked to customer loyalty cards and if they don't have one, they only get 30 minutes.
He also described how some of its WiFi services log out the customer after 20 minutes.
"It's a gentle reminder so people realise they have been using it for a certain amount of time."
Bitbuzz is also seeing that some coffee shops want more control while some don't want WiFi in there at all, like this café in Bray.
Deasy commented that they will still have people sitting there surfing the web because people have their own connections on mobiles.
He added that it's hard for companies who don't want a free connection as "everyone is coming in expecting WiFi".
When asked about the problems experienced in the US of customers coming in for hours on end to use the connection, Deasy said:
We don't see it in Ireland to be honest, we would get complaints from our customers if we did.
So…for now at least, it looks like Ireland's love affair with free WiFi is safe from getting the plug pulled.
We may love our free internet-but we don't seem to be setting up office in our local cafes just yet.