WORKERS BATTLING THE closure of a Goodyear tyre plant in France have released two executives they had held captive for close to 30 hours before occupying the factory.
Flanked by police, the two men walked out of the plant in the northern city of Amiens as employees whose jobs are threatened chanted: "We're not the thugs".
Goodyear announced in January last year that it was closing the factory, which employs 1,173 people, after years of negotiations with unions failed to come up with a solution to save jobs.
Unions launched a series of legal proceedings against the company, but to no avail.
In a last-ditch bid to save the plant and get substantial pay-offs, workers — led by the CGT union — on Monday "bossnapped" the factory's head of production Michel Dheilly and human resources director Bernard Glesser.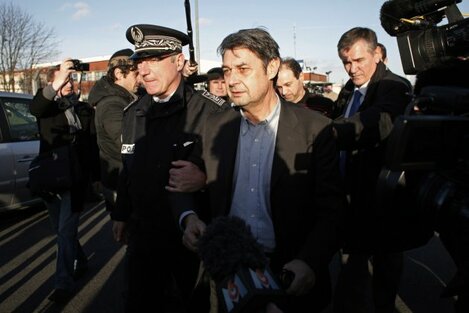 Goodyear's human resources chief Bernard Glesser (centre) leaves the plant earlier today. (AP Photo/Thibault Camus)
Goodyear had refused to negotiate until the executives — who were treated well throughout their detention — were freed.
France's main employers organisation, the Medef, denounced the bossnapping as "violent, completely against the principles of dialogue and negotiation", while the head of US tyre firm Titan International, who has offered to partially take over the plant, labelled it a "kidnapping".
"In the United States, that would be called a kidnapping. These people would be arrested. It's a very serious crime, you risk life in prison. But in France, your government does nothing, it's crazy," Maurice Taylor told Europe 1 radio, in comments translated into French.
Taylor, known as "the Grizz" for his tough talk, made waves in 2013 when he wrote a letter to the French industrial renewal minister calling French workers lazy and overpaid after years of negotiations by Titan to take over the plant had failed.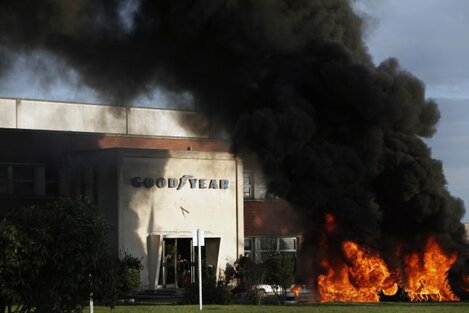 Workers ignite a bonfire of tyres in front of the Goodyear plant. (AP Photo/Thubault Camus)
Months later, he backtracked and offered to partially take over the plant, in a plan that could preserve 333 jobs at the site for four years or more.
Previous attempts
The practice of so-called "bossnappings" to protest layoffs was rampant in France at the height of the financial crisis.
Former President Nicolas Sarkozy vowed to stamp it out but failed to take any concrete action and militants employing the tactic know they are unlikely to face any serious legal repercussions.
In 2013, two separate cases of bossnappings were reported in France. Over the years, these detentions have never lasted more than a few days, although they have sometimes been action-packed.
In September 2011, four executives from Dutch aluminium group Constellium held in northern France were freed at night by police who helped them escape through an opening in the railings around the site.
Mickael Wamen, CGT leader at the Goodyear plant, said Tuesday that workers would now occupy the factory.
"We will negotiate the factory against our severance pay," he told reporters.
One proposal that was abandoned in 2012 was a plan for voluntary redundancies, and the CGT now hopes to bring an improved version of that plan back to the table.