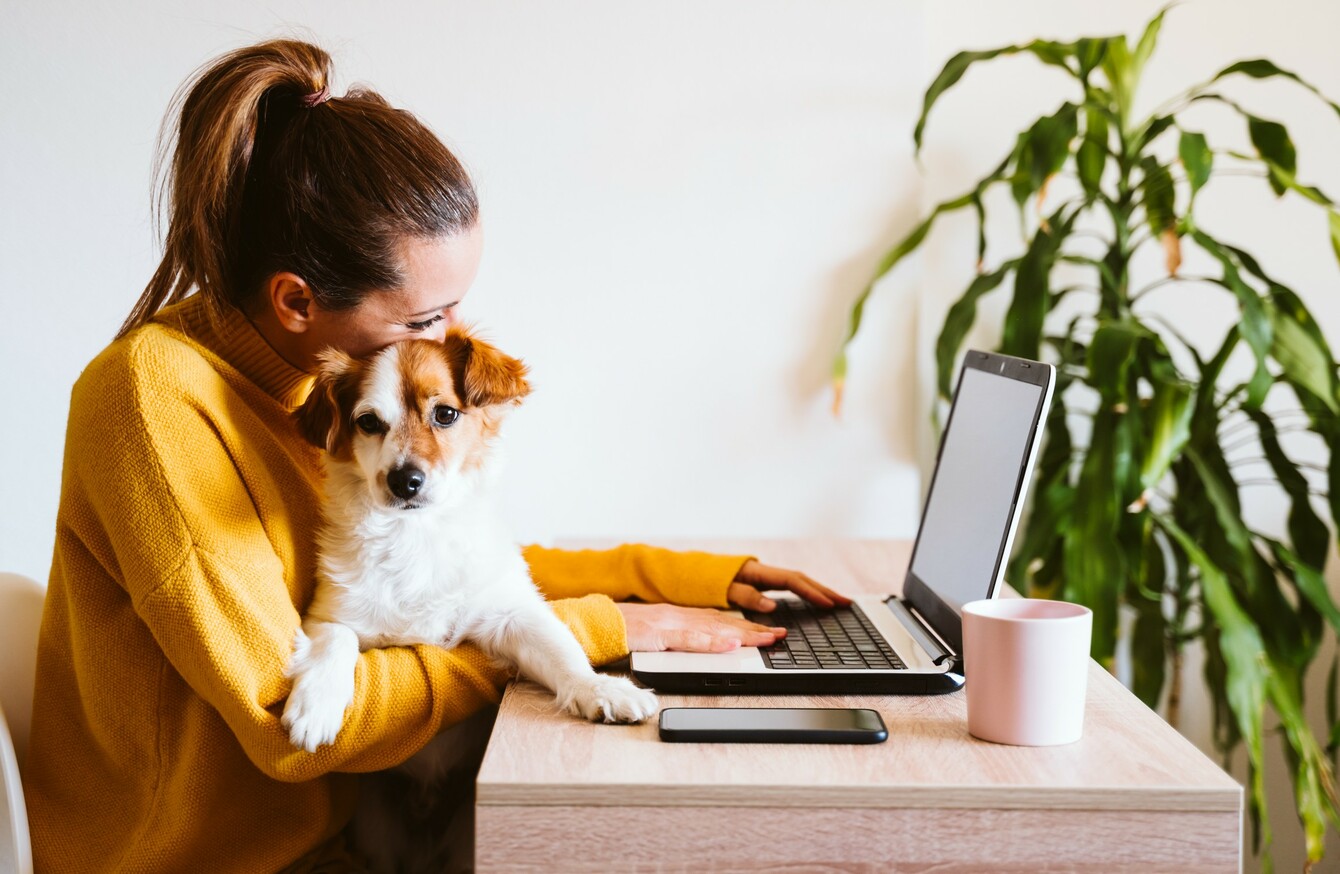 Image: Shutterstock
Image: Shutterstock
SINCE THE ARRIVAL of Covid-19 in Ireland last year, many of us have seen our homes in a completely new light.
Your kitchen may have become an office, the sitting room a classroom and the bedroom a yoga studio. However, while children have returned to schools and gyms are set to open in the coming weeks, working from home is far from a thing of the past. 
In fact, most office workers want to work from home two to three days per week post-pandemic, according to a recent poll.
But what if you're currently buying your first home? When you're house hunting, what's the smart way to factor in a working-from-home future? What should buyers look for in a work-from-home space? We spoke to Denise O'Connor, managing director of architectural and design consultancy Optimise Design, to get her advice. 
Consider your working style
While some of us need complete silence to work and complete tasks, others prefer to be in the centre of the action. This is something to keep in mind when planning where your workspace is, says Denise.
"It's not one size fits all. If, for example, you're on a lot of video calls or you've a lot of meetings or phone calls, it's probably better that you have somewhere that you can close the door and not be interrupted. 
"For other people, they like the hustle and bustle of having people around and people coming and going. So somewhere like the living space, or even if they could have a designated space in an open-plan kitchen area, can be quite nice."
Think outside the box
If you don't have a separate home office or you want to be close to the goings-on in your household, there are many solutions that don't include setting up shop at the kitchen table. 
"For example, in a TV room you can have a whole wall of joinery, and then there's a section in that where doors open out and there's a pullout desk," says Denise. "You can work there during the day, but then in the evening everything gets tucked away and closed behind the doors. Then it's out of your mind until the following day, but nothing is disrupted, so it's easy for you to set up and get started into your day the next day."
Other solutions include setting up your workspace in an alcove under the stairs or on the landing but, again, Denise says "you have to be realistic" about your needs. "If everybody's tiptoeing around and being really quiet all the time, it's not sustainable."
Be smart with lighting
Wherever you decide the right WFH spot is for you, Denise recommends paying attention to lighting. "It is really important to get natural light, but you have to be mindful of that as well. If you're working on screen for a long time, you need to have flexibility with blinds and shades so you don't suffer from glare and things like headaches and dry eyes," she says.
"The other thing that's really important is the type of artificial lighting that you have in your workplace. Typically, when it comes to our homes, we go with very warm light because it's relaxing. But when it comes to working, it's much better for you to have a colder, colour temperature in your bulbs.
"There are some really clever lamps and bulbs that you can buy now where you can control the colour temperature, so they can be cool when you're working and then you can warm them up in the evening time."
Invest in furniture wisely
While you'll likely want your new home to be filled with beautiful furniture and decor, Denise says practicality is key when it comes to planning your workspace. "When it comes to buying furniture for our homes, usually the aesthetics and all of that is what we think about, but with office furniture – particularly your chair – it needs to be comfortable. So I'd always say, try and buy the best possible chair that you can, rather than taking the chair from the kitchen or whatever. And the same with the desk, make sure that it's something that will fit everything that you need."
And when you have your furniture picked out, measure once and measure again. "Make sure that it fits in the space that it works in the space," says Denise. "Say you're putting it in a bedroom with an en-suite, make sure doors aren't going to clash into it and it's not going to compromise the use of that room." 
Keep flexibility in mind
As the last year has shown, having a home that's adaptable can make life much easier as your and your family's needs change. 
"I think the biggest takeaway from all of this is trying to make our homes as flexible and adaptable as possible," says Denise. "Over the space of eight hours your home can go from classroom to boardroom to living room to gym class. Having that ability to make it as flexible and adaptable in as easy a way as possible, is going to make things much less stressful." 
How to draw a line between 'work' and 'home' in your new space – and keep it clear 
Now that you've found your dream home with your perfect workspace, you'll want to make sure that the two don't crossover. Below, organisation expert Sarah Reynolds from Organised Works shared some ideas to help…
1. Create a workplace zone 
Even if you don't have a separate home office, it's still possible – and important – to keep a dedicated workspace, says Sarah. "What we want to do is create a zone so that it's like we're walking into work where we're productive in this space, and then we can walk out of work and switch back to our family life and our own personal life.
"The best way to achieve that is to look at the furniture that you have, and how this can create this sort of wall between work and the rest of our life. Can we strategically place the back of a couch or a bookshelf between the two spaces? It doesn't even have to be a piece of furniture, it can be looking at your flooring. So even if you place a rug underneath your desk and your chair, it's helping your brain to say that this is my workspace."
2. Be strict with what you really need
While you might need extra monitors and equipment in order to work from home, Sarah recommends keeping unused and unneeded items to a minimum. "If you are running a small business from home or you're an entrepreneur and you're working from home, then yes, you probably do need a designated home office. But if you are an employee working from home, you'll likely need less documents and less supplies than someone who's running a business from home. 
"Figure out exactly what it is you need in order to get your work done and really pare it back. Because we're working from home, we really only need the bare essentials… The more work paraphernalia that we have, the more difficult it's going to be to switch off in evenings and weekends."
We don't want to feel like we're living at work. We're working from home. 
3. Only decorate once you've decluttered
Once you've figured out exactly what you need to work from home, then it's time to decorate, says Sarah. "When your work paraphernalia is organised, then look at your nice decor and bring in your personality, because now it's not going to get confused with your work setup. Make it a nicer place to be and a nicer, more motivating place to work by adding in a couple of frames of your family and your friends, put in a couple of plants, add a rug to warm up the place."
At Glenveagh Homes, our vision is that everyone should have the opportunity to access great-value, high-quality homes in flourishing communities across Ireland. We understand that buying a home is possibly the biggest decision you will ever make in your life – but we want to make it your easiest. Click here to find out more about Glenveagh developments.