A NEW EXHIBITION is looking at the impact the First World War had on Irish woman.
'Doing their bit: Irish women and the First World War' explores the new opportunities that opened up for woman as a result of the war.
The work of two women  – Kate Middleton Curtis and Monica Roberts – is highlighted in the exhibition.
Monica Roberts Source: Edgware Police Station
Curtis was a distinguished member of St. John Ambulance in Dublin who referred to herself as 'The oldest ambulance lady in Ireland' and Roberts established 'The Band of Helpers for the Soldiers' in 1915.
Monica Roberts came from an affluent Protestant family from Stillorgan and was 24 when the war broke out in August 1914.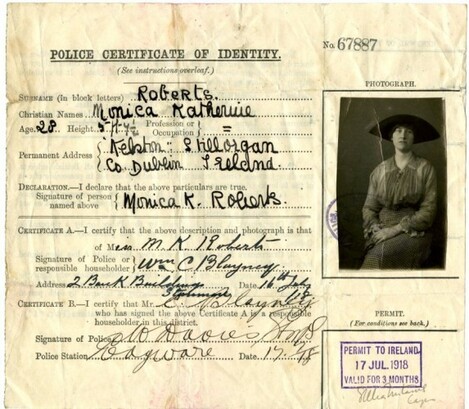 Source: Edgware Police Station
Along with some of her friends, she established the Band of Helpers for Soldiers, a voluntary organisation dedicated to raising funds and sending packages to troops in Royal Dublin Fusiliers and Royal Flying Corps serving overseas.
The sent items like handkerchiefs, socks, gloves, boot laces, cigarettes, pipes, pocket-knives, medical supplies, scarves, watches, writing materials, books and food.
The Band was run on private donations and each member paid threepence upon joining, with the funds going towards 'buying comforts, also for postage of goods to the front'.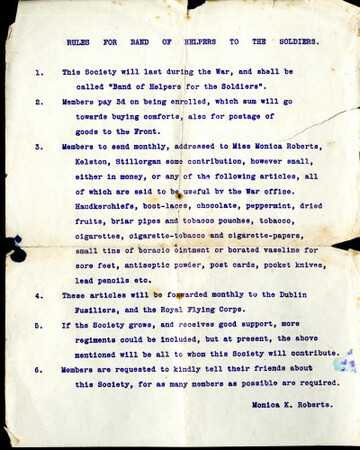 Source: Monica Roberts
Monica enclosed a personal letter with each parcel, leading to lengthy correspondence with several soldiers and airmen.
These letters and postcards from the frontline are on display. They provide a snapshot of life during the war and are filled with immediate concerns – poor quality of food, lack of sleep, bad weather, homesickness and family.
Postcards were a cheap and easy way for soldiers at the front to contact home. The Monica Roberts Collection shows examples from cheap mass-produced cards to the more elaborate handmade embroidered ones.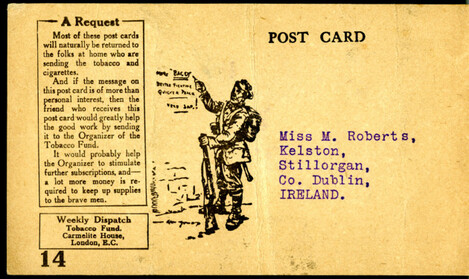 Front of postcard from Private S. Martin to Monica Roberts Source: Stephen Martin
'Greatly accelerated changes'
The Band of Helpers demonstrates the lengths to which Irish civil society was involved in the war.
Senior archivist Ellen Murphy said, "The role of Irish women in World War 1 is a story that is yet to be fully told.
Against the backdrop of the campaign for female suffrage and the struggle for Irish Independence, this exhibition explores how the First World War impacted the lives of Irish women and greatly accelerated the changes which had been slowly taking place in society before the outbreak of war.
"By 1918 Constance Markievicz was the first woman elected to the British House of Commons and many Irish women had experienced new economic or social freedoms through the employment and volunteer opportunities offered by the war."
The exhibition runs at Dublin City Library and Archive, 144 Pearse Street, Dublin 2 until 28 April. It is open during library hours.
Guided tours are available at 3pm today and every Saturday in April at 11am.
Members of the public are encouraged to contact Dublin City Library and Archive (DCLA) @dclareadingroom using #doingtheirbit if they have stories to tell of their own relatives during the First World War or want to enquire about anything in the exhibition.
An accompanying lunch-time lecture series will run at 1.10pm every Tuesday in City Hall during the month of April.
It explores different aspects of Irish women's' experiences throughout World War 1 from anti-enlistment activism to working in munitions factories and war-time nursing.