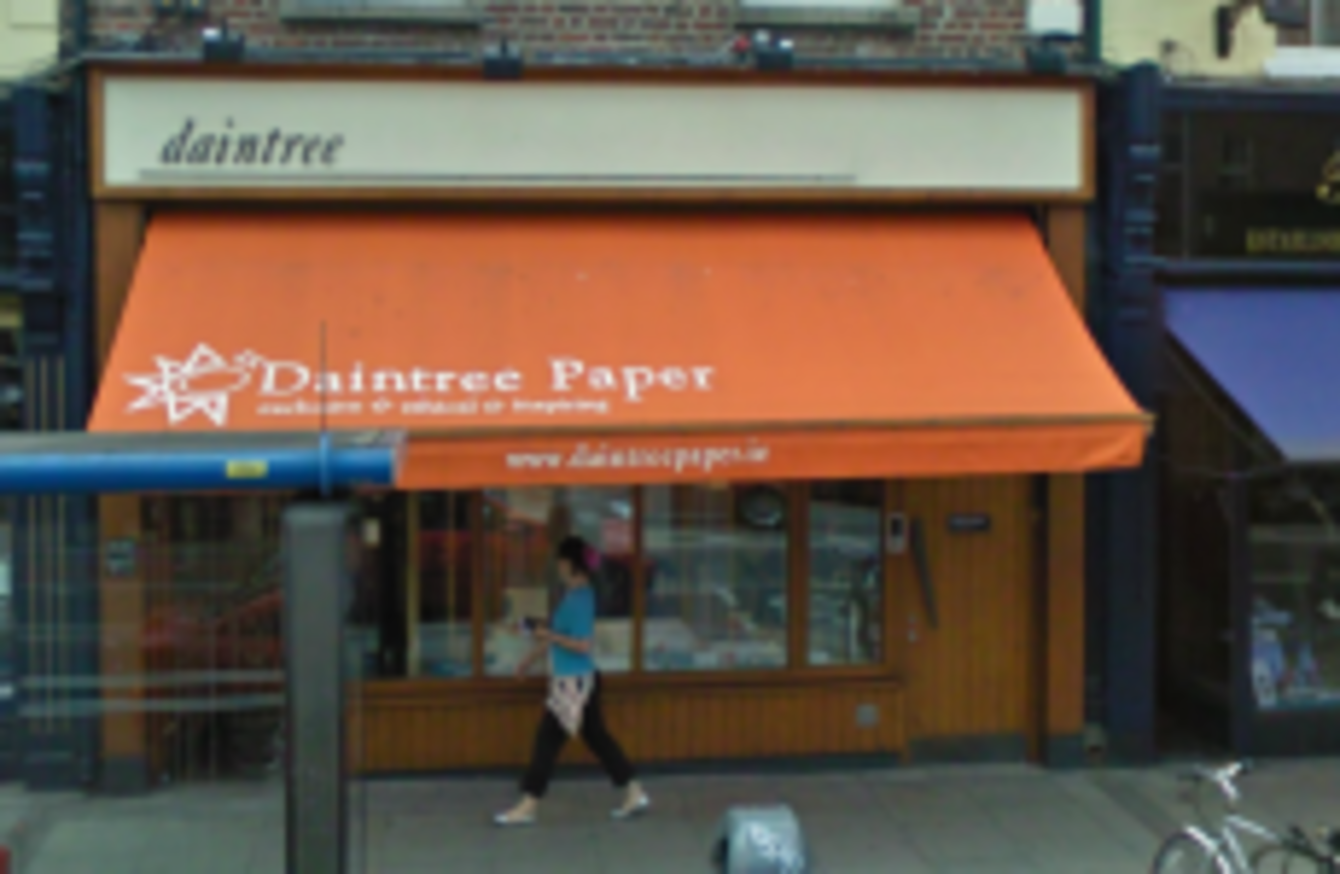 Daintree Paper, in Dublin city.
Image: Google Street View
Daintree Paper, in Dublin city.
Image: Google Street View
A WELL KNOWN Dublin stationery store has come up against strong criticism today over comments made by its owner, Paul Barnes, about same-sex marriage.
In the latest issue of the Gay Community Newsletter (GCN), a letter from a businesswoman claimed Barnes, owner of Daintree Paper, had removed a wedding cake-topper of two grooms holding hands, that she had made, from display in his store.
"He had removed the same-sex couple topper from my stand without my permission because it was in conflict with his religious beliefs and although he is happy for people from the LGBT community to shop in his store, he is not comfortable with promoting same-sex marriage on the shelves," Nicola Hyland said in her letter.
In response to the letter, Daintree's owner Paul Barnes said "Daintree does not stock any merchandise that promotes same-sex marriage".
Daintree has a subsidiary company called The Jesse Box, which is a program for teachers and parents to pass Christian faith to children through re-enacting bible stories in a diorama. There is an obvious conflict here that prompted the action as outlined in the letter from Nicola Hyland.
GCN Editor Brian Finnegan told TheJournal.ie that the publication felt it necessary to share the letters with the LGBT community.
"We put it there because we feel consumers who are gay or lesbian have a right to know about who they are spending their money with," he said. "The owner of Daintree has every legal right not to stock that merchandise, he's not actively discriminating under the law I don't think – to refuse service would be different – but we have the right to point out businesses that we believe are discriminating against LGBT people."
There has been a huge reaction on Twitter and Facebook with customers expressing their outrage at the store owner's behaviour:
(Click here for a larger image)
Finnegan said he was glad to "see straight people react and say 'that's not on'."
"Everybody has gay friends, lots of people have gay family members and people in their circle of friends and people are entitled to know about this," he added.
Paul Barnes did not respond to calls from TheJournal.ie requesting a comment. However his staff were quick to distance themselves from the controversy: