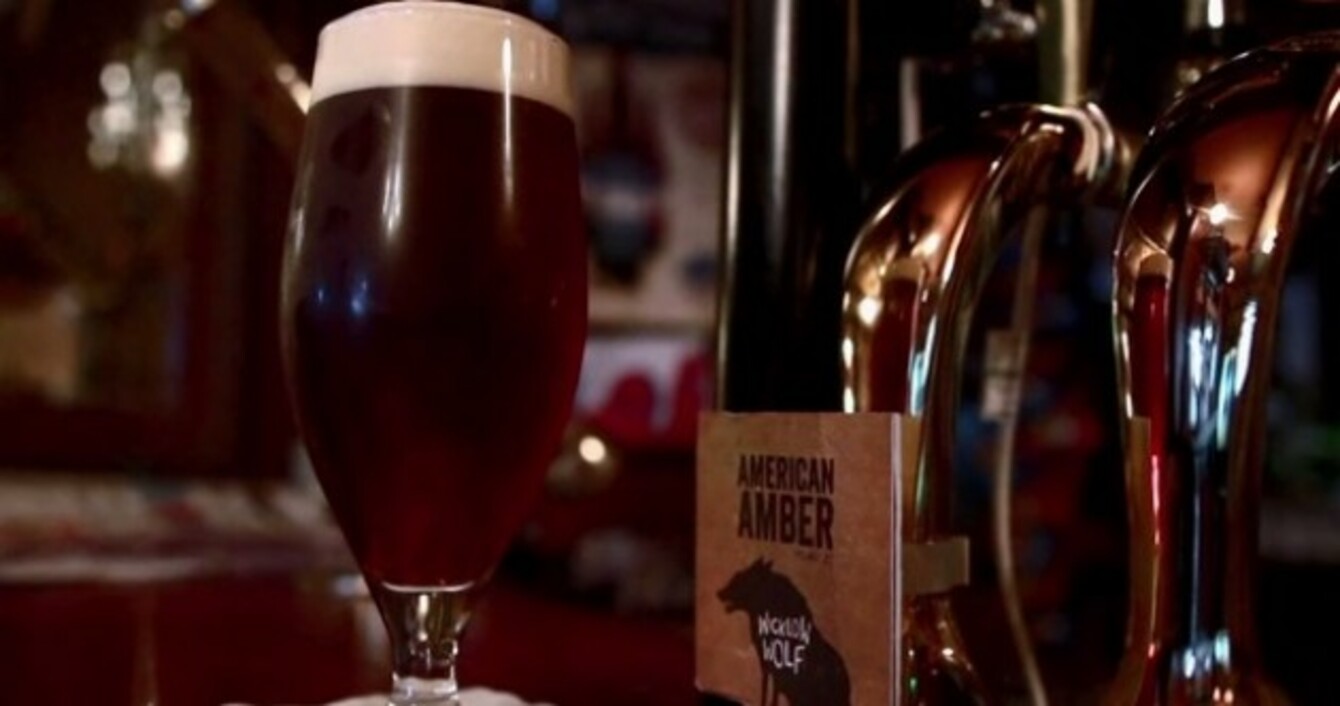 Wicklow Wolf Brewery
Image: The Harbour Bar
Wicklow Wolf Brewery
Image: The Harbour Bar
ONE MIGHT THINK that it was only 'hipsters' who enjoyed the odd craft beer that were rejoicing yesterday when there was an unexpected announcement in the Budget.
The excise relief ceiling is to be increased for microbreweries from 20,000 hectolitres to 30,000 hectolitres.
To be fair, when craft beer first started to become popular, many got a bit of stick about drinking it – especially with the use of the word hipster but there's a huge following for it now – which can't be denied.
It's an industry that has been displaying some impressive growth over the last year with microbreweries popping up all over the country. And the popularity of craft beer is spreading to wider circles with many wanting more than their generic beer, which is why it's now a lot more available in mainstream pubs.
Industry on the rise 
The Finance Minister Michael Noonan obviously knows an industry on the rise when he sees one, and apparently, the Irish craft beer industry is just that.
The Irish craft beer industry has been going from strength to strength, with many breweries selling around the country as well as exporting their product abroad. Not to mention that it is also creating jobs, often in many rural areas, where industry growth is slow or at a standstill.
So what does this mean for the average microbrewery? A lot actually.
Quincy Fennelly, one side of the newly opened Wicklow Wolf Brewing Company said:
It really is fantastic news for us. It means that breweries can aggressively grow and not have to look over their shoulders about paying the  full excise.
Opening in Bray over a month ago, it is the first brewery to open in the town for over a 100 years.
"There was actually a big fear that they were going to do away with the excise altogether, which would have finished us and been a disaster for the craft beer industry in Ireland," he said.
Fennelly says that they are just one of a number of new breweries opening around the country. "I reckon in the next three years there will be at least 100 microbreweries in Ireland. I think that will be the threshold," he said.
Boost
He said the excise relief was really the "shot in the arm" that got the microbreweries up and running.
Fennelly, who spent a lot of time in Colorado, the mecca for craft beers, said he decided to set up a brewery with his friend Simon Lynch, a horticulturist. "We own our own hops farm in Roundwood, we had complimentary skills, so we said, why not, we'd give it a go".
"Since opening a month ago, we have tripled our capacity to meet demand. It really is going from strength to strength and with announcements like the excise today, we would hope to be exporting by the middle of next year," said Fennelly.
He added that the Government clearly saw that the industry would benefit from their help, adding that they are all about growing indigenous industry and jobs, which is what the industry is all about.
Source: The Harbour Bar/YouTube