Image: Photocall Ireland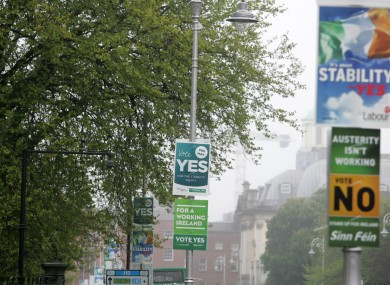 Image: Photocall Ireland
THE LATEST OPINION poll on the forthcoming Fiscal Treaty referendum shows  a slight increase in the number of people planning to vote 'yes'.
According to the latest Red C poll for the Sunday Business Post, 53 per cent of the poll's respondents said they plan to vote in support of the treaty – up 6 per cent on the last poll.
The Red C poll also shows that 31 per cent say they intend to vote 'no' (down 4 per cent), and 16 per cent say they are 'undecided' (down 2 per cent).
If the undecideds are excluded, the poll shows 63 per cent support for 'yes' and 37 per cent for 'no'.
Minister Simon Coveney, Fine Gael's director of elections, said that "while the poll is encouraging, we are in no way complacent".
"Fine Gael looks forward to redoubling its efforts to make sure that the people are fully informed before they vote in this important referendum on 31 May," he told TheJournal.ie.
Campaigning
Out on the campaign trail today, the Tánaiste Eamon Gilmore told journalists that a 'no' vote could see the political turmoil of Greece repeated in Ireland.
Meanwhile, RTÉ reports that Socialist Party TD Joe Higgins said that the turmoil Greece is experiencing is a result of austerity and said that the treaty is becoming increasingly discredited.