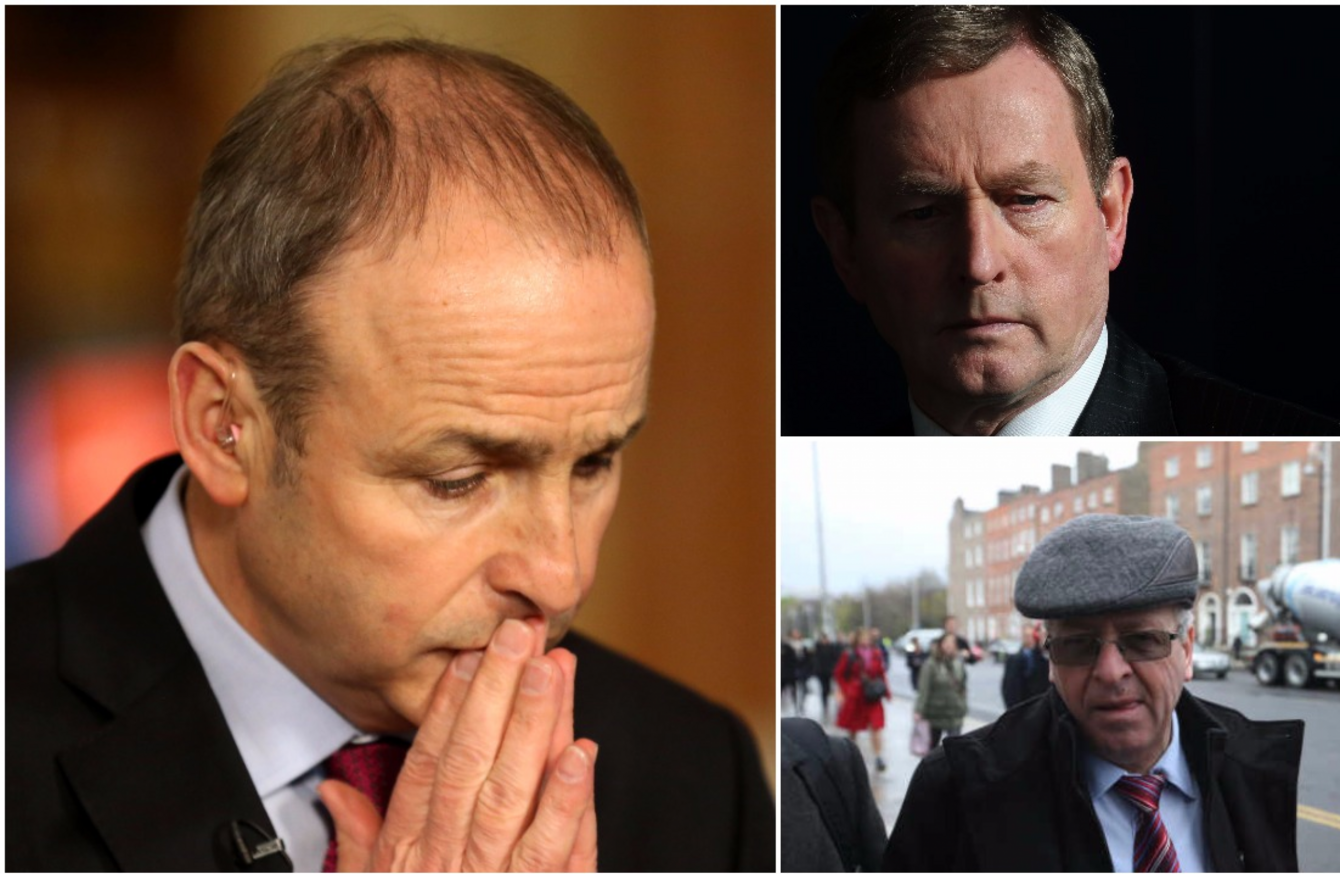 Image: PA Images/RollingNews.ie
Image: PA Images/RollingNews.ie
BOTH ENDA KENNY and Micheál Martin have failed to be elected Taoiseach for the third time.
Kenny lost out by 52 votes to 77. Martin lost out by 43 to 91.
Speaking in the Dáil after the vote, Kenny invited Martin to meet with him "to authorise more discussions on the formation of a government".
He said he would use the next six days to redouble his efforts to form a stable government for the people.
Kenny said it was time to focus on government formation "with a sense of urgency".
Addressing the Dáil, Micheál Martin said making a commitment to voters to not go into government with Fine Gael was not something they did lightly.
I for one believe that putting behind us all the era of "Ah sure isn't that what you say during an election" would be a major start in re-establishing public trust in politics.
He said the "mind-set of trying to spin and control everything" needs to end. 
In recent years the obsessive daily spinning defined an approach to governing which has been decisively rejected by the people…… To be very direct, we will not get to an agreement unless there is an abandonment of the manoeuvring and inflexibility we have seen in the last week alone.
Voting 
Labour's seven TDs abstained from the vote on Kenny and Martin.
Two independent TDs voted in favour of Enda Kenny – Michael Lowry and Katherine Zappone.
However, earlier Zappone tweeted that she would be abstaining.
Fine Gael TD Simon Coveney thanked Zappone for backing the acting Taoiseach.
Independents abstain
After weeks of discussions with the two establishment parties, a group of 14 independent TDs, said they would abstain from the vote for the position of Taoiseach of the 32nd Dáil later this afternoon.
In a statement, signed manually by the 14 today, the group said it was stepping back from talks with Fine Gael and Fianna Fáil on the formation of a new government.
They said they would not engage with either party until a "reciprocal agreement" is made "that they will give mutual support to each other" in the case of a minority government.
Sean Canney, Michael Collins, Michael Fitzmaurice, Noel Grealish, John Halligan, Michael Harty, Danny Healy-Rae, Michael Healy-Rae, Finian McGrath, Mattie McGrath, Kevin 'Boxer' Moran, Denis Naughten, Maureen O'Sullivan and Shane Ross all signed the statement, which called for a minimum three-budget agreement.
Speaking ahead of the nomination vote for Enda Kenny, Ross said his group had offered to facilitate both parties in the negotiations to form a government.
He said it was "unacceptable" that Fine Gael were refusing to state that they would support a minority-led Fianna Fáil government. He said it had to work both ways.
He also said that his group does not appreciate being given ultimatums.
Pick a side
Yesterday, Fianna Fáil warned independents that this afternoon's poll was the last opportunity to vote for Micheál Martin to lead a minority government.
#Open journalism No news is bad news Support The Journal

Your contributions will help us continue to deliver the stories that are important to you

Support us now
Talks due to take place between Fianna Fáil and Fine Gael last night were put on hold late yesterday evening.
John Halligan told RTÉ's Morning Ireland that neither of the parties had told his group how a minority government might work or what part independents might play.
Halligan added that he believed it was "unfair" for ultimatums to be put to independent TDs before they had answers to these questions.
Denis Naughten had similar comments to make this morning telling Morning Ireland there was "no point putting a government in place that is going to last for five weeks or five months".
Speaking on RTÉ's News at One before the statement was issued, Willie O'Dea said the meeting was dropped because "it's a futile exercise to get into detailed with discussions with a party that may not be able to lead a government".
O'Dea said it was not clear if Fine Gael would get the numbers. He called on the 15 independents involved in the government formation talks over the last few weeks to take a position.
Earlier today, Fine Gael's Simon Coveney said he hoped today's vote would clear the way for talks to progress.
'Make up your minds' 
A number of TDs said it was the citizens that were suffering while the political stalemate continues.
In her maiden speech in the Dáil today, Green Party member Catherine Martin made an impassioned speech.
Richard Boyd Barrett said the two establishment parties "can't stand" that they cannot control both sides of the house, while Sinn Féin's Mary Lou McDonald said "neither of you are fit to be Taoiseach".
The numbers are the numbers… you need to make up your minds. Do not insult us by prolonging this farce.
With reporting by Sinéad O'Carroll and Michelle Hennessy