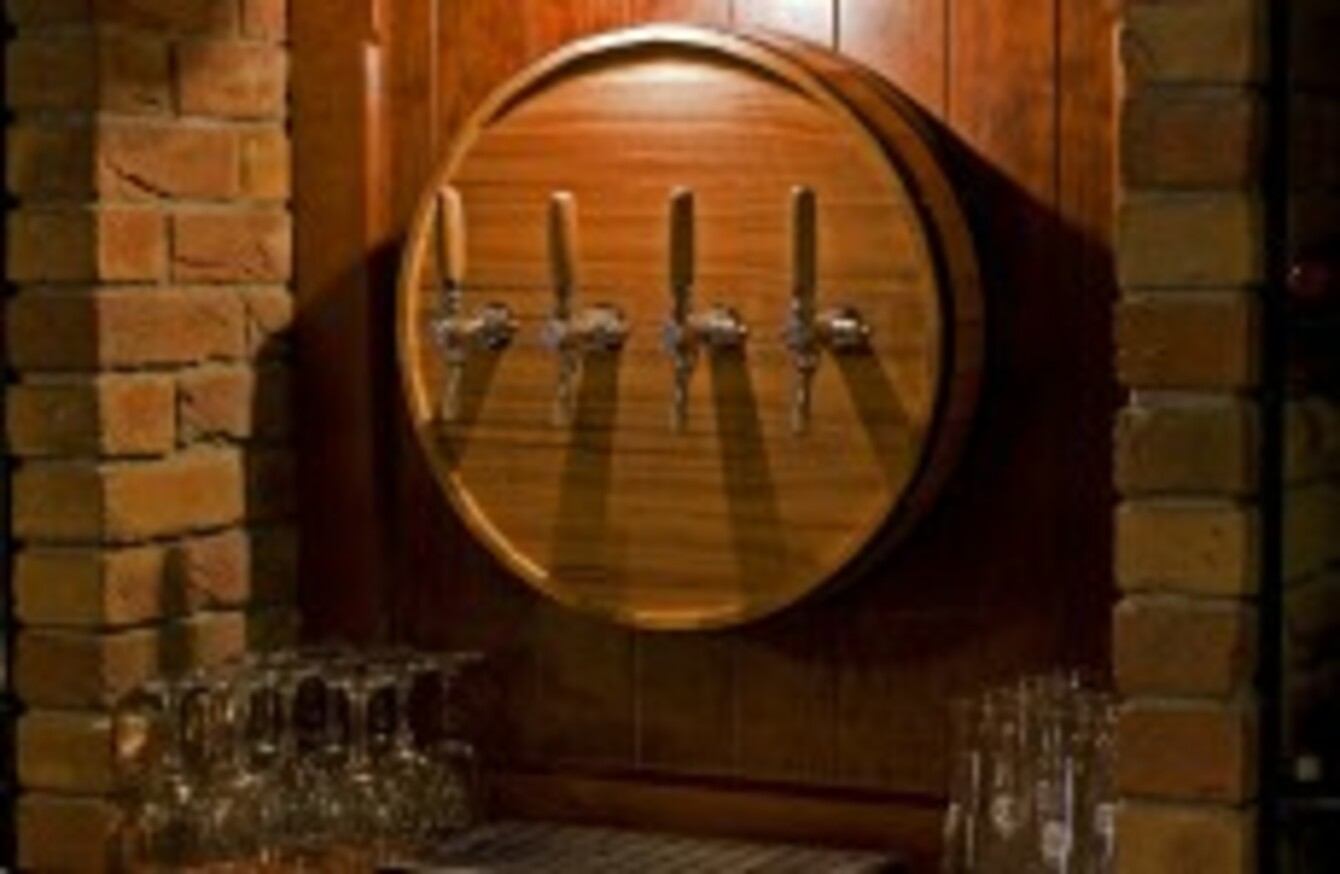 One of WineLab's installations
Image: Brian Sheridan
One of WineLab's installations
Image: Brian Sheridan
THE VAST MAJORITY of wine drinkers don't care about scrutinising labels – give them the right grape at the right price and they're happy to take a tipple.
But house wines in bars, pubs and restaurants are still being treated as an "afterthought" while suppliers focus on selling fine wines to the few, according to the co-founder of Ireland's first dedicated wine-on-tap business.
"When most people order a glass of wine in a bar or restaurant, they just say they want a glass of sauvignon blanc or a glass of merlot," WineLab's Ronan Farrell told TheJournal.ie.
"The grape has become the brand name, rather than the bottle of wine."
While overall sales of wine have nearly doubled since 2000, indicating a huge increase in demand, less than 5% of the total consumed last year was in bottles worth over €14.
No bags in boxes
Launched in 2013, WineLab uses recyclable, plastic wine kegs – not the classic "bag in a box", as the company is keen to point out – to supply wine-on-tap for venues.
Farrell said about 20% was shaved from costs in using kegs over bottling, but rather than driving down the price of the product that money was funnelled into "buying better juice".
While the company claims the benefits of longer freshness and reduced wastage, its selling point to customers was for "literally anybody who has ever drunk a glass of wine that was crap".
I think a lot of people have a perception that it's going to be a keg, it's going to be cheaper, but our whole pitch is that we're accepted market price for a better product."
His company is the country's first specialist wine-on-tap supplier with nearly 30 varieties on offer, although Wines Direct also provides three wines in kegs alongside its bottled products.
Using the Dutch gasless KeyKeg system, already popular with craft brewers but also increasingly used by wineries around the world, WineLab ships its empty 20-litre kegs direct to winemakers around Europe.
The vessels are then filled with the equivalent of 26 bottles of wine before being sent to Ireland for supply.
The concept has gained traction with venues from Dublin's Etto and San Lorenzo's to Electric in Cork and Bobby Byrne's in Limerick among the 270-odd customers signed up for supply.
Farrell set up the company with business partner Richie Byrne, who supplies the technical know-how, after his family's business, Straffan Wines, was sold to Tindal Wine Merchants in 2010.
This year the pair, part of a team of 10 based in Clane, County Kildare, expects to deliver 15,000 kegs, or the equivalent of 32,500 cases of wine, compared to about 3,500 kegs supplied in its first full year.
#Open journalism No news is bad news Support The Journal

Your contributions will help us continue to deliver the stories that are important to you

Support us now
'A bit of theatre'
However Farrell admitted one of the early stumbling blocks for the business had been breaking people's negative associations and linking bulk goods with low quality.
For that reason, the company had also focussed on installations that added a "bit of theatre" to the wine-pouring process, he said.
"The problem is that when you put anything in a large container people think it's going to be shit.
We work very hard making sure that the aesthetic is right because we're trying to pitch a high-quality product. You want people to think 'look, there's wine coming out of a tap in the wall, I want to go and stick my head under it'."
Farrell said if he had pitched the same idea five years ago he probably would have been "laughed out of everywhere", but an explosion in casual dining had started to do away with the traditions of the "white linen" restaurants.
"Now people are drinking €15 cocktails out of jam jars and eating steaks off pieces of stone … everything has shifted," he said.
This month, as part of TheJournal.ie's ongoing startup and small and medium enterprise (SME) focus, we are looking at the drinks industry.
To view other stories from our collection, click here.