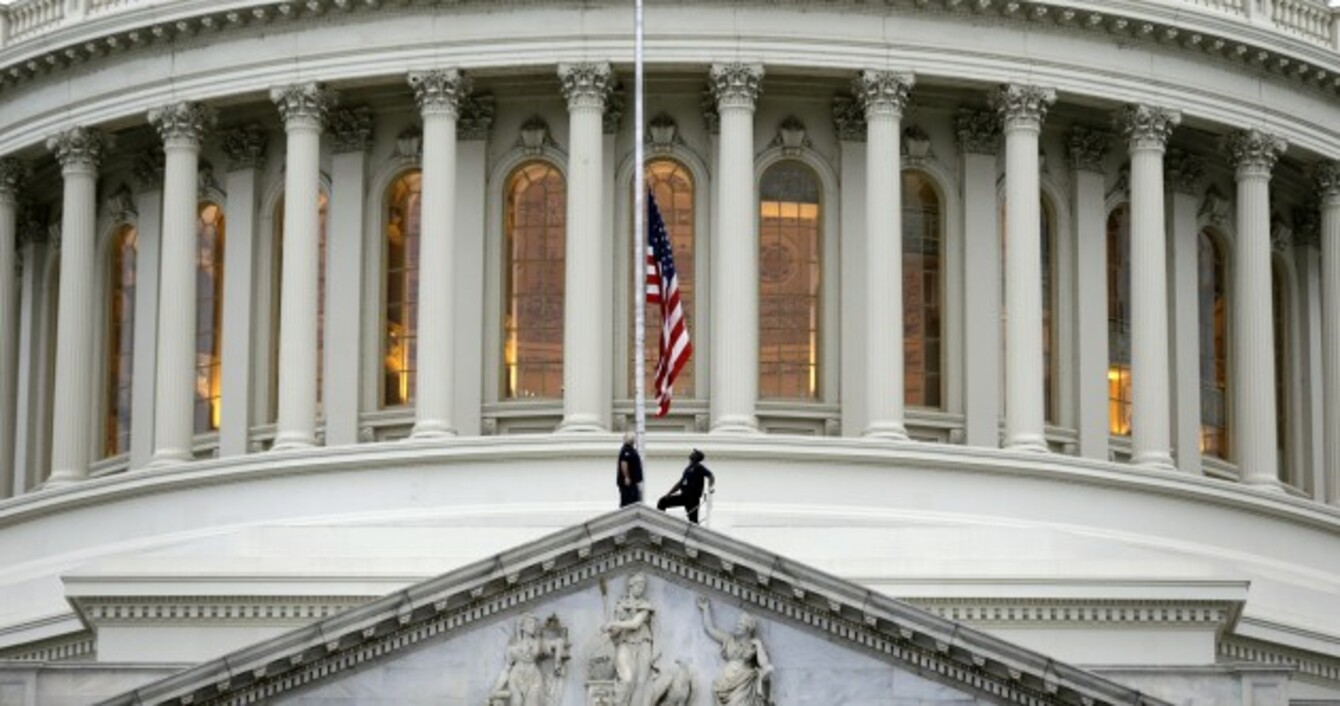 Image: Alex Brandon/AP/Press Association Images
Image: Alex Brandon/AP/Press Association Images
THE FINISH LINE of a city marathon is usually a scene of exhausted joy but that euphoria was shattered in Boston yesterday as two explosions rocked the finish line.
At least three people were killed in the blasts at Boylston Street four hours and nine minutes after the race started. More than 130 people were injured, many seriously. Dozens of limb amputations have been dealt with at area hospitals and Boston Children's Hospital said it treated 10 patients.
An eight-year-old boy was among the dead.
Reporters on the scene gathered statements from eye witnesses, including athletes who had just completed the 26.2 mile run and family members who wanted to cheer on loved ones.
"They just started bringing people in with no limbs," participant Tim Davey told Associated Press. He said he and his wife, Lisa, tried to keep their children's eyes shielded from the gruesome scene inside a medical tent that had been set up to care for fatigued runners, but added "they saw a lot".
"They just kept filling up with more and more casualties," Lisa Davey said. "Most everybody was conscious. They were very dazed."
"There are people who are really, really bloody," recalled Laura McLean.
A woman who was a few feet from the second bomb, Brighid Wall, said that when it exploded, runners and spectators froze, unsure of what to do. Her husband threw their children to the ground, lay on top of them and another man lay on top of them and said, "Don't get up, don't get up."
After a minute or so without another explosion, the 35-year-old said, she and her family headed to a Starbucks and out the back door through an alley. Around them, the windows off the bars and restaurants were blown out.
She said she saw six to eight people bleeding profusely, including one man who was kneeling, dazed, with blood coming down his head. Another person was on the ground covered in blood and not moving.
"My ears are zinging. Their ears are zinging. It was so forceful. It knocked us to the ground."
Image: PA Wire
Roupen Bastajian, a 35-year-old state trooper from Smithfield, had just finished the race when they put the heat blanket wrap on him and he heard the blasts.
I started running toward the blast. And there were people all over the floor. We started grabbing tourniquets and started tying legs. A lot of people amputated. At least 25 to 30 people have at least one leg missing, or an ankle missing, or two legs missing.
Cherie Falgoust was waiting for her husband, who was running the race.
I was expecting my husband any minute. I don't know what this building is … it just blew. Just a big bomb, a loud boom, and then glass everywhere. Something hit my head. I don't know what it was. I just ducked.
Image: PA Wire
An unidentified runner told CBS News:
I thought it was thunder at first, and then there was a second one. This guy's leg was waving back and forth. The whole bottom of his leg was gone. Another explosion happened, a nice woman in a yellow jacket – one of the volunteers – just grabbed me and put me in a wheelchair and said I was in shock. Everyone started running and she wheeled me away.
Speaking to the Boston Globe, Neil Gottlieb described being "lifted off his feet".
"There was no mystery as to what had just happened. Then, maybe, within two seconds later there was another explosion, it didn't seem quite as big, but there was clearly there as a mushroom-type cloud.
"There was no question that some sort of bomb or something went off there."
Dublin runner Gerry Carr told Newstalk that he was just yards from the finishing line when the bomb exploded.
He said he was congratulating another runner when they heard the big bangs, which he recalled as being "very, very loud".
-Additional reporting by AFP, Associated Press