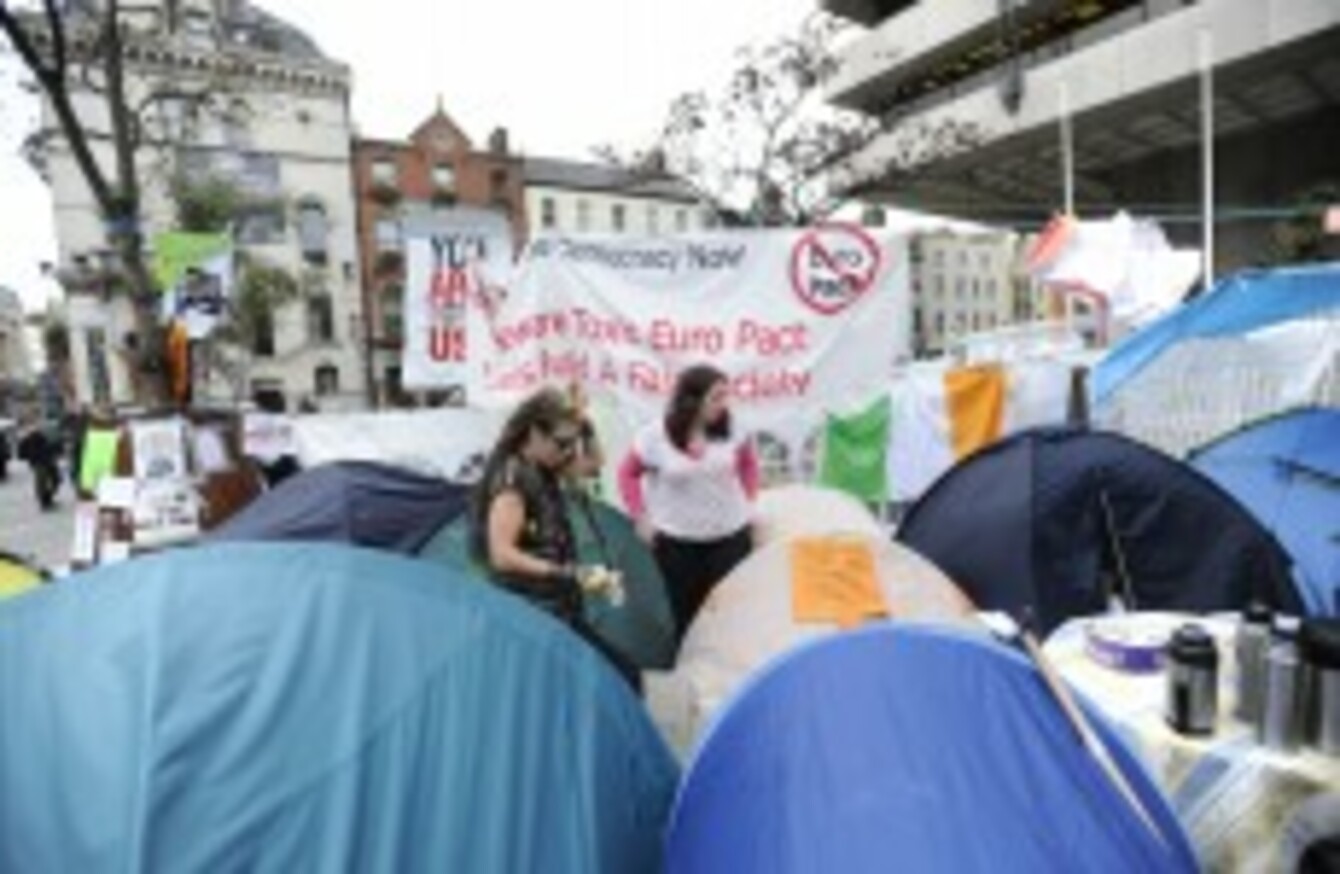 Fellow #occupy protesters at the Occupy Dublin site
Image: Sasko Lazarov/Photocall Ireland
Fellow #occupy protesters at the Occupy Dublin site
Image: Sasko Lazarov/Photocall Ireland
AN OCCUPY CORK protester has said the movement will "resist non-violently and peacefully" if Cork City Council presses ahead with plans to close the camp down.
Cork city officials have asked the camp to leave the public space where they've been camped out for a month. However Brian Houlihan, one of the occupiers, has said that there is no reason for the camp to leave and the protesters plan to continue their occupation.
"We have no intention of leaving. We don't see why we would need to leave. Right now, our intention is to resist non-violently and peacefully," Houlihan told theJournal.ie. "It's a public space just off the main road and we're not obstructing footpaths or anything like that".
Council officials visited the camp yesterday and suggested protesters vacate the area, says  Houlihan.
The Council have said that the camp is illegal and that if it is not closed down soon, other options, including court action, will be considered, according to the Irish Examiner.
Organisers of a Remembrance Day ceremony taking place close to the camp this Sunday spoke at general assembly at the camp yesterday to confirm that they've no problem with the occupation being located so close to the ceremony, Houlihan said.
Houlihan noted that the camp has received over 2,500 signatures of support so far, and has received donations of food, tents, and other essentials from local people.  "We wouldn't be here as long as we have been if it wasn't for the public. The support from local people and local businesses has been really good".
"It could be a strange weekend," added Houlihan.
The camp, located at the junction of South Mall and Grand Parade, will celebrate its one month anniversary this Saturday. There are approximately 20 tents currently camped out.
Cork City Council was unavailable to comment.