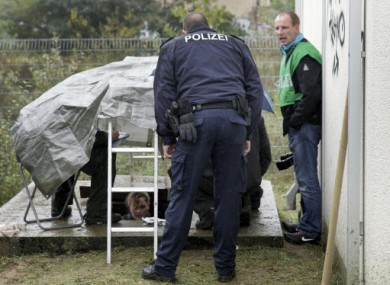 Police officers examine a utility shaft nearby the rail tracks of the northern exit of Berlin's central train station tunnel in Berlin, Germany, Monday, Oct. 10, 2011.
Image: Michael Sohn/AP/Press Association Images
BERLIN'S CENTRAL TRAIN station was evacuated yesterday following the discovery of a incendiary device, according to federal police.
Experts say they foiled a planned arson attack by securing seven petrol bombs. The device was discovered on the line at around 4am, about 200 metres from the main building, Forbes reports.
The Spiegel Online reports that commuters were affected by delays and cancellations, with severe delays between Berlin and Hamburg, while explosives experts made the area safe.
A left-wing extremist group has claimed responsibility for the attempted attack. The group, identifying themselves as Hekla, released a statement condemning Germany's military presence in Afghanistan and also demanded the release of US soldier Bradley Manning – who has been in US military custody since being accused of releasing classified diplomatic cables to Wikileaks.
In an online posting, Hekla said the incident was designed to give Berlin pause, reports Deutsche Welle.
The group is not familiar to the authorities, who are trying to substantiate the claim.