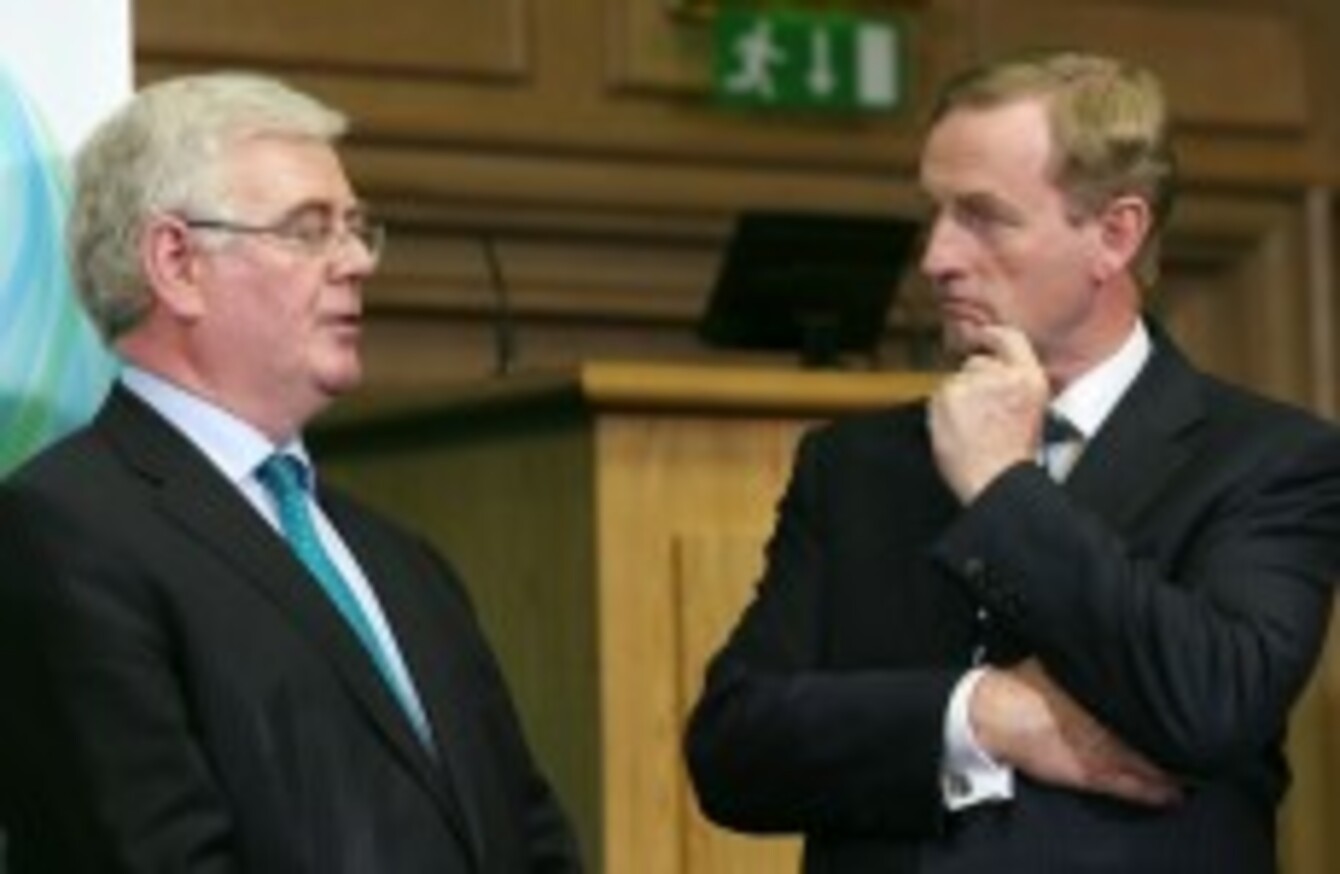 Tanaiste and Labour Party Minister for Foreign Affairs Eamon Gilmore, with Taoiseach and Fine Gael leader Enda Kenny
Image: Laura Hutton/Photocall Ireland
Tanaiste and Labour Party Minister for Foreign Affairs Eamon Gilmore, with Taoiseach and Fine Gael leader Enda Kenny
Image: Laura Hutton/Photocall Ireland
JUST DAYS AFTER Ireland formally exited the EU/IMF bailout programme, the Government is to publish an economic strategy that will cover the next seven years.
Last week, they met to consider the medium-term economic strategy, which was due to be published after Ireland exited the bailout on Sunday.
The document – which will give a framework for the State's policy when it comes to economic and budgetary matters – will be signed off and then published today.
Taoiseach Enda Kenny told the Dáil last month that the strategy "will be an economic plan based on enterprise, not speculation". He also told the members that it will include a "recommitment to bringing Government borrowing down to sustainable levels during the remainder of this Government's term of office".
The strategy document will detail the coalition's economic priorities up to 2020. It will also outline how the government intends to meet its various targets over the next seven years, which includes bringing down its deficit to GDP ratio to 3 per cent.

(Video TheJournal.ie/YouTube)
Outside Government Buildings this morning, Kenny said that the strategy:
Will set out the main signpost for the development of the economy here and therefore the transfer of benefits of that to people out as far as 2020.
He said that "this is not a time for change of direction or a change of course" and that each department will have to publish its own plan within the structure of the framework in the new year.
He said that it is a belief of government "that we can by 2020 eliminate government borrowing and at the same time recover jobs that were lost during the recession period".
The government expects to adhere to a deficit of below 3 per cent by 2015 and Kenny said that the more people who are at work, the "easier it is to have a normal budget".
Meanwhile, Tánaiste Eamon Gilmore said that "what we need is a plan for the period going forward", and that clear targets are necessary, particularly clear targets for unemployment.