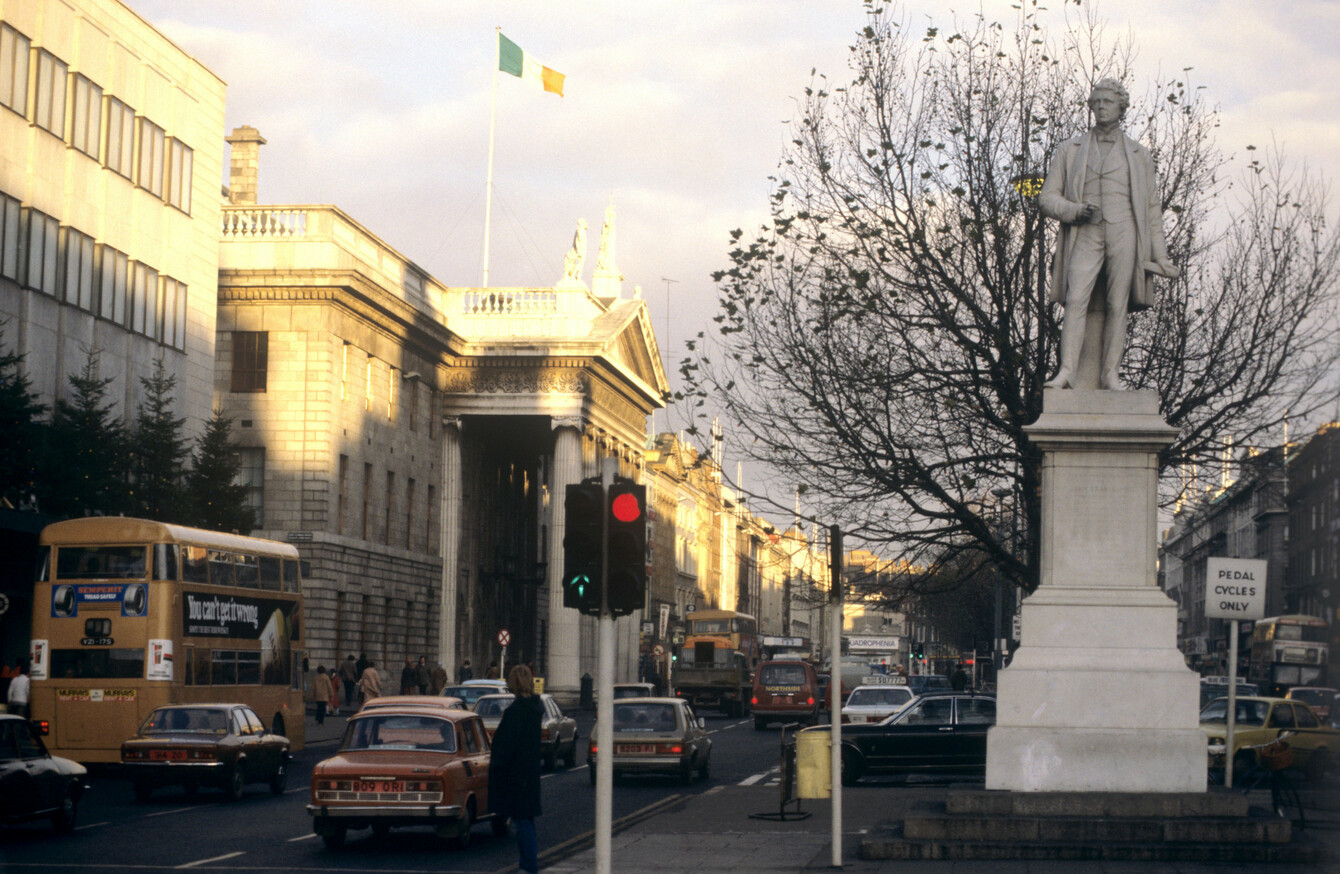 O'Connell Street on 2 December 1979. The Ireland that these people left may no longer be home.
O'Connell Street on 2 December 1979. The Ireland that these people left may no longer be home.
LAST WEEK, A society which looks after the Irish in the UK issued an appeal for mourners to turn up to the funeral of a man who died alone in Manchester.
The story invoked ideas around the "forgotten Irish", the generation of people who emigrated to Britain in the 40s, 50s and 60s who suffered through isolation and loneliness as the years turned into decades.
"You can get lost in any city," Caitriona Carney said. "There are services out there for people in big cities like London. But it's harder once you go outside."
Carney is director of community services at the London Irish Centre. She said she's never seen anything like this case but acknowledges that it's incumbent on organisations such as hers to reach out to as many people as possible as creatively as they can.
"There are a lot of supports in place here," she said. "We have people of all ages coming to access them.
What's interesting is that they all talk about Ireland being their home. They may not have a physical house to return to. But home will always be there. Having a place like this means they can access that community. They can keep in touch with the music, the culture, and the craic.
Carney said that for a lot of people who've been over in London for a long period of time, there is a desire to return home but an also an acceptance that it can't be done.
Sadly, when you say to them 'will you ever go back?', they say 'I can't go back'. For some, there'll be no family there. Nowhere to go. They may have lost touch with their family and there could be a bit of shame there. We get an awful lot of that.
Services
The London Irish Centre has offered a host of services, and has put on events for the Irish community for over 60 years.
Today, it provides a wrap-around of services for the young and old.
"We have an advice service," Carney explained. "People would usually present with two or three core issues, which are usually related to housing or welfare. They would have difficulty accessing these services normally.
We would have high levels of poor literacy, or people who aren't able to access computers. They would struggle to navigate through those kinds of support and would come to us and say 'please help'.
She referenced one case of an older woman whose son is in prison. "One of our workers writes letters to her son in prison for her," Carney said.
The London Irish Centre also has a lunch club three days a week. Carney said that a lot of people simply come "for a chat", and have been going there for 30 years or more.
The centre also runs a befriending service for older people it comes into contact with, that may not be able to make it to there regularly due to ill health or distance.
"We link them up with a volunteer – usually a young Irish person," Carney said. "They will visit them regularly for an initial six months.
They offer them friendship and a bit of warmth. They play cards, talk about football or just make a cup of tea. This small intervention can be a very powerful thing to someone in that position. The results can be really lovely.
Take Mary. She is 80 years old, and originally from Dublin.
She lives alone in a social housing flat in north-west London. She is partially sighted and a diabetic. She requires multiple visits from a carer a day and is house bound.
Mary has no family in London and is visited every week by a young befriender set up by the London Irish Centre.
She is "a really nice girl, we have great chats and a cup of tea", Mary says.
The befriender brought it to the attention of the centre that Mary's fridge had broken. Needing to store insulin in the fridge, and having pre-made meals from a carer to refrigerate, it was important to get a replacement urgently.
The London Irish Centre bought a replacement, and had it delivered to her the next day.
"It's great to young people volunteering for this," Carney said. "They come over here and want to make that connection too. We've got people who've been befriending for five or six years now."
For a lot of people – both old and young – it's about finding that feeling of belonging, she said.
We all want to be able to connect. We all want to feel like we have a home, like we want to belong. You'd very rarely meet an Irish person who'd say their home is here.
Going back to the sad case in Manchester, Carney said that services like those provided by the centre can act as a lifeline for some people but it's not always possible to reach them all.
"There are always people who fall through the net and are forgotten," she said. "It's up to us to think of creative ways to reach people who want that help.
So many Irish people came over here. A lot of them are isolated. It's important that we do what we can to help.