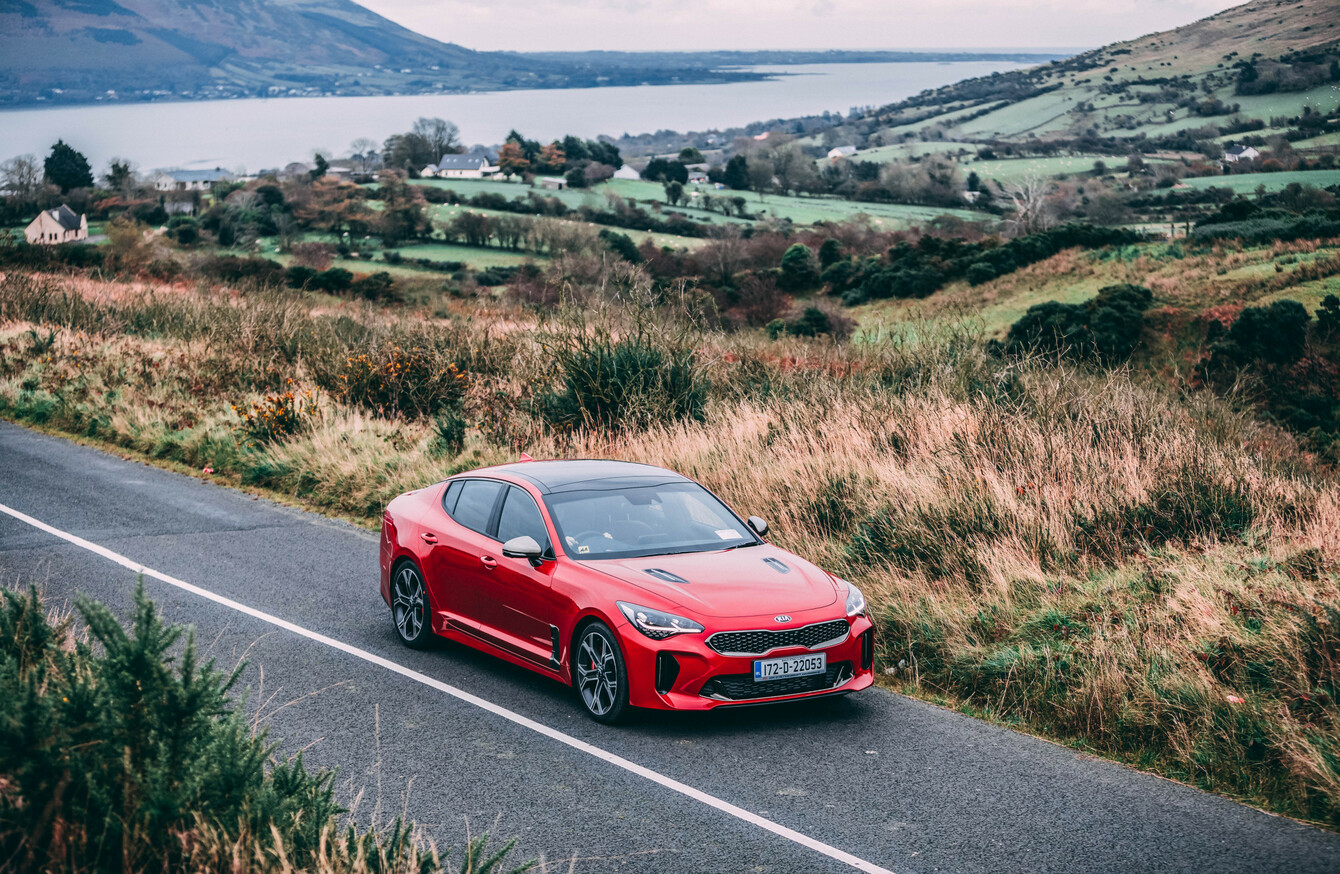 Image: Kia
Image: Kia
THE KIA STINGER GT for me is the surprise car of the year. Kia are a brand known more for value than performance, so when they brought out a performance car it was a huge, but very nice surprise.
That they almost nailed their first attempt at a rear-wheel drive sports fastback is even more surprising.
The Kia Stinger GT is a fabulous looking machine. It is low-slung and long with great proportions and is resplendent in its red coat, but you'd expect nothing less from Kia's head of design Peter Schreyer who used to be head of design at Audi and designed the Audi TT.
The interior is also racy with its red leather seats. It plays up its sporty credentials with a low and laid-back driving position and a perfectly placed armrest on the centre console and on the door. Sitting in the Stinger, the car feels like it was built around me.
The seats are supportive but comfy, the materials are soft and premium looking and the design of the air vents, the satin chrome and trim and the sweeping dash board all combine to make the Kia feel very elegant and classy.
My only gripe with the cabin is that some of it reminds me of the Optima and the infotainment system isn't as high-tech as I would like for a car with a starting price of €53,895.
Having said that, Kia doesn't skimp on the niceties. There are electrically adjusted heated and cooled seats, an electrically adjusted heated leather multifunction steering wheel, wireless charging (my new favourite thing), a seven-inch infotainment display, sat-nav, AppleCar Play, Android Auto, Bluetooth, voice activation, a Head-Up Display and a brilliant reversing camera.
In front of the driver is a single instrument binnacle featuring a combination of analogue and digital instrumentation. The large gauges are ringed in metal and accentuated with sweeping red needles.
Space in the back is decent for this type of car. The boot can hold 406 litres with the rear seats up and 1,114 litres with them down and whilst this may be less than the BMW 4 Series Gran Coupé (480-1,300), the Stinger has a large, electrically-operated tailgate that makes it more practical than a notchback. The boot can also open hands-free.
Under the hood is a 3.3-litre V6 twin-turbocharged petrol mated to an eight-speed automatic gearbox. Maximum power is 370hp at 6,000rpm and 510Nm of torque at 1,300-4,500rpm. It is quick too and can accelerate 0-100km/h in 4.9 seconds. The engine is smooth and quiet with very little turbo lag. However, I have to say I thought the stop/start technology was a little slow and I was caught short at roundabouts a few times.
Albert Biermann is the executive vice president for vehicle testing and high performance development at Kia, he used to head up the BMW M Division so he has been tuning the car for European driving styles and he has done a super job.
The steering feels sharp, direct and quick making cornering mighty fun. The automatic gearbox is a bit notchy at the lower end and slicker at the higher gears – but those metal flappy-paddles feel gorgeous and are a joy to use so I actually used those more.
You can put the car in a variety of driving modes: Smart, Eco, Comfort, Sport and Sport+ (which is basically Sport with traction control turned off). The Stinger is a little tail happy so with the icy roads last week I drove a lot of the time in Comfort mode and it was indeed very comfortable but a little too floaty for my liking.
Sport mode is where it is at for the Stinger as the steering weights up nicely and the suspension stiffens up just enough to give a great balance between comfort, stability and fun. You can easily get this thing sideways but in a lovely controlled manner that puts a smile on your face.
Overall, the Kia is beautiful to look at both inside and out, comfortable for long journeys, fun on the back roads and would be a blast on track too. It is engaging and entertaining to drive, and should be pretty reliable too. It comes with Kia's seven-year warranty (although that's probably not a selling point for buyers of the Stinger who are most likely going to get it on a three-year PCP contract).
The pricing is also a sting in the Stinger's beautiful tail (see what I did there?). The 2.2-litre diesel engine GT Line model starts at €53,895 whilst the 3.3-litre V6 petrol GT model will set you back at least €66,895. And yes, it does come fully loaded but would you have it over an Audi A5 Sportback (€47,350) or BMW 4 Series Gran Coupe (€45,180)? It probably won't hold its value as much as those two either.
However, I do hope I see a few Stingers on the road over here. It really is a great car and Kia should be commended for making such a bold move in its attempt to rival established premium brands and stepping out of its comfort zone.
The Kia Stinger will be available in March 2018.