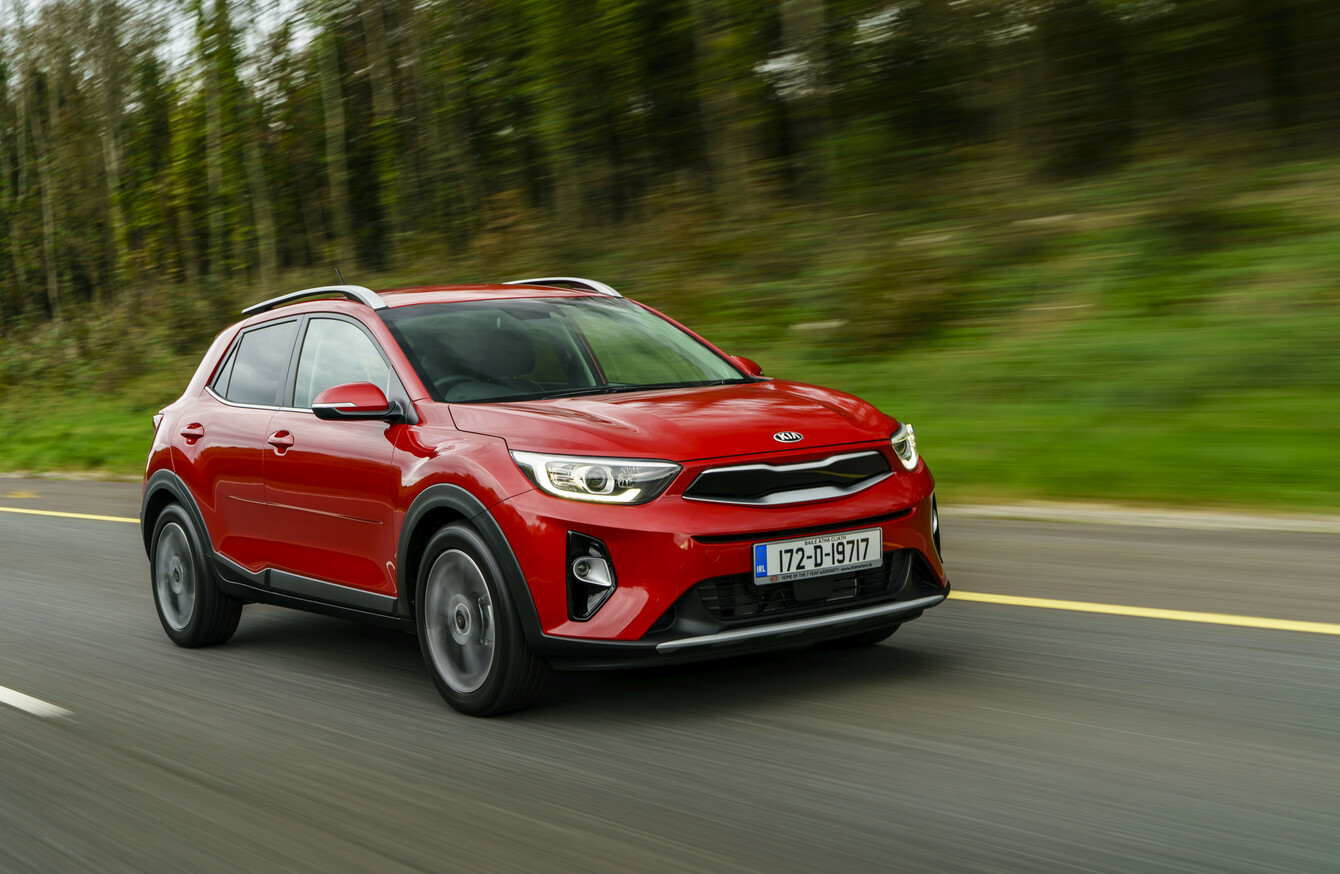 Image: Dominic Fraser
Image: Dominic Fraser
THE KIA STONIC is, you guessed it, a compact crossover. Isn't everything these days? If you read my reviews regularly you'll know my stance on compact crossovers; they are trendy and fashionable at the moment, but if you want a practical family motor that handles well, buy a hatchback.
If you were to ask me if I would buy a Stonic over a cee'd I'd say no, I'd have the cee'd hatchback (priced from €19,650).
However, let's say you really love the look of compact crossovers and you are considering buying one. Why should you choose the Kia Stonic over the numerous other B-segment SUVs on the market? Let's cut to the chase.
Kia is a very reliable brand with a great reputation and an attractive seven-year/150,000km warranty with three years of roadside assistance. Reliability is a huge factor when considering buying a new and used car. You should be able to sell on a Kia with ease when the time comes.
The Stonic actually looks quite handsome and has some interesting lines and design features. It looks a bit more mature and sculpted compared to some of its rivals. Of course being a compact crossover there are plenty of customisation options available but it also looks decent in block colours.
The cabin is well laid out, and I love the design of the seats in my test car but these are only available on higher trim levels. The seats are comfortable too. The three-spoke leather steering wheel and leather gear stick feel nice in hand and both of these are standard features. However, there are hard plastics about the place and the cabin lacks any real personality.
On the plus side, the easy to use seven-inch touchscreen with Bluetooth and voice activation comes as standard even on entry-level models.
Up front, space and storage areas are good and the rear will fit three teenagers or two adults but it does feel a little tight back there and the boot is also a little compromised on space. It can hold 352 litres, which is more than the Kia Rio (325 litres), but less than the Nissan Juke (354 litres), Peugeot 2008 (410 litres), the Renault Captur (455 litres) and new Citroen C3 Aircross (520 litres). It is even less than the cee'd hatchback (380 litres).
Tumbling down the standard 60:40 split-folding rear seats increases the boot to 1,155 litres, but again, this is less than the rivals mentioned above. However, the boot does open nice and wide and the load bay is pretty flat and there is a false floor to hide away valuables. So it is a practical if compact boot.
The Stonic shares a platform and engines with the Kia Rio supermini. If you're expecting SUV-like driving characteristics from the Kia Stonic, then you may be in for some disappointment. From the driver's seat, there is little to give you the impression that you're in a crossover. Visibility out of the cabin is good, but you don't sit any higher than a conventional hatchback.
The 1.4-litre petrol engine doesn't quite have the same fizz that the smaller turbocharged 1.0-litre engine has, and the larger capacity engine also concedes 20hp. That said, it is smooth to drive, and the manual transmission is easy going, helped by a light clutch and smooth gear change. On various road surfaces, the Stonic does ride well although it does still feel like a light car and bigger bumps can unsettle it. But around town and in urban areas the Kia is good to drive, with light, direct steering adding to its nimble feeling while reasonably compact dimensions make parking a cinch.
And for me, this is one of the best things going for it. It handles more like a car than a chunky, clumsy crossover. It feels good to drive, for a crossover. It is kind of giving you the best of both worlds; the trendy fashionable look of a crossover and the driving experience of a car.
If you don't need tonnes of room and are looking for a reliable, safe, good to drive crossover, you should take the Kia Stonic for a test drive.
The Stonic is available in four trims; K1, K2, K3 and K4 and as well as the two petrol units mentioned above is offered with a 110hp 1.6-litre CRDi diesel engine mated to a six-speed manual gearbox. Entry-level K1 models get an 84hp 1.25-litre petrol unit mated to a five-speed manual gearbox and cost from €18,599.