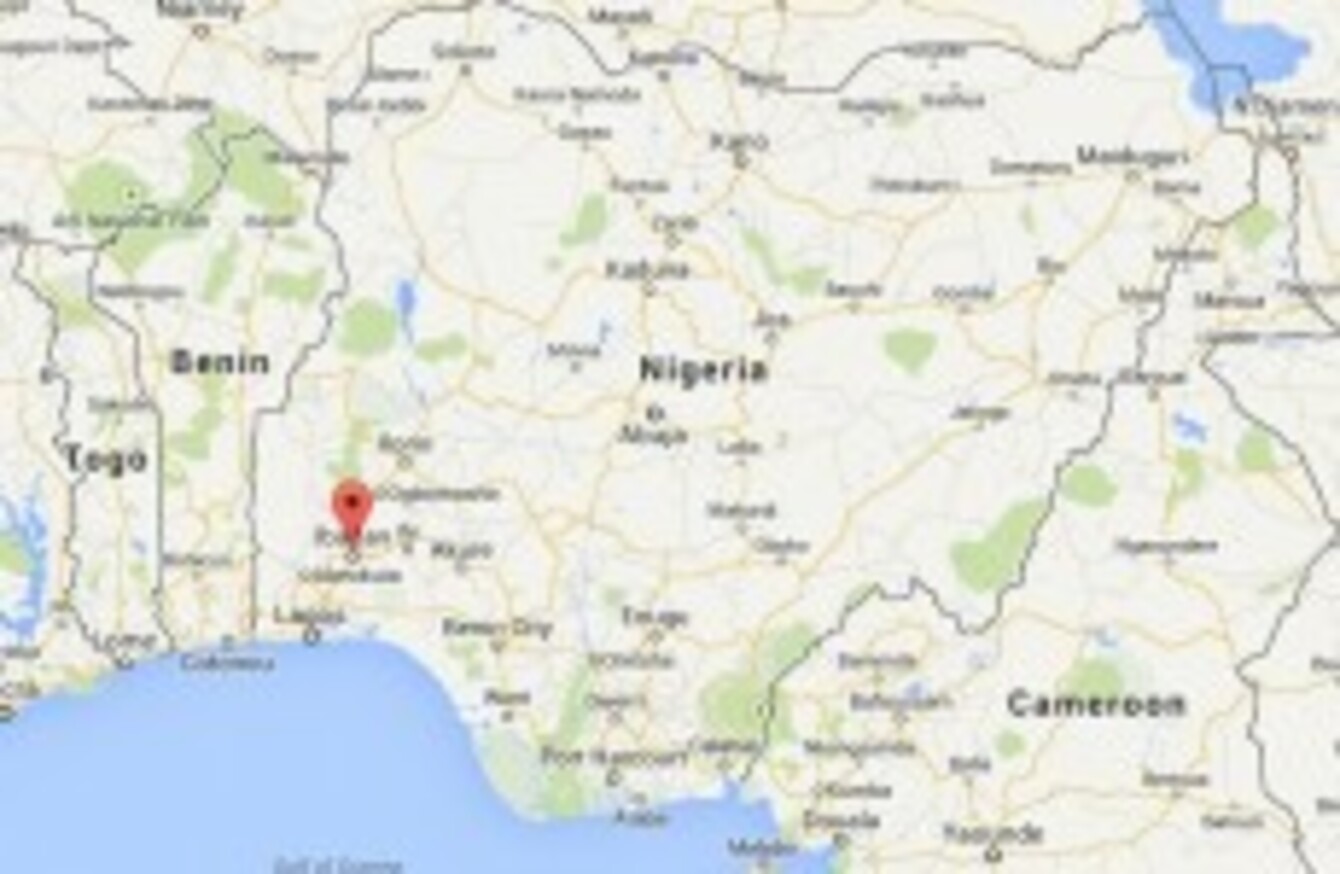 Image: Google Maps
Image: Google Maps
Updated at 8.30pm
NIGERIAN POLICE SAY they have opened a murder probe after the discovery of rotting bodies and skeletons in an abandoned building the media has branded a "House of Horror".
Police also rescued several severely malnourished people founded wandering in the bush near the building in the city of Ibadan, while media reports said 15 or more had been found shackled in leg-chains inside.
The grisly discovery came after a group of motorcycle taxi riders reported that some of their members had gone missing and were believed to have been kidnapped.
"When we got to the abandoned building in the Soka community of Ibadan yesterday, we saw decomposed corpses, skeletons and skulls in the building and surrounding bushes," Oyo state police spokeswoman Olabisi Ilobanafor told AFP.
"Some malnourished human beings looking like living skeletons were also rescued in the bushes surrounding the building," she said.
Ilobanafor said police had launched a murder investigation and arrested some suspects at the scene in Ibadan, Nigeria's third largest city and the capital of the southwestern Oyo state.
Some victims of kidnapping in Nigeria are often tortured or sacrificed in black magic rituals.
Pictures
The Ibadan-based Sunday Tribune, Nigeria's oldest private newspaper, showed gruesome pictures of rotting bodies, human skulls and other body parts littering the scene, as well as ID and and ATM cards, shoes, bags and clothes.
It also published a photograph of a haggard woman who was allegedly kidnapped in the southern Edo state in 2008 and rescued at what it called the "House of Horror".
It said said at least one skeletal-looking man was found in the throes of death, groaning in pain as flies hovered around his face.
The Tribune said about 15 people suspected to have been kidnapped were found leg-chained in the eight-room house, but the police spokeswoman declined to comment.
Some other local newspapers carried similar reports about the discovery.
Ilobana said some commercial motorcycle riders had stumbled upon the bodies after complaining to police that some of their members had gone missing in suspicious circumstances.
First posted at 3pm