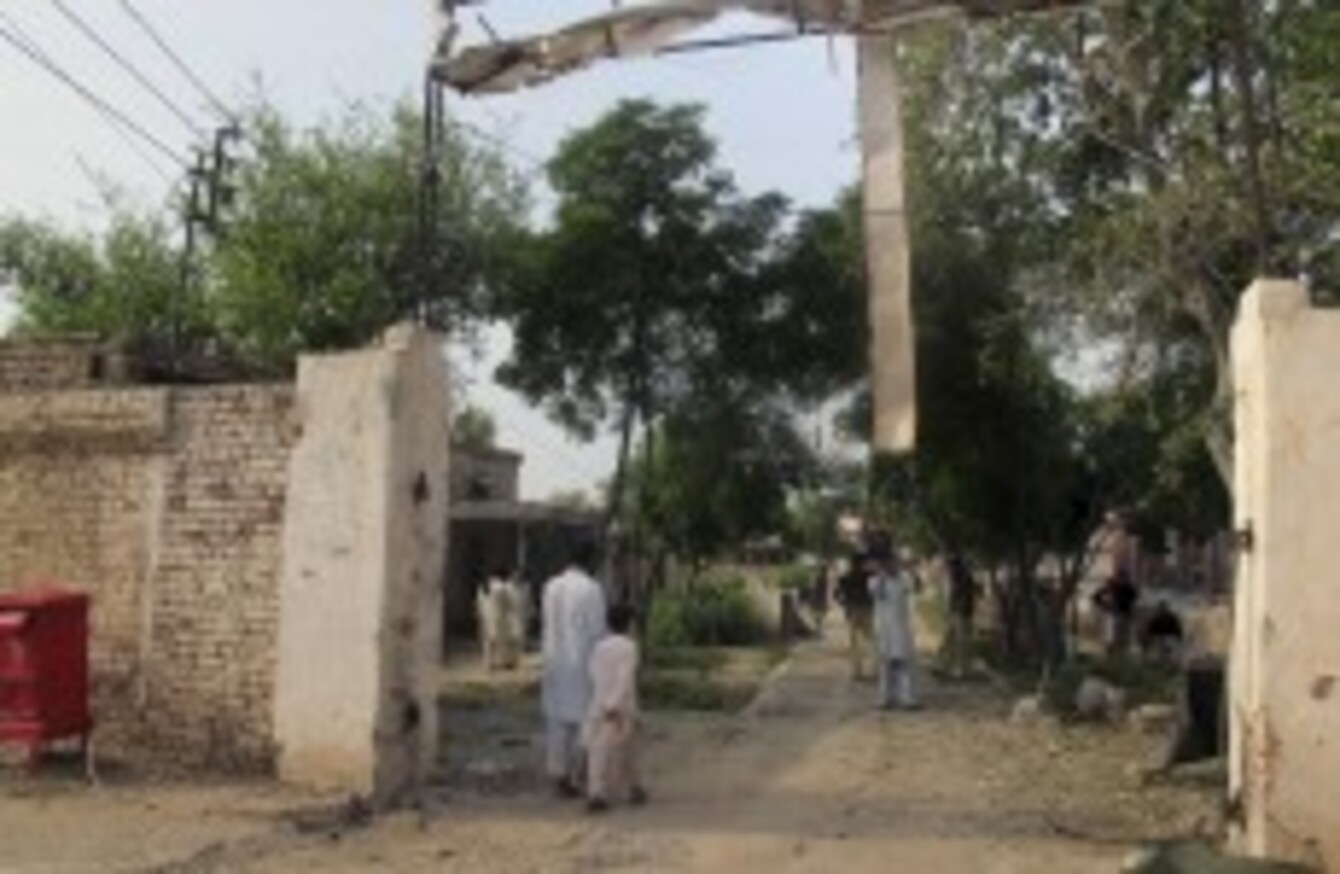 A plainclothes police officer takes a photo of the damaged prison gate
Image: Ishtiaq Mahsud/AP/Press Association Images
A plainclothes police officer takes a photo of the damaged prison gate
Image: Ishtiaq Mahsud/AP/Press Association Images
TALIBAN INSURGENTS FREED hundreds of prisoners – including hardline militants – in a brazen assault on a jail in northwest Pakistan that was bombarded with mortars and rocket-propelled grenades, officials have said.
At least 13 people including six police, four prisoners and two attackers were killed in the overnight assault which triggered a three-hour gun battle between security forces and militants disguised in police uniforms, they said.
"A total of 243 prisoners have escaped, six of them were later arrested by police," senior government official Mushtaq Jadoon told private TV channel ARY News, adding that "30 among the escaped prisoners were hardcore militants".
The attack targeted the Central Prison in Dera Ismail Khan, a city in Khyber Pakhtunkhwa province, close to the lawless tribal regions bordering Afghanistan where Taliban and Al-Qaeda-linked insurgents are active.
A security official said the jail held up to 5,000 prisoners including around 300 militants involved in attacks on security forces and sectarian killings.
Jadoon said the fighters had planted dozens of explosive devices in the jail which were later defused by bomb disposal experts.
"Police and other law enforcing agencies have cleared the jail," he said, adding authorities had imposed a curfew on the city and asked residents to stay at home.
"Through media, we appeal to the people to stay at home. It is to avoid any damage if army, police and paramilitary take any action," he added.
Militants
Jadoon said around 50 to 60 militants managed to enter the jail as others fired rockets from outside.
"First they destroyed a police armoured vehicle parked at the front gate," he said, adding that two policemen were killed in the initial rocket attack.
Jadoon said that one attacker was shot as he tried to run away.
"Police killed one militant who was trying to flee and who opened fire on police near the jail," he said.
New leadership
In a reminder of the enormous security challenges facing Pakistan, the violence broke out just hours before the nation's lawmakers began voting for the country's new president.
The new head of state will replace outgoing President Asif Ali Zardari, who is ending a five-year term. His party lost May's general elections and his successor is likely to be Mamnoon Hussain, a close ally of Prime Minister Nawaz Sharif.
The Taliban have claimed responsibility for the jail attack.
Washington considers the border tribal areas a major hub of Taliban and Al-Qaeda militants plotting attacks on the West and in Afghanistan.