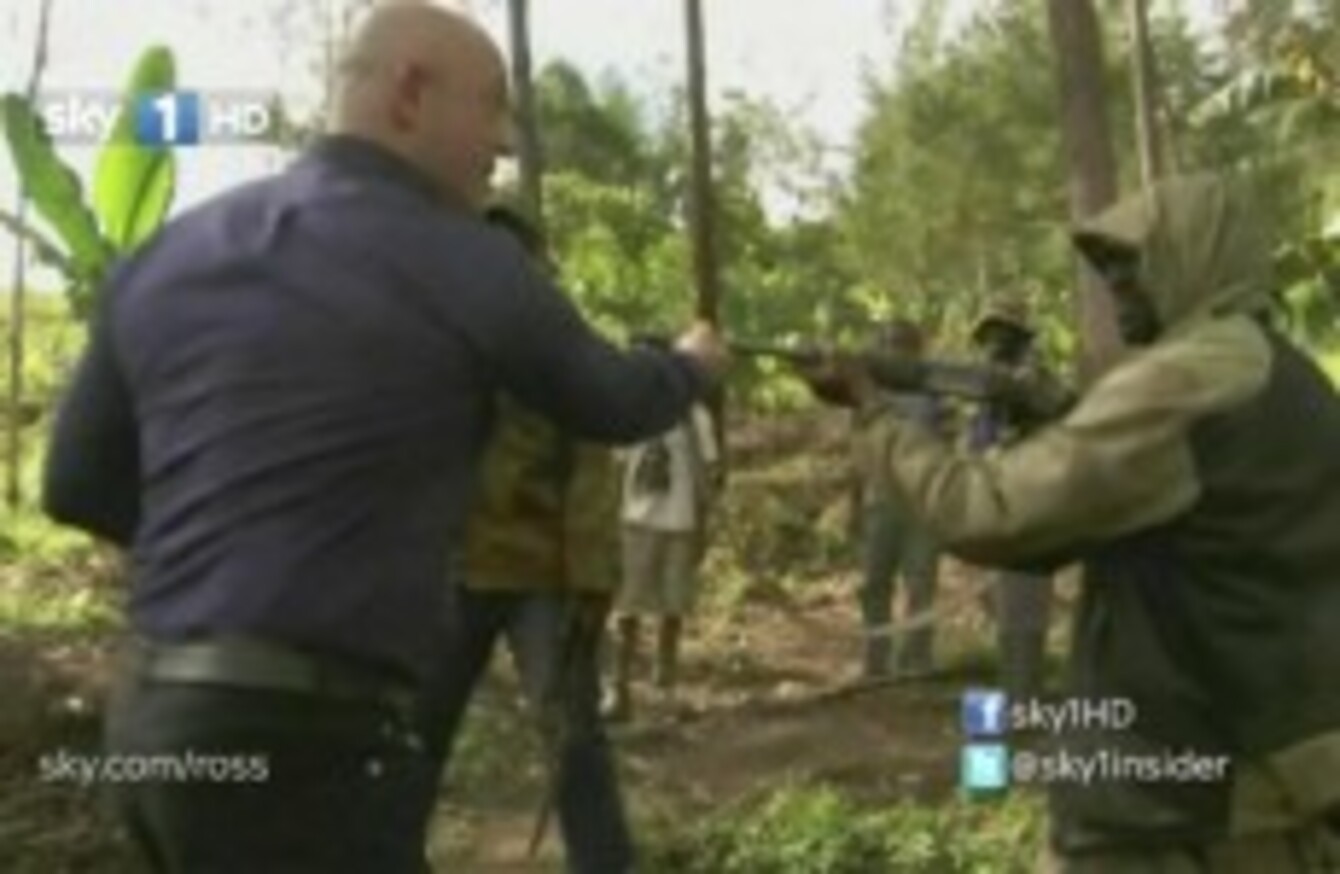 Kemp on an episode of his show
Image: TV3
Kemp on an episode of his show
Image: TV3
ACTOR AND PRESENTER Ross Kemp is to look at Northern Ireland and the Troubles for his new series, Ross Kemp: Extreme World.
The BAFTA award-winning documentary maker talks to Anna Daly on Ireland AM about the third series of the show this morning.
This time around, he looked at Northern Ireland 15 years after the Good Friday Agreement, the crack cocaine epidemic in Brazil and sex-trafficking in Mumbai and Calcutta.
Ross acknowledged that there will be some controversy surrounding the series, especially the Northern Ireland section.
"I think there's very little to defend, to be honest with you," he said.
The one thing I love about what we do is there's no agenda. A lot of people will watch the films and say 'why are you explaining this, why are you explaining that?', and you've got to bear in mind that there's a whole generation of people living in Luton, that live all around parts of the UK, that have no understandings of the troubles.
He said that "if you told them there was a 60-foot peace wall in Belfast they wouldn't believe you, and even if you told them what the Good Friday Agreement was, they wouldn't understand what it is and the good I believe that has come from that is something worth celebrating".
Kemp said of the Northern Ireland of today:
Of course there are divisions and it will take a lot of time for those divisions to disappear and maybe generations. It's pretty obvious saying this but I still think it's worth saying and celebrating the fact that I think Northern Ireland, and I went to Northern Ireland during the Troubles, that it's a very different place and a far better place than it was.
While visiting Papua New Guinea during filming, Ross was held-up at gunpoint, and ended up interviewing his potential captors. Daly questioned Ross on the dangerous nature of working on a series like this while being a husband and father.
He told her that everyone on the team is in the same situation as him and he tries to be a safe as possible. He also spoke about the strange things that can happen in violent situations.
"Laughter, funnily enough, is one of the best ways of dealing with it, your brain naturally sends you, when you're being shot at, I can't count the amount of time we were in ambushes in Afghanistan where we ended up laughing," he said.
"There was nothing we could do about this situation you're in and to release the tension, I think so that you can operate properly, or the overload of adrenalin, you end up laughing."
Asked about his former Eastender character Grant Mitchell, Kemp said: "I've got a lot to thank that character for but I'm not Grant Mitchell, I am not Grant Mitchell."
Asked if he would return to Albert Square, he said: "You always say 'never say never', I always say that and it gets me off the hook. I really enjoy what I do now."
Ross Kemp: Extreme Worlds airs on Tuesday 21 January at 9pm on Sky1 HD. Ireland AM airs Monday to Friday from 7am – 10.45am on TV3.