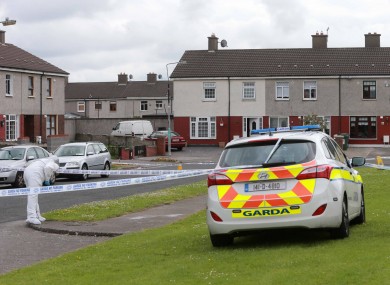 Gardaí carry out investigations at the scene of the shooting.
Image: Laura Hutton/Photocall Ireland
A LOCAL PRIEST in Ballyfermot says people in the area have been left "stunned" by Friday night's shooting of 6-year-old Sean Scully.
Gerry O'Connor has appealed for the gunman to hand himself in to gardaí, saying "the community are incensed by what happened and that's what they want you to do".
A man in his 30s, who is believed to have been the intended target of the attack, is being questioned by gardaí after being arrested yesterday.
It's understood he's suspected of withholding information.
The 6-year-old child was shot in the neck in a house in Ballyfermot and is still being treated this morning at Our Lady's Hospital in Crumlin.
O'Connor, who has been in regular contact with the family, said he was in a stable condition.
"We're hopeful that things will go well for Sean," O'Connor said, adding that the little boy had been "largely conscious" over the weekend.
"The family are living on adrenaline  in many respects because they're pouring out all their love on Sean. They're at his side day and night.
The community is with them 100 per cent in prayer, in support and in friendship at this time.
O'Connor, who is also on the board of Sean's school, St Ultan's, said support would be offered to pupils this week to help them deal with what had happened.
Regarding the atmosphere in the west Dublin suburb in the wake of the attack, he said "we've had moments of darkness in the past, but this in many respects surpasses all".
"Initially I think people's response was bewilderment. Now there's anger.
People are saying something must be done to prevent moments like this.
Ballyfermot Gardaí are continuing to appeal for witnesses or anyone with information to get in touch. The incident room can be reached on 01 666 7200.