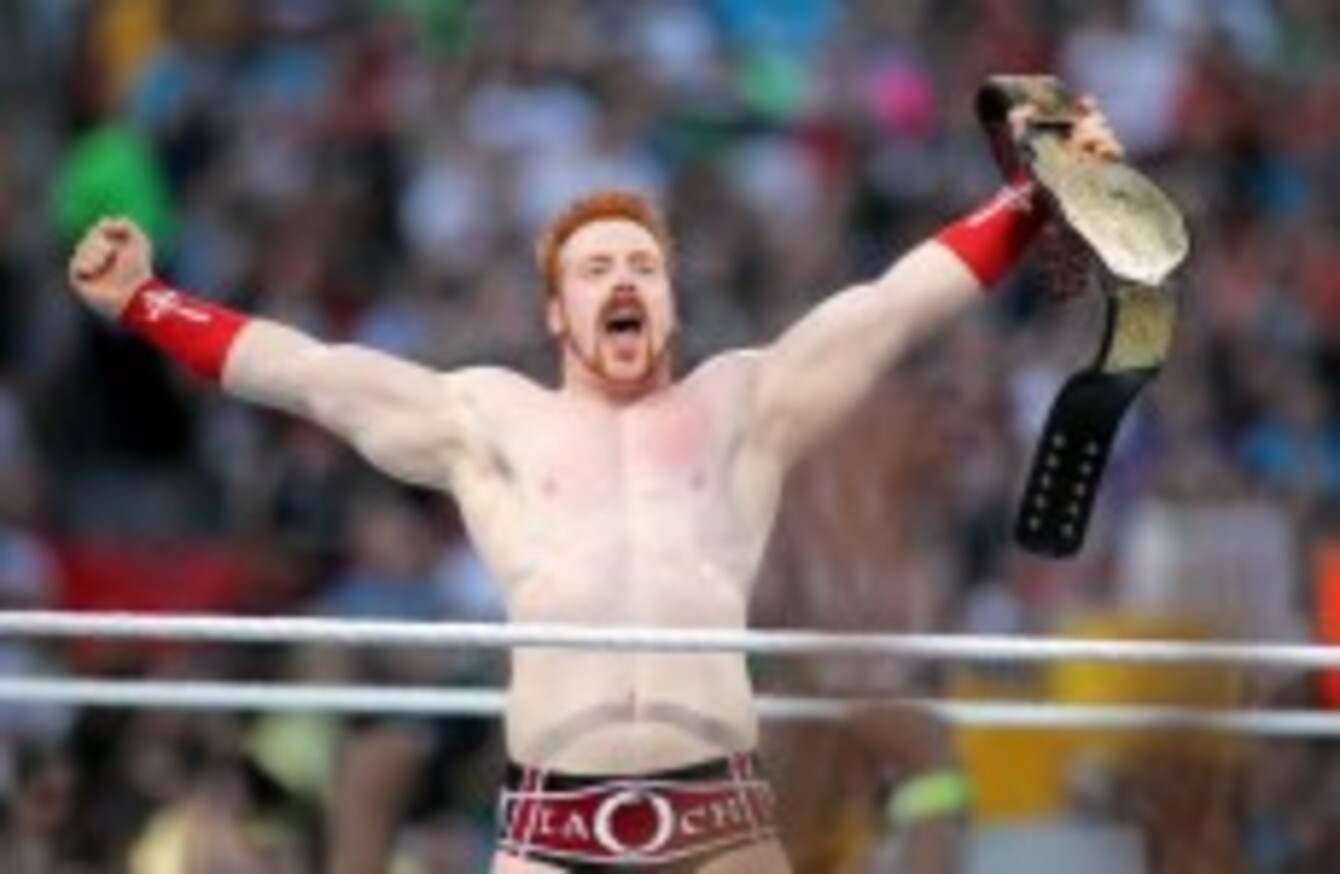 Sheamus lifts the WWE World Heavyweight title at Wrestlemania 28
Image: Marc Serota/AP Images
Sheamus lifts the WWE World Heavyweight title at Wrestlemania 28
Image: Marc Serota/AP Images
ON ANY GIVEN weeknight, or Saturday, if you head to the Jamestown Industrial Estate, beyond a number of blue metal warehouses and up the stairs in a gym, you will find a group of young men, and some women, taking part in an odd past time.
"For the most part, people are taken aback by it," says Karl Byrne, a college student in his early 20s. He's been here five years, so he knows well that revealing his night time pursuit can come with mixed results.
My family weren't happy initially. But they get used to it.
Craig is a little older and has been here for about three years. He says that the whole thing is an "incredible adrenaline buzz".
This community in Ireland is small, but has created waves worldwide. A world champion was bred in facilities just like this, in fact.
So here, on a bitterly cold Thursday night in a dark industrial estate, a group of students and men with day jobs are learning how to fall, flip and fight in the hopes of becoming a professional wrestler.
Learning to fall
First things first, this is the ring in Main Stage Wrestling's academy:
It is metal topped with plywood topped with about half a gym mat. Yes, the results of the shows are scripted, but falling on it is not pretty and can frequently hurt. As Karl Byrne found out in a training match.
This why trainer Lee O'Brien (who wrestles under the ring name Lee Lightning) opens a training session by teaching the rookies how to take a bump (fall) and then sell it (make it look real).
[embed id="embed_1"]
Main Stage Wrestling has been running shows across Ireland for the last number of years. They train their own wrestlers and hold shows in GAA halls, community centres and theatres the length and breadth of the country.
Occasionally, they will bring US superstars over, with former WWE (if you haven't watched wrestling in a long time, that's what WWF is now called) wrestler Chris Masters on the bill for their show at Good Counsel GAA in Drimnagh on 20 April.
The Great White
What nearly everyone in the gym, and the wider Irish wrestling scene, aspires to is competing in America or Japan. In the US, and much of the world, WWE is the undisputed top dog.
WWE is a publicly-traded $3.3 billion company that just happens to have an Irish former IT manager as one of its biggest stars.
Stephen Farrelly is best known as Sheamus. The Cabra man spent two years in the school of Irish Whip Wrestling, before heading to WWE on a development contract in 2006. Since making his TV debut in 2009, he has been a consistent presence at the top of the company, winning the world title three times, including an 18-second title win in front of 78,000 people at Wrestlemania 28.
[embed id="embed_2"]
(WWE/YouTube)
WWE has also signed up Bray's own Fergal 'Prince' Devitt, who spent a number of years as one of the top "gaijin" (foreign wrestlers) in Japan. He is expected to make his debut in the coming weeks.
Main Stage is not alien to WWE, either.
Former MSW wrestler Omen, real name Joe Cabray, was until recently a member of the organisation, having received a developmental deal based on his work in Ireland.
Karl admits that the impact of Sheamus and Devitt is an inspiration.
When you see people from your own country, who have been in the same situation as you, at the top of the business it's definitely inspiring.
"It's all fake"
Pro-wrestling, or more specifically pro wrestlers, have long battled to overcome a stigma that is attached to the industry.
It's not technically a sport, because the outcomes are decided by bookers and writers, but it is certainly not an un-athletic endeavour. Most of the trainees here, some of whom have wrestled on shows, some who are nearing readiness for that, put in six hours training a week, on top of an average of four gym sessions.
Matches generally last between eight and 20 minutes, but the constant punishment and explosive nature of the impact means that fitness and muscle strength are key.
Many people, however, deride the sport as fake, which can anger the wrestlers.
"It's a ring that is metal with plywood and thin padding on it, no matter how you fall on it, it hurts," says Karl McSherry.
Karl Byrne says it's something he has encountered.
"I've had people say it's fake, but then they see you after you've had a concussion or your knee swollen up."
Craig concurs:
"It definitely feels real when you take a bump!".
What makes a Mankind?
So is wrestling a gymnastic pursuit? Is it acting? Athletics?
Trainer Lee O'Brien says it's a mixture.
"I'd said it's athletics and entertainment. We wouldn't be a UFC style star.
"We're more of a soap opera star in a way. We're telling a story, we're actors. The story we're telling are the same story you see everywhere; good versus evil, but we do it in a more dramatic way."
And what makes a good match? The answer is spots, wrestling shorthand for sequences or tropes that are aimed at increasing the interest of the crowd. As O'Brien explains.
[embed id="embed_3"]
In the end, it's all about entertaining crowds and, of course, getting the three count.
Videos by Daragh Brophy/TheJournal Video