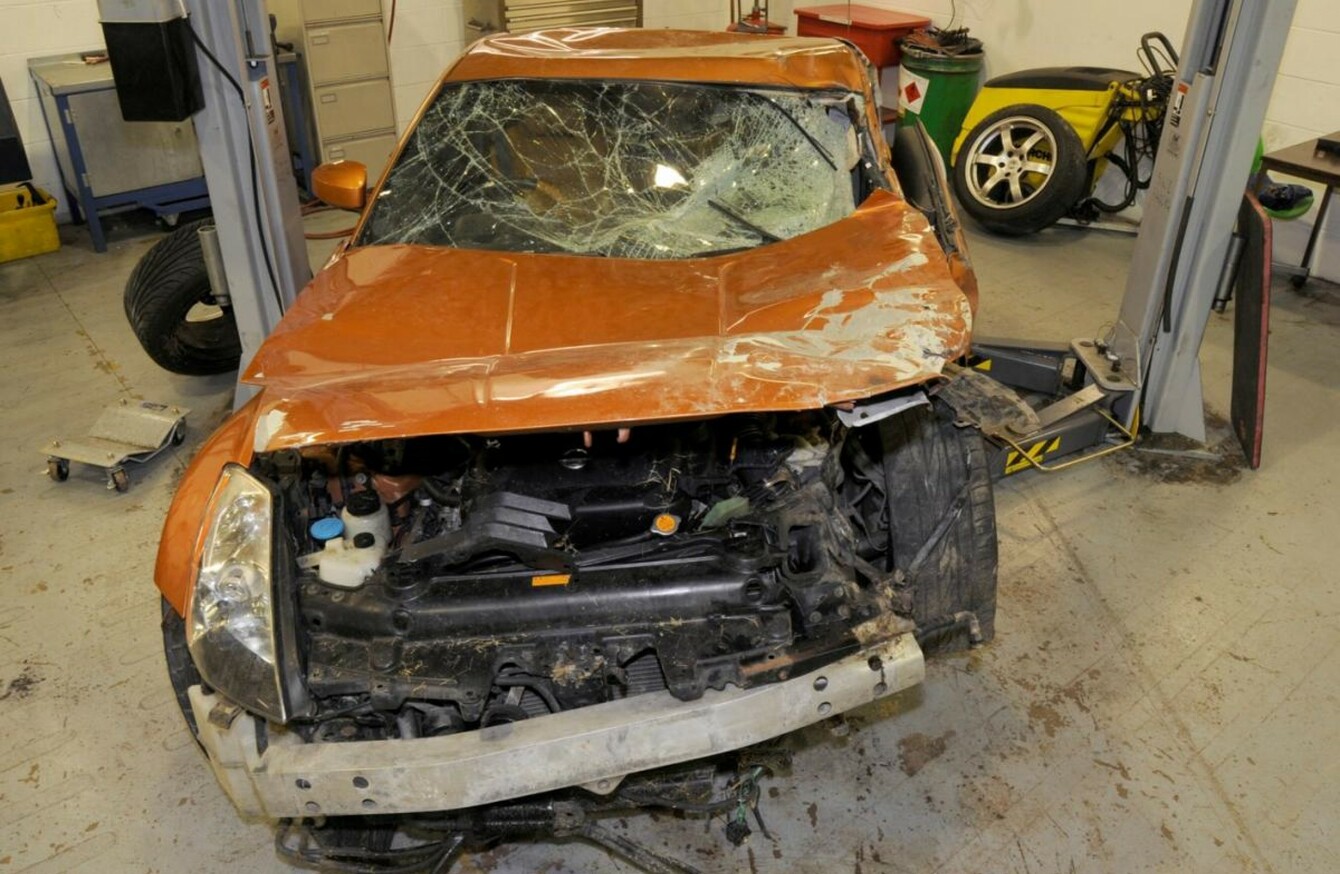 The car involved in the incident was destroyed.
Image: West Yorkshire Police
The car involved in the incident was destroyed.
Image: West Yorkshire Police
TWO MEN HAVE been sentenced to nine years in prison in England following their involvement in a high-speed road race which left four people dead.
The driver Daniel Raynor (24) and his passenger Matthew Todd (23) were racing in high-powered car at speeds of over 140mph along a road in West Yorkshire when the vehicle hit a quad bike, in September 2015.
The four young people on the bike, Brandon Brown, Ryan Beal, Terrie Kirby and Alexandra Binns, were killed instantly.
Raynor and Todd were today sentenced to nine years imprisonment and disqualified from driving for 15 years, at Leeds Crown Court, after pleading guilty at an earlier hearing to four charges of causing death by dangerous driving.
West Yorkshire Police detective inspector Richard Holmes said this was an absolute tragedy for the families involved.
"For so many young lives to be lost in a single incident was truly shocking and it is no exaggeration to say that police officers who dealt with this case have been seriously affected by what they saw and experienced," Holmes said.
Raynor posed a massive danger to anyone else he came into contact with on that road and tragically, when he did, the consequences of his actions were devastating.
In a joint statement, the families of Alexandra, Brandon, Terrie Louise and Ryan, said: "We lost sons and daughters just entering the prime of their lives.  We lost the chance of seeing the people they would have grown into, and the family lives they could have had."
"The pain of that loss may lessen but it will never go away, and our families will always be left with the knowledge they will never again be whole."
A further 10 defendants who went to watch the illegal race were sentenced to between nine months and a year in prison today.
Nine had pleaded guilty to encouraging or assisting dangerous driving and two were convicted after the trial.
Ed Hulbert, from the Crown Prosecution Service, said: "This was an appalling tragedy. Four young people had their lives cut short needlessly by individuals who participated in reckless timed racing encouraged by a group of spectators."
Working with the police, we were able to build a very strong case, and 11 of the defendants, including the driver and passenger in the car, pleaded guilty before trial.
"We were able to demonstrate that those present were actively encouraging the dangerous driving, which ultimately cause these deaths," Hulbert said.
"This case will hopefully act as a deterrent to people who might be tempted to drive in such a thoughtless and dangerous way, or anyone who might encourage others to do so."