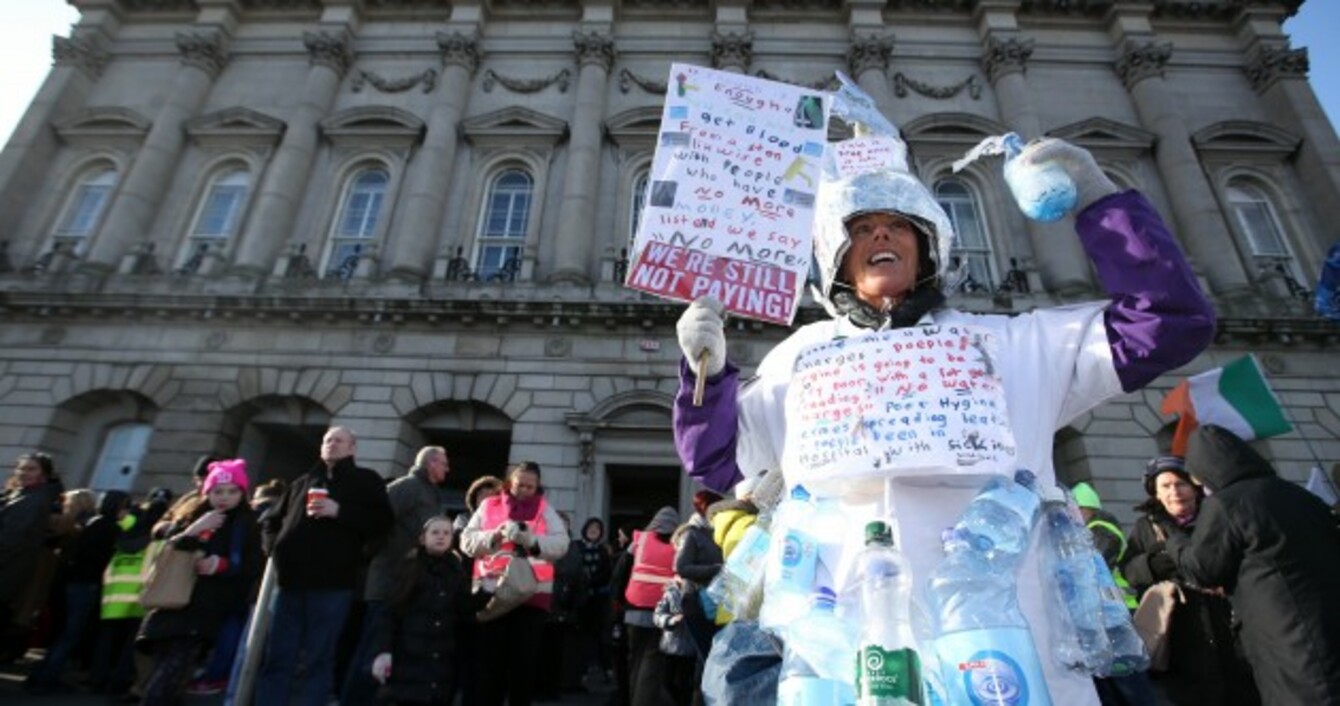 Image: Sam Boal/Photocall Ireland
Image: Sam Boal/Photocall Ireland
Updated 17.30pm
ANTI-WATER CHARGES protests took place across the country, with the largest in Dublin.
The Right2Water group — the umbrella group supported by trade unions, left politicians and others — did not have any role in organising today's actions.
Today's protests were organised by grass root campaigners around the country, with Dublin's march organised by the Dublin Says No campaign.
There were major disruptions in Dublin, but roads have since re-opened.
Protests
Speaking on the Saturday with Claire Byrne radio programme, Anti-Austerity Alliance TD Paul Murphy today said that the water charges issue is not dying.
Asked whether people would be put off by taking part in a march, following comments that were made to President Michael D. Higgins during the week, he said that the Irish people are capable of making their own mind up and said that people won't be deterred about what one individual said.
He said the issue is going to explode once the bills start to drop in people's homes.
Protests gathered around the country:
Source: RichardBoydBarrettTD/YouTube
While protesters have begun to gather at Dublin's Heuston Station:
And at Stephen's Green:
Moving around Dublin city was difficult:
And this was this morning in Wexford:
In Cork, a massive protest is reported, with one report putting the number of protesters at between 20,000 and 25,000. This is on the South Mall:
They were marching in Galway, too:
TheJournal.ie was out on the streets of Dublin asking people why they were marching today.
Lorraine from Tallaght, who was walking on crutches said that people have had enough with the current government.
"They have tried to blacken protesters as they have nothing else on us. We are just normal people, everyday people, who are saying no more. We are in debt, we are losing our homes, people are taking their lives, and enough is enough. We won't take it," she said.
"Every age group is here, it is a peaceful protest," she added.
John from Finglas said that the slogan today is "No way, we won't pay". He said that he is broken by the taxes he has to pay, but said while he has no problem paying his taxes, this one is just "too far".
He said that the government are "shooting themselves in the foot" by not listening to the people, but said that message will be delivered to them "loud and clear" at the ballot boxes.
Here are protesters waving to each other across the Liffey river today:
Source: Christina Finn/YouTube
Here are the two Dublin crowds converging on O'Connell Street:
Source: Christina Finn/YouTube
Two people were arrested by gardaí today for public order offences.
Photos show that there appear to have been some minor scuffles between protesters and gardaí at O'Connell Street today.
"It's time for this government to stand down. They no longer have a mandate from the people, it's time for them to go," Derek Byrne of the Dublin Says No group, one of the protest's organisers.
"The movement has developed into more than just about water, it's about everything — austerity, the bank bailout, all the cutbacks."
Richard Boyd Barrett told TheJournal.ie at the Dublin march that the government "tends to talk down the movement".
"The crowd that has turned up today is a declaration that this movement is not dying, in fact, it is going to escalate once the bills start arriving through people's post boxes," said Barrett.
He said that he felt that while the remark made about the president was not right, but he thought it had been "overstated".
However, one protester approached Barrett to tell him that the remarks against President Higgins were totally "unacceptable" and said that it is that kind of comment from protesters that "makes me want to just pay the thing now".
We also caught up People Before Profit councillor Brid Smith:
Source: Christina Finn/YouTube