iPhone/iPad users: click here. Streams provided by HEAnet.
AN AMENDED MOTION of confidence in Justice Minister Alan Shatter has passed by 95 votes to 51 in the Dáil tonight.
The motion of 'confidence' was put forward by Fine Gael to counter Fianna Fáil's motion of 'no confidence'.
Here's what happened, blow by blow …
19.26 – Good evening, it's Órla Ryan here. TheJournal.ie will be keeping you up-to-date on this evening's debate, as it happens.
19.27 – Earlier today the Army Bomb Squad was called to Alan Shatter's home in Dublin, after a package containing 'white powder and a swastika' was sent there. Enda Kenny said the incident was "a new low".
19.31 – We recently learnt that the Justice Committee will not be holding its own probe into GardaGate.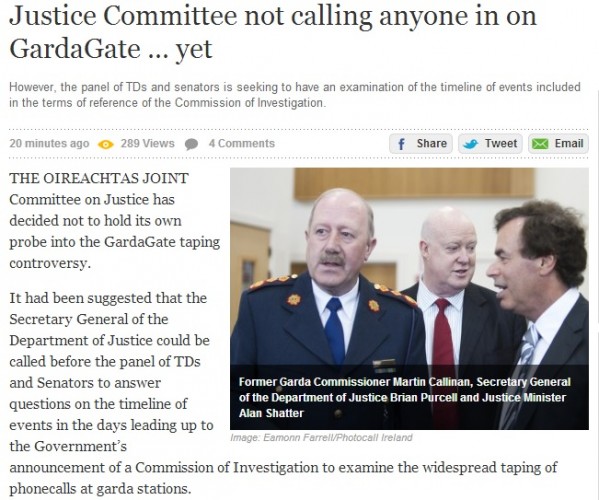 19.33 – Independent TD Luke 'Ming' Flanagan is first up tonight.
19.34 – Flanagan: Shatter has refused to meet with the family of Fr Niall Molloy, who was murdered in 1985.
19.36 – Clare Daly is speaking now. Says she doesn't want to speak until Alan Shatter arrives, is told by the Ceann Comhairle she must say her piece now.
19.37 – Daly: Shatter "and the rest of the government" have to go.
19.37 – Mick Wallace: Shatter has "no appetite for the truth".
19.38 – Wallace: What the government is standing over is a "joke" and a "sham".
19.39 – Wallace: Kenny is losing credibility by backing Shatter. Why did the government say it was interested in doing things differently? It's more of the same.
19.40 –
19.41 – Joe Higgins: Data Commissioner needs to make a statement on phone taping in Garda stations, the government has to move on the Fr. Niall Molloy case.
19.43 – Richard Boyd Barrett: Mentions sacking of journalist Gemma O'Doherty.
19.44 – Barrett: Mentions government inaction on Cynthia Owen case
19.44 – Fergus O'Dowd is the first Fine Gael TD to speak tonight: praises Shatter's record.
19.45 – O'Dowd: We should be talking about the economy and unemployment, not GardaGate and Shatter.
19.46 – Fine Gael's Dara Murphy: "There is no minister that has shown the compassion and work ethic that Alan Shatter has".
19.48 –
trong>:
19.49 – Jerry Buttimer: Fianna Fáil are engaging in "political opportunism".
19.50 – Deputies just getting one minute each tonight.
19.50 – Regina Doherty: FF should be "ashamed" of themselves, they're like Punch and Judy.
19.51 –
19.51 – Patrick O'Donovan: FF wasting valuable Dáil time with motion.
19.52 – Marcella Corcoan Kennedy: Public are not fooled by Fianna Fáil, shares email from a constituent saying "Alan is a good man doing good work."
19.54 – Labour's Arthur Spring: Whistleblower issue was "regrettable".
19.54 –
19.56 – Mary Mitchell O'Connor: The people of Ireland are not interested in a personal attack on Alan Shatter … he has a family.
19.57 – Joe O'Reilly: Shatter has done nothing wrong, he is a very hard working minister.
19.58 – Damien English: Shatter is anti-eavesdropping.
19.58 –
19.59 – Seán Kyne: Shatter has overseen a reduction in crime and the recruitment of new Gardaí.
20.00 – Charles Flanagan: Shatter has a "hunger for reform" and has been a "pioneer for change".
20.01 – Áodhan O'Ríordán: Praises Shatter for closing St Patrick's Institution and his work on other issues, but admits his confidence in him has been "shaken" by recent events.
20.03 – David Stanton: The only complaint I have about Shatter is that he works us too hard. "We don't always see eye to eye but that's a good thing."
20.03 – Paudie Coffey: We need to get back to focusing on unemployment.
20.04 – Frank Feighan: Shatter has "my full support and confidence".
20.04 –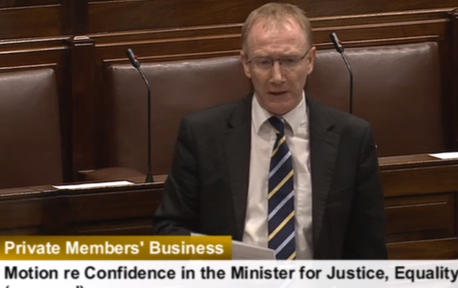 20.05 – Liam Twomey: New legislation will get rid of the few "rotten apples" in the Garda. Shatter is a voice for the vulnerable.
20.06 – Martin Heydon: Shatter is an "excellent" minister, he thanks him for maintaining defence personnel at 9,500.
20.07 – Michelle Mulherin: Opposition wants "to bring down the government". Compares FF to "lunatics".
20.09 – Jimmy Deenihan: Shatter is unafraid to tackle difficult issues. He has been involved in 40 pieces of legislation since 2011.
20.09 –
20.11 – James Reilly: Crime has fallen by 16 per cent since Shatter came to power, including a 10 per cent reduction in homicide.
20.12 –
20.13 – Reilly: Shatter has pioneered an EU human rights initiative and will oversee Marriage Equality Referendum. "We have the right man in the right job."
20.15 – FF's Micheál Martin: Condemns anti-semitic package sent to Shatter's house.
20.16 – Martin: FG pushed Garda Commissioner Callinan into resignation, without even telling Labour.
20.17 – Martin: Recent controversies have badly damaged An Garda Síochána, the government can't distract from this with "spin".
20.19 – Martin: Shatter claims credit for everything good but will not take responsibility for anything he does wrong. He blames many things on previous FF governments. He was very "dismissive" of whistleblowers.
20.20 – Martin: Shatter tried to limit discussion on the Smithwick Inquiry in the Dáil.
20.21 – Martin: Shatter has a "highly partisan" approach. He apologised to the whistleblowers with the "minimum grace" he could.
20.23 – Martin: Ian Bailey case "set alarm bells ringing over taping of calls in Garda stations. Callinan was the government's "fall guy", Kenny and Shatter showed lack of respect to him.
20.24 – Martin: Kenny wants to make Callinan the sole focus of attention to take the heat of Shatter and "protect" him.
20.24 –
20.25 – Martin: Shatter is not as reforming as the government says he is. He has "hidden" from the media for the last month. Ministers "have no right to hide from interviews. What is he so afraid of?"
20.26 – Martin: The real politics being played in this Chamber is by Fine Gael.
20.27 – Martin: If FG and Labour back Shatter tonight, they become as responsible as he is for his actions.
20.27 – The Ceann Comhairle has to calm the Chamber.
20.28 – FF's Timmy Dooley: Shatter can legislate, but cannot manage issues and "deal with them effectively".
20.29 – Dooley: Callinan was advised against apologising for "disgusting" remark.
20.30 – Dooley: Why wasn't Shatter told of the taping of Garda phone calls on Monday (24 March) morning?
20.31 – Dooley: Callinan was effectively "dismissed".
20.31 – Dooley: It's "not conceivable" Shatter was unaware of Callinan's letter on phone tapping in Garda stations.
20.33 –
20.34 – Dooley: It's "not conceivable" Shatter was unaware of Callinan's letter on phone tapping in Garda stations.
20.35 – FF's Michael McGrath: Recent events have been "confusing".
20.36 – McGrath: Attorney General Máire Whelan knew of phone taping in Garda Stations since November 2013. The message is clear, if Shatter has to go so will AG. Callinan went instead – the "sacrificial lamb".
20.38 – McGrath: Shatter's colleagues "will go through the motions" of voting confidence in him but his time is "numbered".
20.39 – McGrath: Leo Varadkar was "slapped down" by Kenny for saying Callinan should apologise to whistleblowers. A number of ministers ignored the Taoiseach to do the same. "The wrong man has gone."
20.40 – FF's Billy Kelleher: Did Shatter advise Callinan to withdraw "disgusting" remark? They were "tied at the hip" over GSOC and several other issues.
20.41 –
20.42 – Kelleher: Shatter "denigrated" Callinan's position. "Some head had to fall."
20.44 – Kelleher: Kenny has mislead the Dáil over the timeline of events in the Garda phone taping controversy.
Shatter's list of failures is far longer than his achievements.
He undermined two deputies in the House "for political gain".
Shatter has to look at himself in the mirror and know it's his fault Callinan stepped down. The government "sacrified" him.
20.44 – Michael Noonan is up now to bat for the government.
20.45 – Noonan: FF is "playing the man, not the ball". Shatter is "the star player on the opposing team".
20.46 – Noonan: The government is not failing, the economy is recovering. FF is forced to attack Shatter to retain "any shred of relevance".
20.46 – Noonan: FF caused this mess, Shatter is cleaning it up.
20.47 – Noonan: We are "very fortunate" to have Shatter there to guide the establishment of an independent policing authority.
20.48 – Noonan: Mentions whistleblower Edward Snowden.
20.49 – Noonan: I am "deeply disturbed" by the way Shatter has been attacked.
20.51 –
20.53 – FF's Charlie McConalogue: Shatter and Kenny need to ask why the Attorney General didn't share information on phone taping in Garda stations sooner.
The government are trying to get Shatter "out of a hole" while the number of inquires surrounding his department has increased to four.
20.54 –
20.58 – McConalogue: A head had to roll and it was Callinan.
20.59 –
21.00 – FF's Niall Collins: Condemns hatemail sent to Shatter today, but said it's not relevant to tonight's debate as "We've all received hatemail".
21.01 – Collins: Kenny has "betrayed" and "shafted" Callinan. "A body had to thrown under a bus" and the government "grabbed" him. Who's next?
21.02 – Collins: FG will hold onto power.
It's "doubtful" they will "face the music" at the next election, but what's in it for backbenchers?
21.03 – Collins: Tells Shatter "It's not personal, it's just business and it's time for you to go."
21.03 – Voting has commenced.
21.07 – Why voting is taking place, here are the results of a poll on a government reshuffle carried out by TheJournal.ie earlier today.
21.08 – 78 per cent of those who voted are in favour of a reshuffle, 16 per cent are against and 4 per cent are unsure.
21.09 – The voting in action:
21.15 – … And the results are in on the vote to amend the motion of 'no confidence' to one of 'confidence'.
21.17 – Yes: 95
No: 51
The motion has been amended.
The motion of 'confidence' in Shatter is now being voted on.
21.22 – While we wait on the result, have a read about an interesting GardaGate FAQ sent to backbenchers last week (via our political editor Hugh O'Connell).
21.23 – The results of the vote on the amended motion are in:
21.24 – Again, it's 95 in favour, 51 against.
21.24 – The motion of 'confidence' in Alan Shatter has been passed.
21.41 – A 'no' vote was made from the seat assigned to former Fine Gael junior minister Lucinda Creigton. She was not in attendance, it's unclear who was sitting there this evening.
21.42 – … and that's all folks!
The Dáil has been adjourned until 9.30 am tomorrow.
Thanks for staying with us tonight.