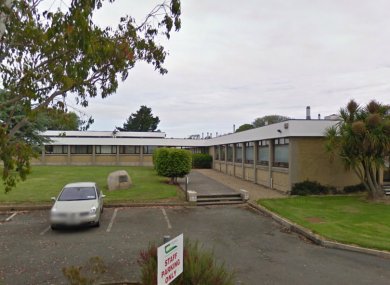 The Department of Agriculture offices at Johnstown Castle in Wexford, the site of today's demonstration.
Image: Google Maps
THE AGRICULTURE MINISTER Simon Coveney has condemned a protest at the Department of Agriculture offices in Wexford in which a member of staff was hospitalised.
The service officer was injured during a protest by the Irish Farmers' Association at the offices at Johnstown Castle, in which a locked entry door was taken off its hinges as the building was stormed.
The association was protesting over the late payment of grants due under the Agri-Environment Options Scheme.
It is understood that a demonstrator was also injured in the protest, after being struck by a door which had been taken off its hinges.
The demonstration at the offices is continuing, with Department staff and Gardaí understood to be preparing for an overnight occupation.
In a statement this evening, Coveney said he accepted the rights of the farmers to demonstrate, but said the actions of the farmers went "beyond the bounds of acceptable behaviour".
He pointed out that the delivery of the grants to farmers, totalling some €1.5 billion, would be paid quicker this year than in previous years.
Earlier, IFA president John Bryan blamed the delay in the payments of grants on problems digitising maps, which he said was causing financial hardship for 25,000 farmers who had still not received any payments.