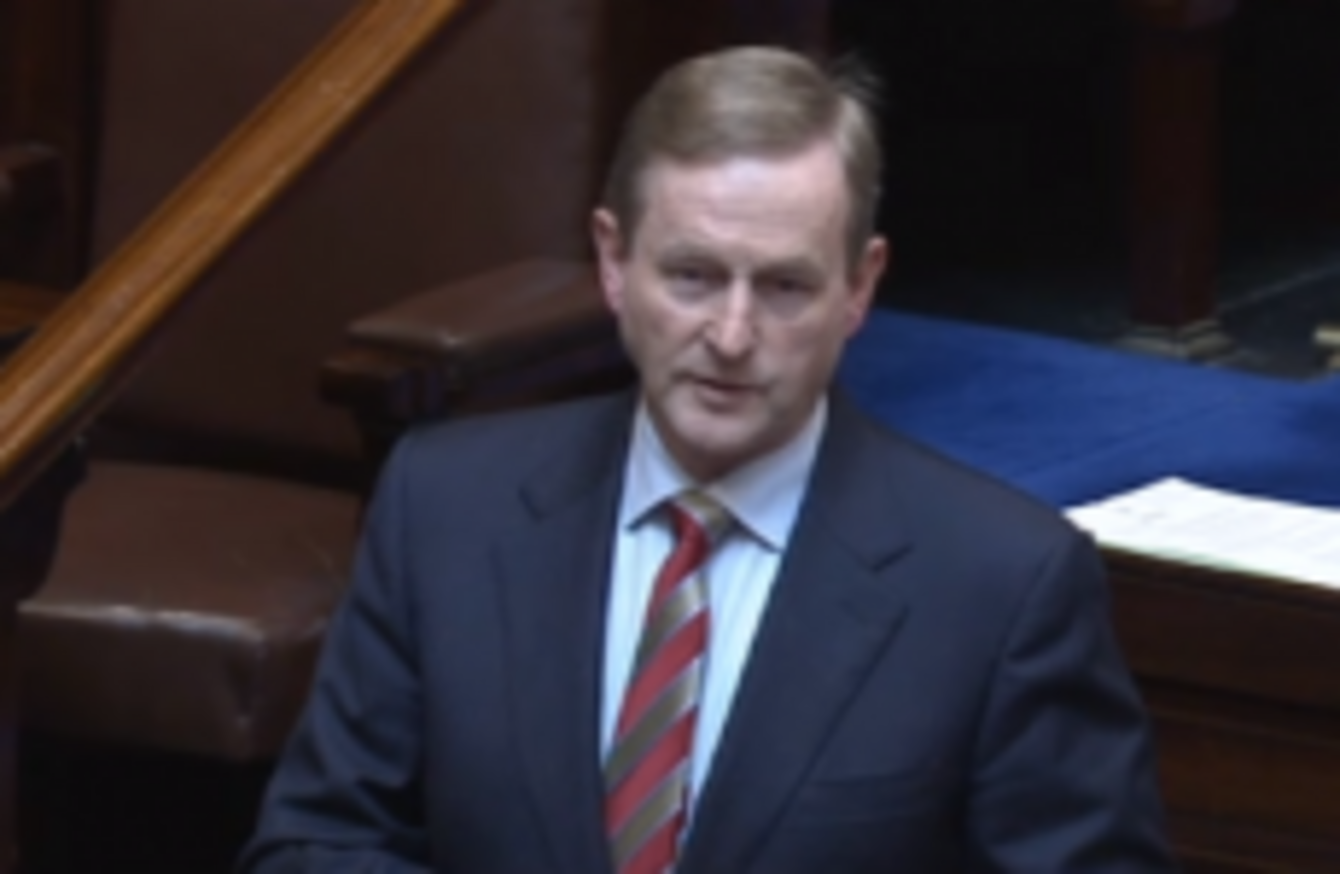 Enda Kenny in the Dáil today.
Image: Screengrab/Oireachtas TV
Enda Kenny in the Dáil today.
Image: Screengrab/Oireachtas TV
TAOISEACH ENDA KENNY has said that Frank Flannery and Angela Kerins should appear before the Public Accounts Committee for further discussion on Rehab's finances.
Kenny told the Dáil that representatives from all section 38 and 39 bodies "should, of course, appear before the PAC".
"I think that's in the interests of the charities themselves."
He added that he didn't believe charities should pay their CEOs to lobby the government, but stopped short of directly addressing Micheál Martin's assertion that it may not be "morally correct".
Kenny noted that he was not aware of payments that Rehab made to any individual.
During Leaders' Questions, Martin said that Flannery, Rehab's former CEO and a long-time advisor of Fine Gael, had "unparalleled access to the government, to [the Taoiseach] in particular".
I think he enjoyed a pass to go around Leinster House".
The Fianna Fáil leader said the fact that "a body such as Rehab should have to pay" someone to lobby the government shows "there is something amiss".
Kenny said that the government is "very open to dealing with organisations [such as Rehab] where this is appropriate".
The Taoiseach added that the establishment of the Charities Regulator and the extension of the Freedom of Information Act to cover whistleblowers and lobbyists would let people know that "everything is the way that it should be".
He said that the public "need to know and feel happy that their money is going to where it's intended".
Earlier this month, Kerins stepped down as Rehab's CEO following recent controversies surrounding the group's finances and the disclosure that she earns €240,000 annually.
State Visit
(Gerry Adams. Pic: Screengrab/Oireachtas TV)
Sinn Féin leader Gerry Adams said that President Higgins's state visit to England this week was a historical and important event that had "taken 93 years to agree".
He said the visit was "made possible by the peace process and Good Friday agreement" and represented an opportunity to "look beyond this week and … finish off unfinished business" in Northern Ireland.
"What we need to is celebrate peace on the street as well as in the big houses and the palaces," Adams noted.
Kenny agreed and said that President Higgins would "fulfill his duties [in the UK] … in his own unique fashion".
Recalling former US President Bill Clinton's advice that political parties "finish the job" in Northern Ireland, Kenny called on those present at the Richard Haass talks late last year meet and come to an agreement over outstanding issues such as flags and parades.
He added that the Irish government would "work tooth and nail" to help the process.
'Negative Equity Generation'
Meanwhile, Independent TD Stephen Donnelly accused the coalition of abandoning "the negative equity generation" and letting the banks "do as they please" in terms of restructuring mortgage loans.
He said that of the 57,000 restructuring offers made to mortgage holders as of 1 January, some 52,000 included no financial concessions, about 18,000 will increase the amount of money to be repaid and approximately 5,000 deals include "voluntary surrenders".
Referencing comments made by the Free Legal Advice Centre to the Finance Committee last week, Donnelly said that targets set by the banks "have proved counter-productive as they focus on targets, not people".
In response, Kenny said: "I won't be happy until everone has an offer made to them that is workable and practical." He noted that the number of split mortgages in Ireland had increased from 2,500 last August to more than 7,100 at present.