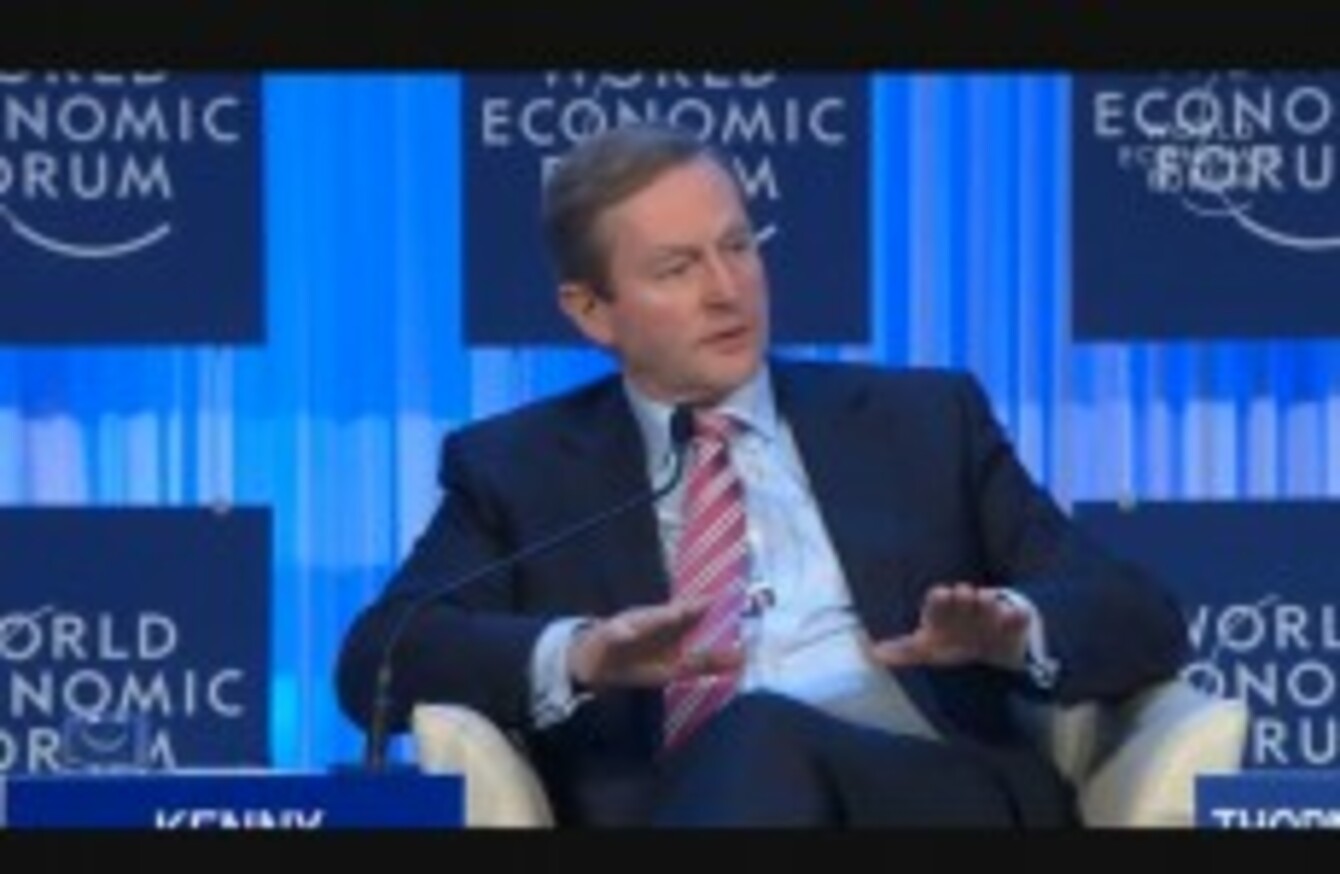 THE TAOISEACH ENDA Kenny today said that Ireland has been "though a hurricane" in its struggle to deal with the European debt crisis.
Speaking at the World Economic Forum in Davos, Switzerland, Kenny shared a panel with the heads of state of several other European countries: Italy's Mario Monti, Denmark's Helle Thorning-Schmidt and the Netherlands' Mark Rutte.
The annual meeting of the World Economic Forum sees world leaders and influential businesspeople meet to network and discuss issues affecting the global economy. The theme of this year's meeting is 'Resilient Dynamism'.
'It's been a hurricane'
Editor of the Financial Times Lionel Barber, who was chairing the panel, asked Kenny how Ireland had weathered the economic crisis of the past number of years.
"It's been a hurricane," Kenny said, explaining that – at the time his government came to power – Ireland had lost 250,000 jobs in the private sector, was facing the task of clearing up toxic banks, and dealing with an international reputation that was "in shreds".
In contrast to that situation, Kenny pointed out that Ireland now had more than 1,000 multinational corporations driving exports. "When you have a strategy, a plan, and you follow it – you see results," he said.
However, he also noted that the people of Ireland had faced some serious challenges in the past number of years.
"The mechanisms and tools available [to Ireland] now were not available when the crisis first it," he said. "When it did, we had to borrow €64 billion – 40 per cent of GDP."
"It has been a crushing burden on the people – and their patience has been long," he added.
Ireland is 'not a tax haven'
On this issue of tax, Kenny said that Ireland's stance on its corporation tax rate of 12 per cent was "very transparent and clear" and that Ireland was not a "tax haven". He added that it would not be changed.
Kenny was also asked about yesterday's announcement by the British Prime Minister David Cameron, in which he promised the nation would vote on the issue of EU membership by 2017. Noting that Ireland's recent referendum on the Fiscal Stability Treaty had been approved by a margin of 60 – 40 per cent, Barber asked if Kenny had any advice to Cameron on "how to win a referendum".
Kenny said Ireland's relationship with European Union stretched back for over 40 years, the people of Ireland had a keen understanding of the Union and how it operates. "I don't speak for the British government, but the single union will remain stronger if UK remains a part of it," he said.
"Whatever happens, I want  to see Britain remain central to the EU and to its future."
Strong employment strategy needed
Similarly, when asked what advice he would give to the US Congress, he said Ireland had made "very painful decisions" – including increasing pension ages, reducing public pay, and changing structures – in order to deal with its own crisis. "The  first thing you need is a plan, a clear strategy and have an objective in mind. What do you want to see over the period of government? What is your strategy to achieve that? We're not there yet, obviously, we still need European support."
The Taoiseach also stressed the need for a strong unemployment strategy in Europe, saying "politics is essentially about people". He noted that 26 million people, including many young people, were currently unemployed across the Union and they needed to see that their efforts to find work "rewarded".
The Finance Minister Michael Noonan is also scheduled to participate in the event.
Watch a live stream of the World Economic Forum here