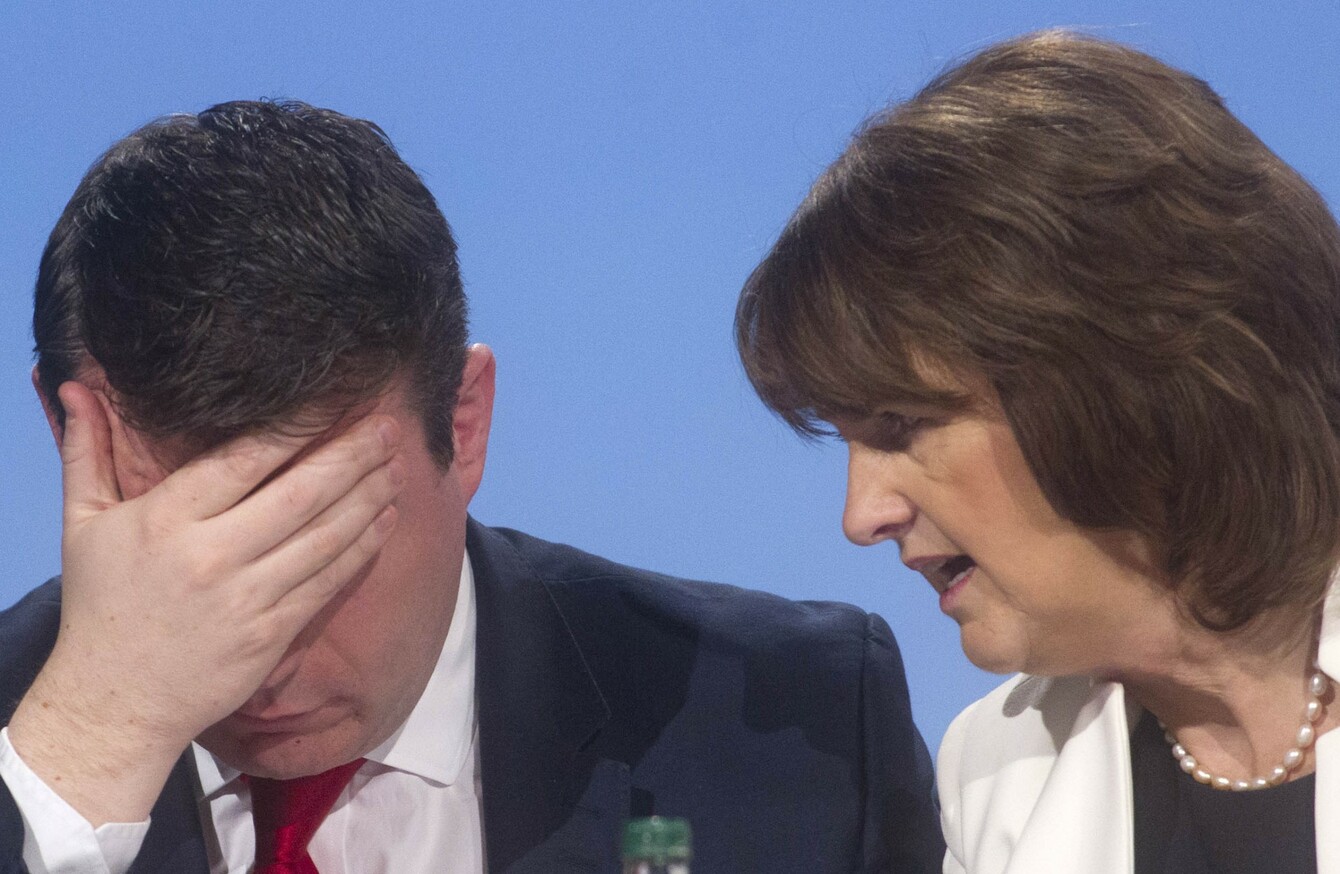 Image: /Photocall Ireland
Image: /Photocall Ireland
AT EXACTLY THE time when Labour should be keeping the head down and doing its very best to salvage as many seats as it can, the party seems to be scoring a series of own goals.
Last week's controversy over the appointment of David Begg as chair of the Pensions Authority, without openly advertising the position, has already led to much criticism.
Joan Burton's party has been accused of 'cronyism' in appointing a former union boss and prominent Labour supporter to a position that carries an annual salary of €20,000.
Labour insists everything was done by the book and indeed it was. But the public won't see it the same way. This will be perceived by many as evidence of a 'golden circle' benefitting from the 'it's not what you know, but who you know' culture.
Shane Ross's opportunistic motion of no confidence in Burton is before the Dáil tonight and tomorrow and keeps the issue on the agenda. The government has predictably lashed  Ross and will see the positive s in being able to spend a few hours in the Dáil saying how great they are.
But now, for Labour, another controversy has arisen after it emerged in the Sunday Times at the weekend that FAI chief executive John Delaney joined Alan Kelly in Tipperary last Friday for what looked a lot like a canvass.
Both are Tipperary men and both are, by all accounts, friends who would have had dealings in Kelly's previous role as a junior minister in the Department of Transport, Tourism and Sport.
Audio of Delaney encouraging people to vote the minister back in at the next election has also emerged. It's all a bit unfortunate given Delaney heads an organisation in receipt of millions of euro of taxpayers' money.
Many will question the appropriateness of the chief executive of a sporting organisation intervening in such a political way, advocating for one politician in particular in a competitive and cutthroat five-seat constituency.
Opposition TDs have led the criticism today, but they're not the only ones. Kelly's cabinet colleague Paschal Donohoe told reporters today that such campaigning would be better left to the politicians once the election is called.
Donohoe is not prone to rebukes of his government colleagues – even ones as subtle as this – so his criticism is notable.
For his part, Kelly sees nothing wrong with what happened in Tipperary and mounted a staunch defence of the events last Friday insisting he was fine with Delaney telling people to vote for him. It's not hard to see why when he's facing a considerable battle to hold his seat.
Delaney has remained silent on the issue and a spokesperson for the FAI said today they would not be commenting "at this stage".
One minister we spoke to privately said that Kelly had clearly orchestrated the appearance with Delaney and described it as a "stupid" move on the part of both men.
From a political point of view, Kelly might see the benefit of getting a public figure such as Delaney on his side – although some would question the FAI chief's popularity – but this has created a controversy that will do little to enamour either Labour or its deputy leader to the wider public.
With some polls putting the party as low as 6%, Labour doesn't need these controversies with the general election mere weeks away.
Joan Burton and Alan Kelly are the party's two most senior figures and yet in the last week they have both shown questionable judgement that will do little to enhance their reputations, which have already taken a battering in recent years.