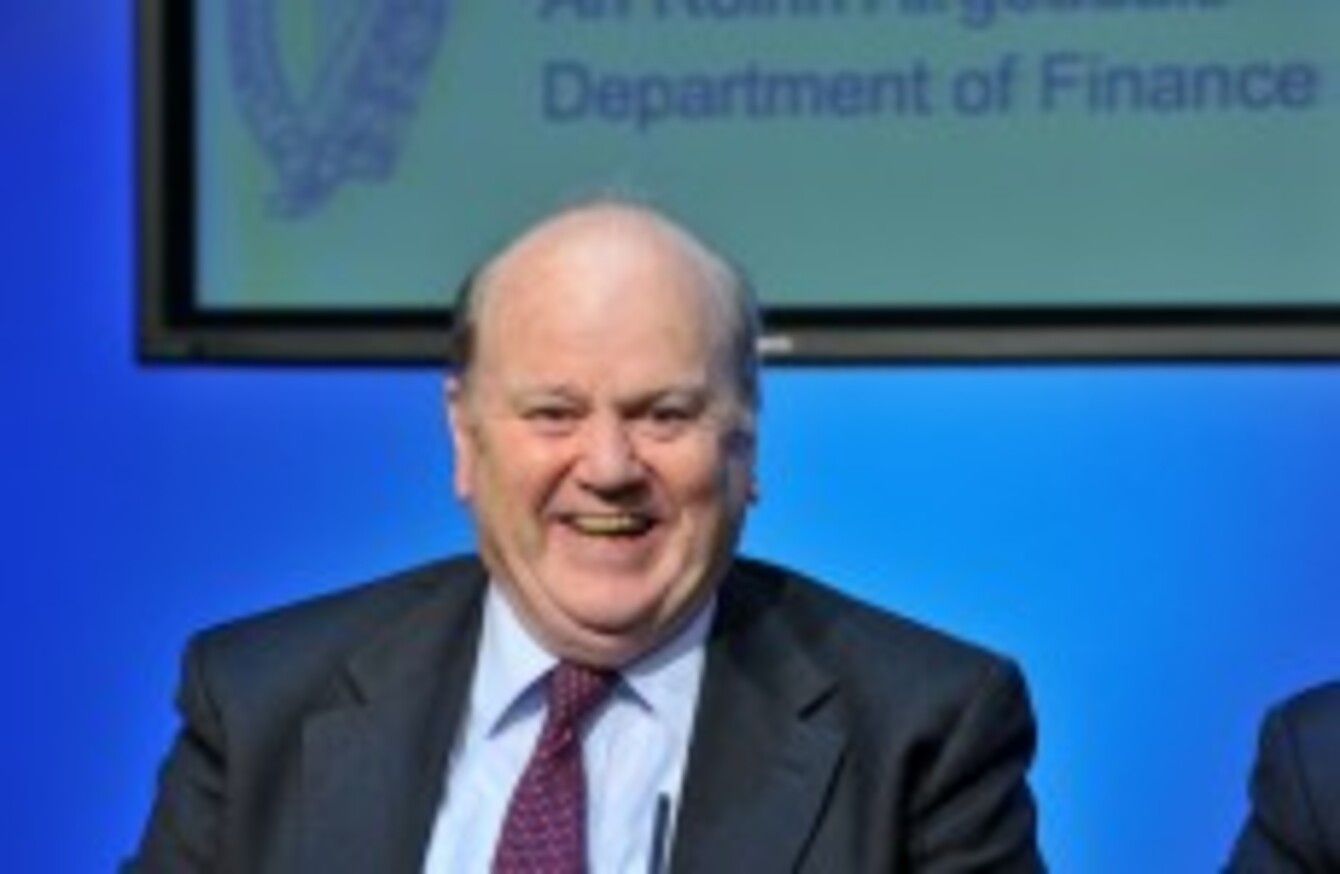 Michael Noonan (File photo)
Image: Laura Hutton/Photocall Ireland
Michael Noonan (File photo)
Image: Laura Hutton/Photocall Ireland
Updated: 4.20 pm
FINANCE MINISTER MICHAEL Noonan has committed to easing the tax burden over the next two budgets.
Noonan said it was "a priority of the government" to raise the figure at which a person pays the higher level of income tax, 40 per cent, from €32,800.
"Over the next two budgets we will do that," Noonan stated this morning.
However, it seems consensus within the government has not yet been reached on the issue.
Speaking at his party's election launch in Dublin this afternoon, Labour leader Eamon Gilmore said it was "too early" to speculate on tax breaks.
"I've said before that as financial circumstances permit, that we would all hope to relieve the burden of taxation on hard-pressed families," Gilmore stated.
But, you know – this is the Month of May. The 2015 Budget won't be determined until October. And I think it's too early to be speculating about what may or may not be in this year's Budget, or next year's.
This is the second time this week the coalition parties appear to be at odds with each other over pressing issues, following the failure to agree on water charges.
Noonan made his comments at Fine Gael's local election campaign launch today.
A number of promises were made at the launch, including the commitment that any Fine Gael councillors elected this month would vote to cut the Local Property Tax rate "where circumstances allow".
Taoiseach Enda Kenny said that Fine Gael "can be trusted to manage your local government finances and keep your Local Property Tax rate low".
Fine Gael candidates will support hard-pressed households and families. Fine Gael councillors will not vote for an increase in the Local Property Tax rate and will cut the rate where circumstances allow.
"In the last election, Fine Gael promised to stop any further increases in income taxes on working families that were planned by Fianna Fáil. In government, we delivered on that promise.," Kenny added.
Fine Gael is fielding 468 candidates across the country in the local elections on 23 May. Some 106 of these candidates are women and 10 per cent are under 35 years of age.
Job creation
In a bid to stimulate job creation, Kenny said the government would increase funding to Local Enterprise Offices by 20 per cent and noted that Fine Gael councillors "will ensure that there will be no increase in commercial rates and will reduce rates where possible".
He also said that proceeds from the sale of social housing to tenants would be reinvested in new social housing, noting this would "free up resources for new investment in parks, playgrounds and other local facilities so that all the community can benefit".
"At national level, we have put the country on the road to recovery. We are asking the people to give our local candidates the opportunity to make recovery local," Kenny added.
Noonan stated that 5,000 jobs were being created every month and said he hoped that many of the emigrants who left Ireland in search of work would come home as "the economy is strong enough now to give them jobs".
He noted that "the economy underpins everything" and while the recovery was not complete, the country had come a long way following much "sacrifice".
Noonan added that tax receipts for April 2014 are up 9 per cent from the same month in 2013, including 6.5% on income tax.
'Radical'
Kenny praised Environment Minister Phil Hogan for overseeing "the most radical changes in local government in the history of the State".
Following on from this month's election, the number of councillors will be reduced by 40 per cent to less than 1,000, while the number of councils will decrease from 118 to 31.
Hogan said the new "streamlined" system would "strengthen local democracy" and eradicate the "duplication and inefficiency" caused by the current system.
Children's Minister Frances Fitzgerald said this election would "usher in a new kind of councillor". She encouraged local candidates to back new guidelines on restricting the opening hours of takeaways located nearby schools and youth centres.
TD Eoghan Murphy chaired the event. He told candidates they had "shown courage" by putting themselves forward.
Now is your chance to go out and do something special, do something for Fine Gael … A lot will be asked of you.
First published: 1.38 pm