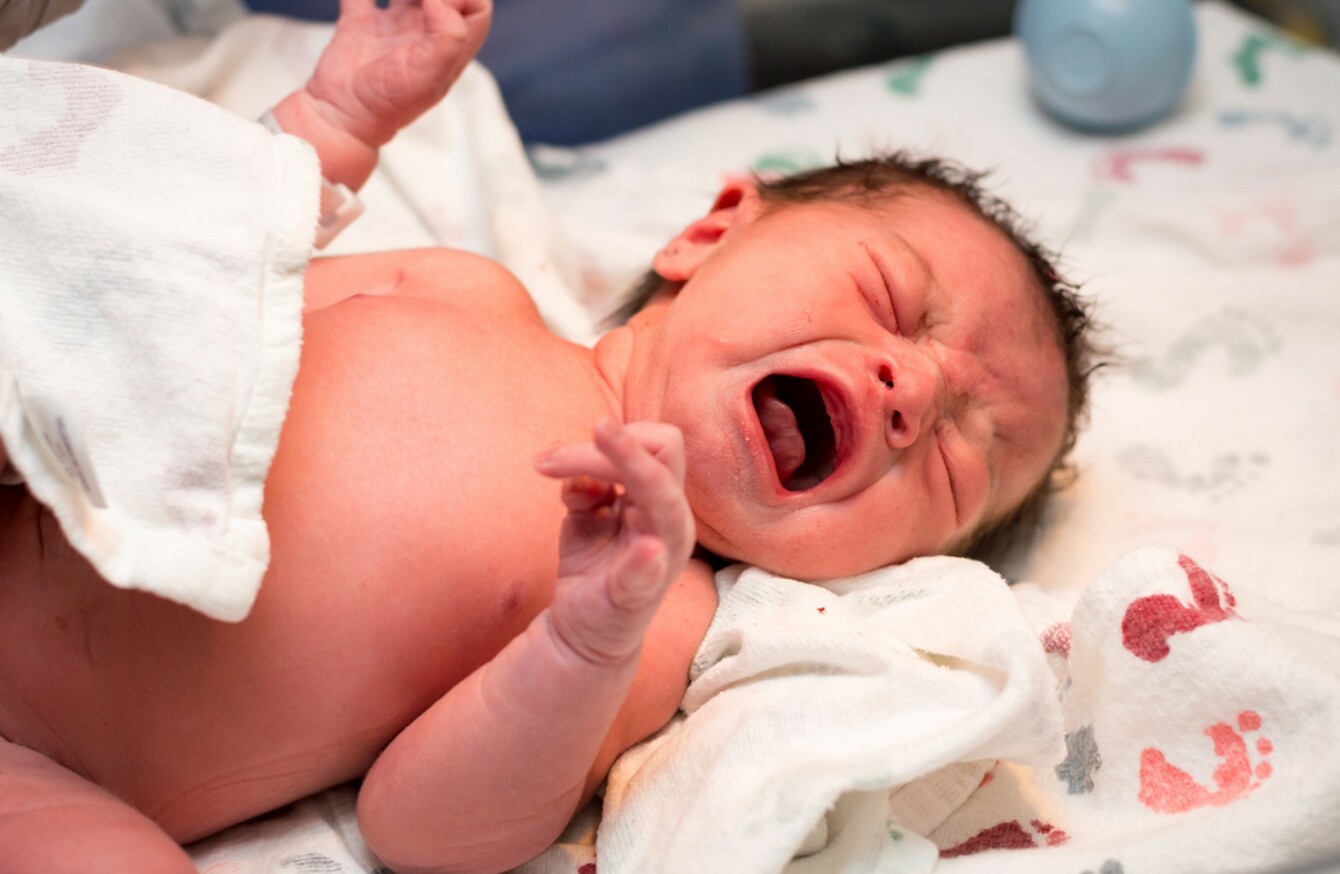 File photo
Image: Maesse Photography via Shutterstock
File photo
Image: Maesse Photography via Shutterstock
NINETY-TWO NEWBORN babies were discharged from Irish hospitals with drug addiction withdrawal symptoms in 2016.
Figures from the HSE released to TheJournal.ie under the Freedom of Information Act show that, between 2012 and 2016, a total of 501 babies were discharged from Ireland's maternity hospitals with drug addiction withdrawal symptoms due to their mother's use of drugs during pregnancy.
The HSE did not provide a breakdown of the drugs the babies were experiencing withdrawals from.
However consultant neonatologist at the National Maternity Hospital, Dr John Murphy told TheJournal.ie that most cases presented to the National Maternity Hospital are that of methadone addiction.
Withdrawal symptoms of heroin and cocaine are also common among these babies.
"Cocaine is a real worry. It can cause spasms of blood vessels in babies' brains," Murphy said.
HSE records are only available when the newborns are admitted to hospital for treatment, therefore the exact amount of babies with withdrawal symptoms could be slightly higher.
2013 saw the highest level of babies with withdrawal symptoms being discharged, with 119 cases recorded.
Here's a breakdown of the number of babies discharged with withdrawal symptoms over the past five years:
2012: 105
2013: 119
2014: 95
2015: 90
2016: 92
There are no figures available for 2017 yet.
How babies react 
Murphy told TheJournal.ie that babies who experience drug withdrawal tend to be irritable and unsettled.
"They're not like normal babies who cry, where you feed them and they settle. They're difficult to calm down.
They're very hungry but they don't feed well because a lot of their muscles are uncoordinated.
"They shuffle and move an awful lot, so they often get skin irritation."
Other symptoms can include tremors, sleep problems, crying, hyperactive reflexes, seizures and sneezing.
Hospital care
Babies who are born with drug withdrawal symptoms are admitted into intensive care for a six to eight week recovery programme, according to Murphy.
The babies who experience excessively high levels of withdrawal are given morphine for a number of weeks in the intensive care.
Murphy explained:
"We have scorecards we keep every day to track the [baby's] symptoms, the amount of crying they do, and so forth.
We can score them and if it's seen to be excessively high we treat the babies with a small amount of morphine.
"It's a slow process. It can take up to six to eight weeks but gradually they'll regulate and they'll settle," he said.
As the baby's symptoms begin to regulate and lessen, they are gradually taken off the morphine medication.
The figures reveal that almost half of all discharges were in Dublin.
44 newborns were discharged from Dublin maternity hospitals – The Coombe, the National Maternity Hospital and the Rotunda – in 2016.
Meanwhile, 48 of such discharges were made in other Irish maternity hospitals in 2016.
Since 2012, a total of 286 newborns with withdrawal symptoms were discharged from maternity hospitals in Dublin, while a total of 215 were discharged from other maternity hospitals in Ireland.
'They go back to their families'
TheJournal.ie asked Murphy about the discharge process for babies who have experienced drug withdrawal.
In almost every case, they are sent back to live with their birth families.
All of these babies will go into families where there is experience of drug taking. That's not the case in most countries but in Ireland, yes.
Murphy explained that when a woman with a drug addiction becomes pregnant, they are usually enrolled onto a methadone recovery programme.
"Most of the time, the mums will be on a good methadone programme, so hopefully they'll be controlled in that way," Murphy said.
"If the mum's symptoms are controlled, then hopefully they'll be able to look after their baby."
The HSE was unable to provide details of the cost of care for babies with drug addiction issues.