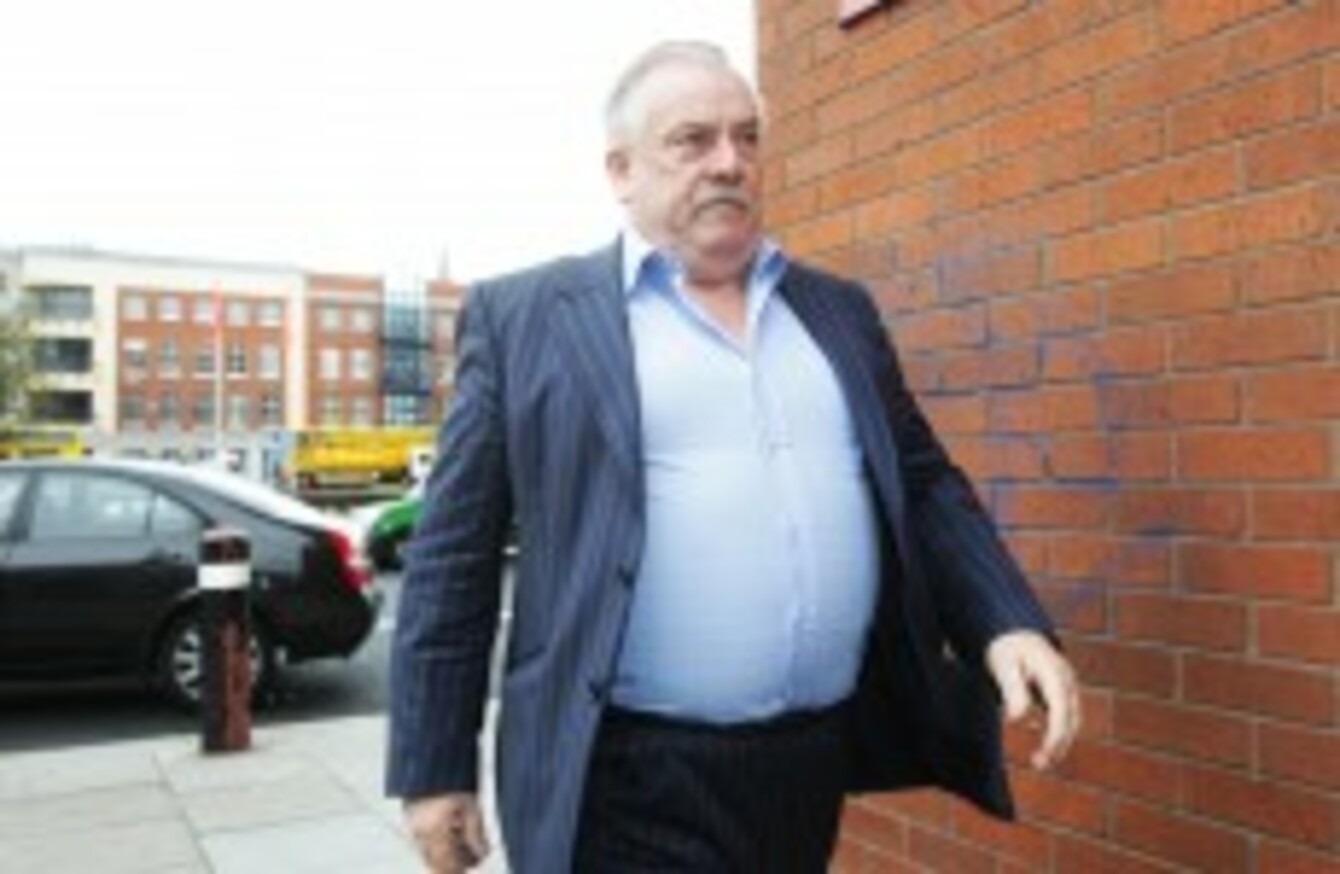 Thomas McFeely, the developer of the 187 apartments at Priory Hall, arriving at the High Court in October
Image: Leon Farrell/Photocall Ireland
Thomas McFeely, the developer of the 187 apartments at Priory Hall, arriving at the High Court in October
Image: Leon Farrell/Photocall Ireland
THE DUBLIN CITY Manager has warned that there will be "no easy solutions" to the "very difficult problem" of Priory Hall, where 187 families have been forced out of their homes after serious fire safety problems were discovered in the buildings.
John Tierney told last night's meeting of Dublin City Council that the Council is currently paying for the temporary accommodation of the families following a High Court order. However he raised the possibility that the Council would appeal this decision due to the financial  burden it is placing on the Council – which could cause huge problems for the affected households.
Developer Thomas McFeely was last week ordered off the Donaghmede site by the High Court as work was not progressing on fixing the fire safety issues. Residents had previously raised concerns over the fact that the developer who built the apartments was also due to fix the building problems.
There is now no agreement over who should finish the work – or who should pay for it.
McFeely has said that he does not have the money to pay an independent contractor to finish the work.  However, Dublin City Council has also said that it doesn't have the money and that it shouldn't be lumbered with the burden of the cost.  Tierney criticised the developers of the apartment complex for shirking their responsibilities, saying:
The reason we all have this monumental difficulty, and more importantly such distress caused to the residents, is because of the actions of the developers.
An emergency motion was passed by last night's city council meeting instructing the city manager to seek emergency funding from the Department of the Environment and Local Government to keep paying for the housing costs of the former residents.
Brian McDowell, the Donaghmede councillor who brought the motion, told theJournal.ie: "The discussion should now be about the housing needs of the residents – namely, who's going to do the work and who's going to pay for it".
"We're now in a position where there is no-one working on fixing Priory Hall. It's a pity the Council has to pick up the tab for the people in the first place because it should be the developer – people were put out on the streets because of his work. But the Council is also a housing authority and we should provide accommodation for these people".