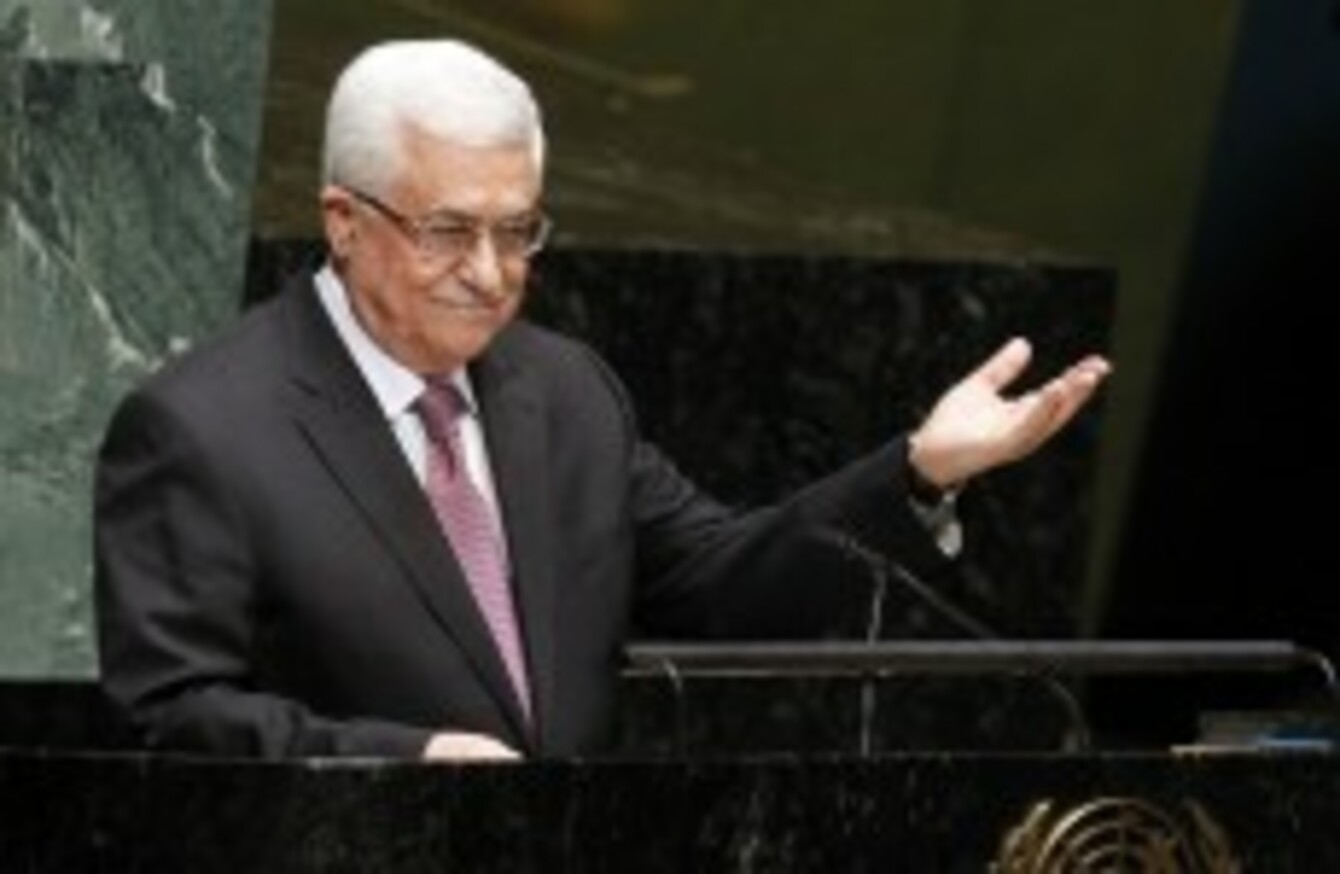 President of the Palestinan National Authority Mahmoud Abbas addresses the U.N. General Assembly before the body's historic vote
Image: Jason DeCrow/AP/Press Association Images
President of the Palestinan National Authority Mahmoud Abbas addresses the U.N. General Assembly before the body's historic vote
Image: Jason DeCrow/AP/Press Association Images
THE UN GENERAL Assembly has voted overwhelmingly to recognise Palestine as a non-member state, giving a major diplomatic triumph to President Mahmud Abbas despite fierce opposition from the United States and Israel.
The 193-member assembly voted 138-9 with 41 abstentions for the resolution which enables the Palestinians to join UN agencies and sign international treaties.
Palestinians fired in the air, whistled and embraced each other in the West Bank and Gaza after the General Assembly voted to upgrade them to a non-member state observer.
As the votes were cast, there was silence among the thousands gathered in the West Bank city of Ramallah, which erupted with cheers of joy and chants of "God is greatest" when the 138-9 approval was announced.
The US has responded that the Palestinian UN vote sets 'obstacles' to peace.
"Today's unfortunate and counterproductive resolution places further obstacles in the path to peace. That is why the United States voted against it," the US ambassador to the United Nations, Susan Rice, told the UN General Assembly.
The United States and Israel were among nine countries bucking support for a resolution giving Palestine non-member observer status.
Canada joined Israel and the United States as one of the rare countries opposing Palestine's bid for an upgraded status at the United Nations.
Canada's UN ambassador, John Baird, said that giving Palestine non-member observer status – a largely symbolic advance on the path to full UN membership – "undermines the core" of attempts to broker a Palestinian-Israeli peace deal.
Shortly after, the UN General Assembly backed non-member observer status for Palestine.
Palestinian president Mahmud Abbas's speech before the General Assembly ahead of its vote on upgrading Palestinian UN status was "defamatory and venomous," Israel charged.
"The world watched a defamatory and venomous speech that was full of mendacious propaganda against the IDF and the citizens of Israel," said a statement issued by the office of Israeli Prime Minister Benjamin Netanyahu.