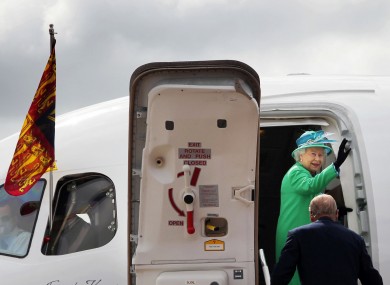 The Queen waves to the assembled dignitaries as she and Prince Philip prepare to leave Cork Airport earlier today.
Image: Maxwells Photography
QUEEN ELIZABETH HAS told the Taoiseach, Enda Kenny, that she would like to return to Ireland in the future, at the end of her historic four-day trip to the country – the first for a British monarch in a century.
Speaking shortly after seeing the Queen and the Duke of Edinburgh off from Cork Airport, Kenny told RTÉ that the Queen had indicated her wish to be able to visit Ireland again, and that she had enjoyed her visit.
Kenny paid tribute to those involved in organising the visit, and in the various events and security operations had it had entailed.
Queen Elizabeth and Prince Philip had received what he termed a "real Irish welcome", and Ireland – from ordinary people to the President – had shown great restraint and understanding throughout.
Kenny flew from Dublin on the government jet to be present in Cork to see the Royals leave, after the Queen had visited the English Market and met the public at the city's Grand Parade, before visiting UCC's Tyndall Institute.
Among the parties she met there were Angie Benhaffaf and her formerly conjoined twin sons Hassan and Hussein, as well as surgeon Dr Edward Kiely – himself also a Cork native – who had operated on the boys in London.
Earlier, the Royal Couple had visited the Coolmore Stud outside Fethard in Co Tipperary, as well as St Patrick's Rock in Cashel.
Justice minister Alan Shatter has also paid tribute to the Gardaí and the Defence Forces, saying the visit had posed "an immensely challenging task which was carried out with great professionalism".
Shatter also thanked the general public for the "patience and good humour" display in managing the "inconveniences which were necessary to ensure the safety of our guest" – though he scolded the "small number of people who disgraced themselves again through thuggery and their blind unwillingness to accept the will of the Irish people.
"It is clear that the great majority of people welcomed the visit of the Queen and [I am] very pleased that it went so well."