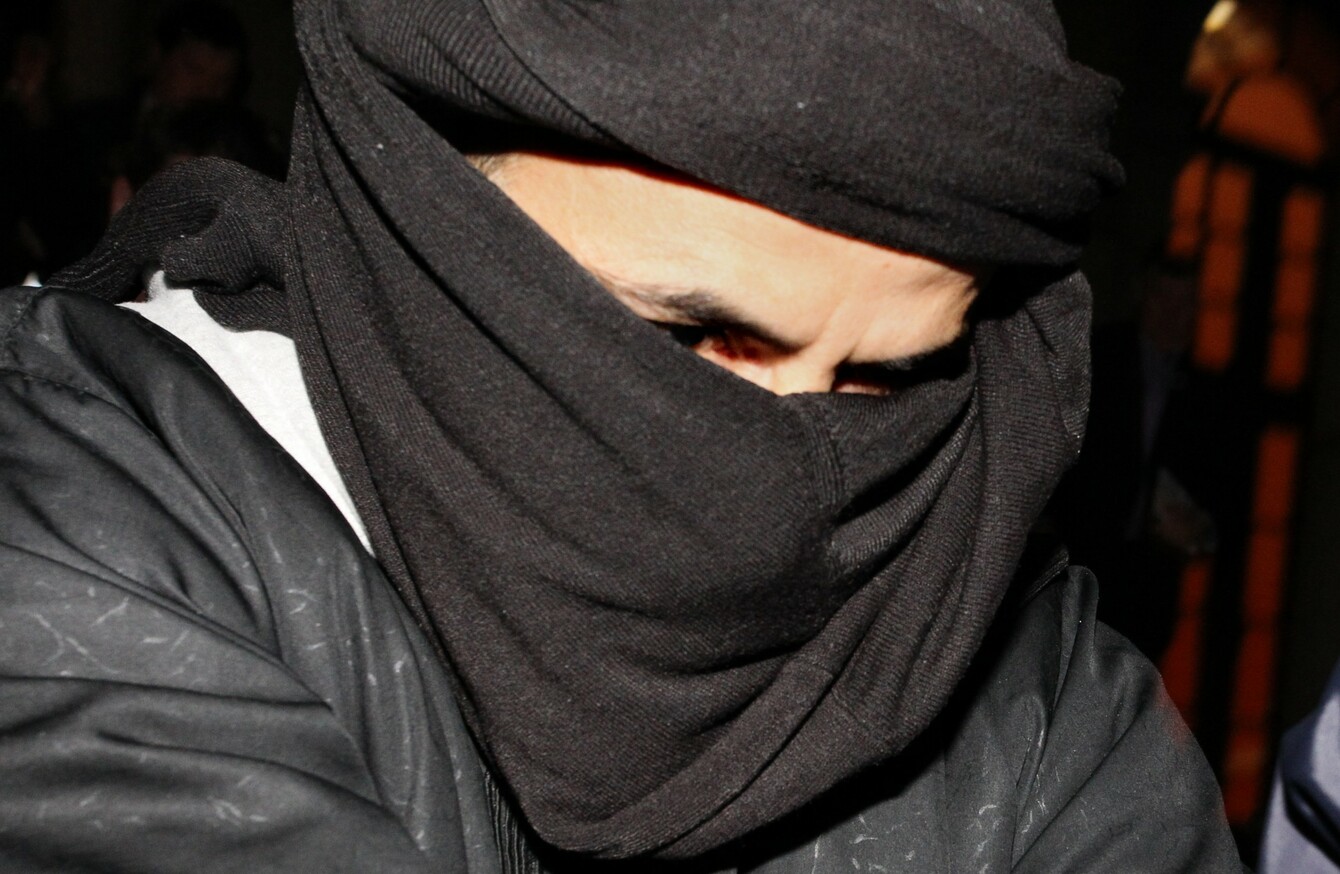 File photo from March 2010 - Ali Charaf Damache arrives at the courthouse in Waterford.
Image: AP Photo/Peter Morrison
File photo from March 2010 - Ali Charaf Damache arrives at the courthouse in Waterford.
Image: AP Photo/Peter Morrison
AN ALGERIAN-BORN Irish citizen, who is wanted by US authorities on international terrorism charges, has been arrested in Spain.
Ali Charaf Damache (50), who had been living here for more than a decade, had been wanted in the United States to face charges relating to the conspiracy to provide material support for terrorists and attempted identity theft to facilitate an act of international terrorism.
Damache, with a last address at High Street, Waterford, had initially pleaded not guilty at Waterford Circuit Criminal Court to sending a menacing phone call to US Muslim activist Majed Moughni in January 2010 but pleaded guilty to the charge on day six of his trial.
He was subsequently sentenced to four years imprisonment with the final 12 months suspended by Judge Donagh McDonagh.
Minutes after he had pleaded guilty to the charge, he was arrested in Waterford Courthouse by gardaí on foot of a High Court warrant.
Following lengthy extradition proceedings, the High Court refused last May to order his surrender to US authorities. Mr Damache, who had been in custody up until that point, was discharged and walked out of the court that afternoon.
In refusing to order his surrender, Ms Justice Aileen Donnelly, said there were "substantial grounds for believing that Mr Damache will be at real risk of being subjected to inhuman and degrading treatment if extradited to the USA".
Appeal 
The Attorney General has appealed the High Court's refusal to surrender Mr Damache and the appeal was listed for mention in the Court of Appeal today.
However, counsel for Damache, Mark Lynam BL, told the Court of Appeal that his client had been arrested in Barcelona on foot of an "international alert" and he was due in court in Madrid this morning.
Mr Lynam said his side did not have any further information and he asked the court for time to consider the "significant development" and to take instructions.
Counsel for the Attorney General, Cathleen Noctor BL, asked the court to put the matter back for one week.
Ms Noctor said the Attorney General's appeal had been listed for hearing in January.
45 years
If convicted in the US, Damache could face up to 45 years in jail, a term his lawyers say would be "a lot more" than could be imposed here in Ireland.
The High Court had heard that convictions for terrorism crimes were claimed to be sufficient reason for transfer to the maximum security ADX Supermax Prison in Florence, Colorado, where prisoners can be held in solitary confinement for up to 22 hours a day and where conditions were described by a former warden as a "clean version of hell".
As recently as last Friday, lawyers for Damache told the Court of Appeal that he intended to appeal the sentence imposed on him in Waterford Circuit Criminal Court for sending a menacing message.
Comments have been closed on this article as legal proceedings are ongoing.